Excellence in Graduate Student Teaching
---
From among the thousands of hard-working graduate students pursuing their degrees at UCF, a select few are nominated for the Graduate Excellence Awards. The Award for Graduate Student Teaching recognizes excellence in teaching by graduate teaching assistants who serve as instructors of record and have independent classroom responsibilities. The focus of this award is on the quality of the student's teaching and the academic contributions of those activities.
Selected college winners are forwarded to the College of Graduate Studies where a university-wide committee recommends university winners to the Vice Provost and Dean for the College of Graduate Studies to make the final selections.
The University Award Winner comes from the College of Education and Human Performance…Jeremy Townsend.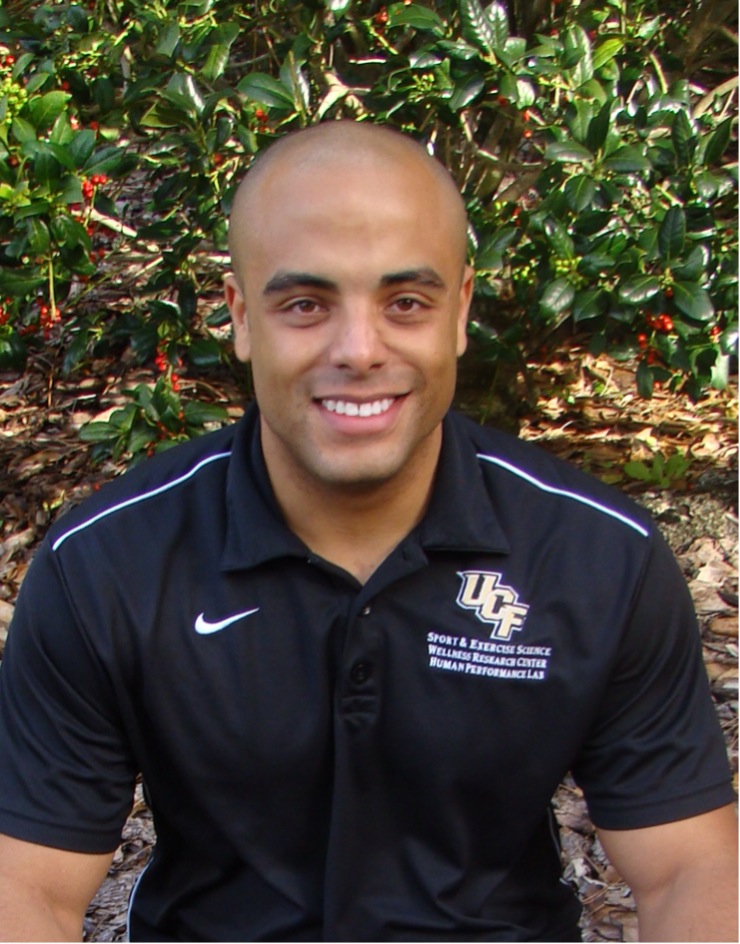 Townsend is a graduate research assistant and doctoral candidate at UCF's Institute of Exercise Physiology and Wellness. Townsend plays an integral role in teaching students in the Sport and Exercise Science program and has taught courses in Introduction to Exercise Science, Exercise Physiology Lab, and Nutrition and Metabolism where his enthusiasm has earned exceptional student ratings. By integrating his research into teaching, Townsend is able to deliver knowledge to the classroom that has not yet made it into the textbooks. His incorporation of cutting-edge research into the classroom engages students and separates Jeremy from other teachers.
Townsend is described by his mentor, Dr. Fragala, as a student who "displays the highest academic merit and remarkable contributions to teaching our students…He has superior academic drive, 'attacks' a topic and is not satisfied until he demonstrates total understanding. It is clear that his deep desire to learn as a student is rooted in his desire to extend his ever-expanding knowledge in the classroom." Townsend's passion and commitment to infusing his class material with current and relevant information captivates his students and distinguishes him as an exceptional instructor.
The following students received the Award for Graduate Student Teaching within their college and were consequently nominated for the university award.
College of Arts and Humanities
Christopher R. Friend is a doctoral student in the Texts and Technology program. Friend enriches his teaching with his dissertation research which examines the nature of hybrid education and its implications on writing instruction. His dedication, investment, and contribution to the field set him apart as a student of excellence in graduate student teaching.
College of Business
Anis Triki is a doctoral student in the Dixon School of Accounting. His philosophy recognizes that teaching goes beyond classroom instruction and grading and extends to mentorship. His broad experiences allow him to draw relevant examples to which his students can relate, and although his class is demanding, Triki has been characterized by his students as engaging, enthusiastic, and innovative.
College of Engineering and Computer Science
Catherine Kammerer, a doctoral student in the Materials Science and Engineering program, dedicates a significant amount of time to her students and courses. Although she did not set out to become an instructor, she has received exemplary feedback from her students. She says, "We are all instructors at one point or another, though our students and classrooms may vary." Her fundamentals of teaching – respect, relevancy, and engagement – reflect in her performance as an exceptional instructor.
College of Sciences
Kamran Sadiq is a doctoral student in the Mathematics program. Sadiq teaches a variety of courses and incorporates lecture and interactive techniques to help students learn. His passion for mathematics is evident in his teaching. His examples and descriptions give students something to visualize, and he encourages questions and engagement, leading students to their own learning rather than presenting it to them.
Rosen College of Hospitality Management
Seung Hyun "Jenna" Lee, a doctoral student of Hospitality Education, incorporates timely and relevant issues into her classroom and encourages students to think critically about the current challenges being faced in the field. She pushes students to look at the bigger picture and creatively approach problems so that they may become better leaders in the industry.
Share This Article