Online Workshops
Online Workshops
Online Workshops
Checkout What is Available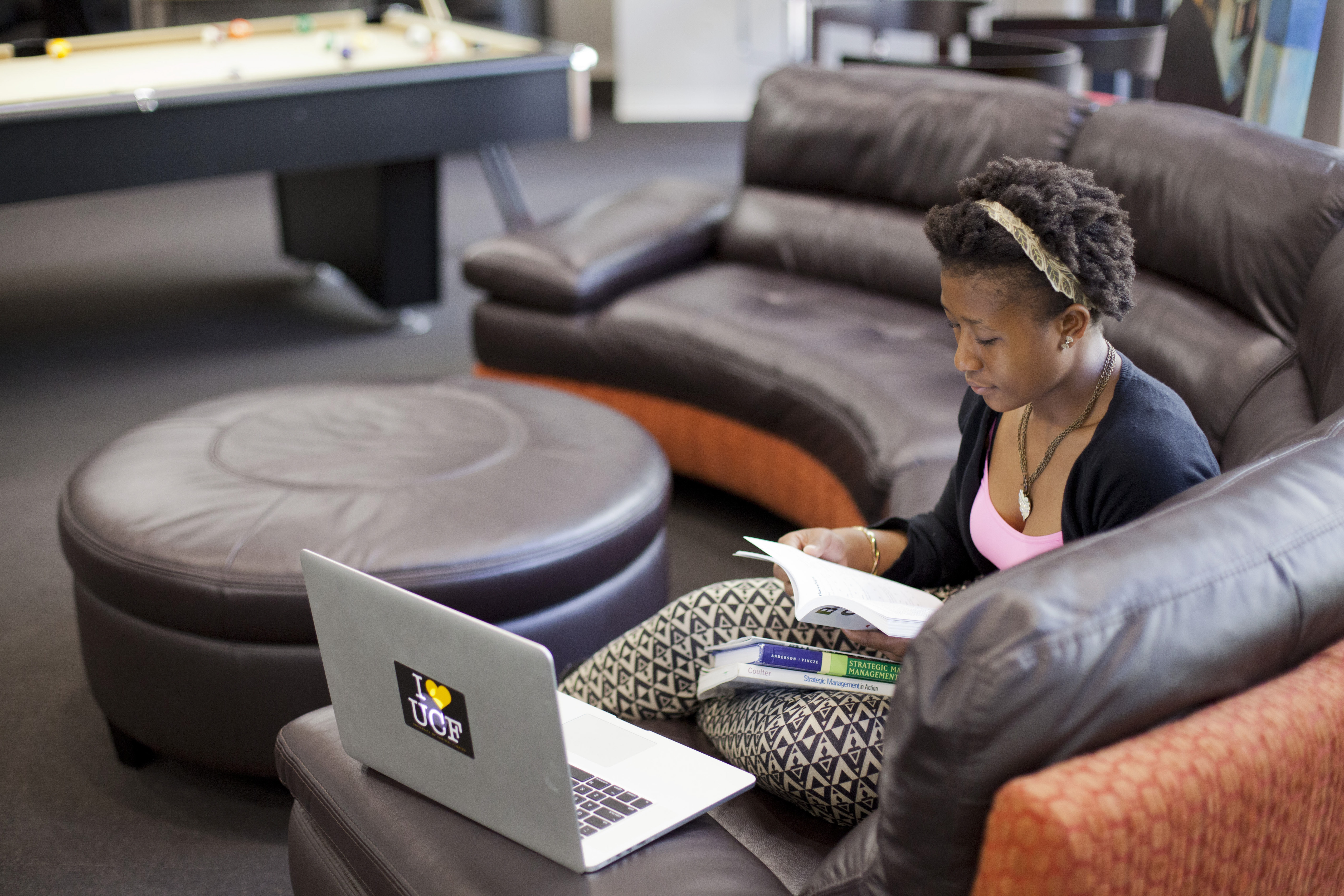 Online Workshops
There are a variety of online workshops available free of charge to UCF graduate students. Some are held in real-time, meaning that participants must "attend" at a specific date and time. Other workshop resources are available for users to complete any time at their own pace.
Real-time Workshops
Participants must register for real-time Pathways to Success workshops through their myUCF Student Center under Graduate Students then Pathways to Success. Once in the Pathways to Success area, search by the "online" category. Participants will receive a link to the session by email upon registering. Please see the Pathways to Success Workshop Registration Instructions for additional details.
The following real-time workshops are presented live online and are offered at various times. For the latest list of online workshops available, please see our Upcoming Pathways Events list.
---
Library & Literature Review Research
This session highlights time-saving strategies to help you plan literature reviews. Learn tips to locate related sources, search subject databases, access online journals, create journal alerts, and maximize Google Scholar options.
---
Citation Management
Citation management tools allow you to dedicate more time to research. Join us to learn how to export citations from library databases, organize citations, generate bibliographies, and format citations in a Word document. EndNote can help make managing your references and formatting citations easy.
---
Copyright Basics for Research and Teaching
Can you use any image you find online in your presentation? Do you need to get permission to use a chart or graphic for your thesis or dissertation? What kinds of rights do you have as an author of a journal article? These are just a few of the questions that we will explore in this session focused on the fundamentals of copyright and fair use for research and teaching. Attendees will learn about copyright basics, the Four Fair Use Factors, author rights, and more.
---
Selecting Journals to Publish Your Research
How do you decide which journals are the best fit for your article? Learn about criteria to consider when planning where to submit your work for publication and factors like acceptance rates, audience, open access, and more.
---
Apps to Help Organize Your Research Life
Need help staying on task, keeping track of research sources, or organizing your time? There's an app for that! Join us as we cover how mobile apps can help you organize your graduate school life. Be sure to have your mobile device ready to test drive apps during the presentation.
---
Data Documentation, Analysis, & Statistical Software
Join a statistician and metadata librarian for an introduction to best practices and suggestions for data documentation and analyzing research data. Learn about research data, data sharing, re-use, and long-term preservation. This session also includes real-world examples and a discussion of data tools, such as NVivo, SPSS/SAS/STATA/R.
---
Optimizing Your Online Presence
This session covers evaluating your publishing impacts and managing your online researcher profile. Learn about methods and tools to obtain citation counts and impact data, metrics to assist in identifying key journals and notable researchers, and why it's important to develop an online profile using sites, such as ORCID, Research Gate, Academia.edu, PIVOT, Plum Analytics, and Google Scholar.
---
Planning Poster Presentations
Planning a research poster? Learn the basics of poster design and tips on editing free PowerPoint templates. This session covers guidelines about poster elements, layout, graphics, printing, and includes examples of well-designed posters.
---
Presentation Skills
Come to this calm workshop about a nerve-wracking experience: giving a presentation. For many individuals, the prospect of giving a presentation causes anxiety, and you might find yourself anxious and overwhelmed. Presentations may be inevitable, but there are ways to bolster your skills and confidence. This interactive workshop includes ways to prepare for your presentation, techniques while you practice your presentation, how to find peace before giving your presentation, and other important considerations to remember during your performance.
---
Academic Job Search
Are you prepared to begin the job search process? This workshop will provide a comprehensive overview of the academic job search. We will discuss the job search timeline, pre-application and application process, as well as expectations of faculty interviews.
---
What is a CV?
How does a CV differ from a resume? Techniques to target academic and professional positions will be discussed.  Discover the components and formats to create a document that effectively communicates your professional background.
---
Smart Answers to Tough Questions: Advanced Interviewing
Distinguish between what the employer is asking and what the employer really wants to know!  Develop strategies that will help you answer tough behavior based questions.
---
How it Works for You: Networking Techniques
Overcome fears and anxiety related to networking by using outcome based thinking. Learn what to do before, during and after a networking event. 
---
Building Your Online Brand
Take your job search online. Learn effective strategies for searching and networking online with systems including Handshake, LinkedIn, and other social networking sites.
---
Acing the Virtual Interview
Employers are currently relying heavily on technology to recruit potential candidates for open positions. Learn about how virtual interviews differ from in-person ones and what you can do to successfully prepare for them and communicate your strengths effectively in an online format.
---
LinkedIn Made Easy
Attend this workshop to learn how you can leverage your profile to promote your brand and connect with professionals in your network. Follow along to update your profile and experiment with LinkedIn resources!
---
Networking for Conferences (Virtual vs. In-Person)
Professional Associations are currently relying heavily on technology to manage and run their conferences and professional development opportunities. Learn about how virtual conferences differ from in-person ones and what you can do to successfully prepare for them and effectively network in an online format.
---
Create a Professional Portfolio
Understand the importance of showcasing your skills, experiences and accomplishments through the use of a portfolio.  Compare the advantages of both a hard copy and an electronic portfolio.
---
Lacking Experience or Changing Careers? Combination Resumes that Work
A combination resume is an excellent resume format for students who are changing careers and for students who don't have significant experience in their field of interest.  Learn strategies to develop a combination resume that highlights your transferable skills and accomplishments.
---
How it Works for You: Networking Techniques
Overcome fears and anxiety related to networking by using outcome based thinking. Learn what to do before, during and after a networking event.
---
On-demand Workshops
The following resources are offered asynchronously and can be accessed and completed any time using the links provided. Some resources are provided by UCF while others are offered by organizations outside of UCF.
---
Thesis and Dissertation Webcourse
All resources related to the thesis and dissertation process, including information on how choose an adviser and committee, how to format your document, how to conduct the defense, and more, are located within the Thesis and Dissertation Webcourse.
This FREE, non-credit webcourse is intended for students planning to complete a thesis or dissertation in the future and students already enrolled in thesis and dissertation hours.
Click here for this on-demand workshop
---
Graduate Grantsmanship Webcourse
The Graduate Grantsmanship Webcourse is intended for individuals seeking future careers in academia, research, and other fields demanding knowledge of research grants. This webcourse will equip users with the knowledge and skills needed to successfully obtain external research funding through five modules. Users who complete all five modules and corresponding quizzes will be able to download a printable completion certificate!
Use your NID and NID Password to access the 2020-2021 Graduate Grantsmanship Webcourse today!
Graduate students who would like their Pathways to Success Training Summary to reflect completion of this course can register for GPD 501: Online Graduate Grantsmanship through their myUCF Student Center > Graduate Students > Pathways to Success. All five modules and quizzes must be completed for the Pathways to Success Training Summary to be marked as completed. Training Summaries will be updated within 30 days of completion of the entire course.
---
New Graduate Student Online Orientation
Whether you you're brand new to UCF or are a returning student, we know you may still have questions, so we have created our New Graduate Student Online Orientation just for you.
This optional, non-credit webcourse is provided for free to all incoming AND current UCF students. The course modules will not only familiarize you with resources and services available, but also explain some of the expectations for UCF graduate students. You do not need to complete the course in one sitting and we hope you'll refer to it whenever you have questions throughout the 2019-2020 academic year.
The New Graduate Student Online Orientation can be accessed anytime and anywhere with an internet connection, so why not log in now with your UCF NID information today at https://webcourses.ucf.edu/enroll/NXF8BB!
---
Counseling and Psychological Services (CAPS)
Therapy Assisted Online (TAO) Self Help
Provided by UCF Counseling and Psychological Services, Therapy Assisted Online (TAO) Self Help is an interactive, web-based program that provides assistance to help overcome anxiety, depression, and other concerns. TAO is based on well researched and highly effective strategies.
You can choose to view short, but helpful videos, take part in brief exercises, use logs to track moods and progress, and have access to a Mindfulness Library. All UCF students are eligible for TAO Self-Help. You just need a Knights email address.
Kognito
Provided by UCF Counseling and Psychological Services, Kognito is a set of role-play, avatar modules to educate faculty, staff, and students about mental health and suicide prevention (which we know supports improved academic performance, student retention, and campus safety).
It is an aviator/simulation online tool that allows users to enter a virtual environment and engage in role-play conversations with emotionally-responsive virtual humans. Through practice and receiving personalized feedback, users learn and assess their competency to lead similar conversations in real life.
---
Avoiding Plagiarism
The UCF library offers free online modules on how to avoid plagiarism using APA Style or MLA Style
Avoiding Plagiarism Using APA Style (6th ed.)
Avoiding Plagiarism Using APA Style (7th ed.)
Avoiding Plagiarism Using MLA Style (8th ed.)
Please note you will need your NID and NID password to login to these on-demand modules.
---
ETDplus Virtual Workshops
The ETD+ Virtual Workshop Series is a set of free introductory training resources on crucial data curation and digital longevity techniques for electronic theses and dissertations (ETDs) and affiliated files.
Workshop topics include:
Copyright
Data Organization
File Formats
Metadata
Storage
Version Control
Each module is approximately 15-20 minutes each and includes the supplemental material including slides, a guidance brief (booklet), and a printable handout summarizing key takeaways and learning objectives.
As a reminder, information about UCF thesis and dissertation resources is located here:
https://graduate.ucf.edu/thesis-and-dissertation.
---
Additional Trainings
See our Remote Training page for a list of additional free career development trainings and resources offered by organizations both inside and outside of UCF.