Graduate Student Research Honors at the State Level
---
Successful UCF graduate students from this year's Graduate Research Forum and 3-Minute Thesis Competitions presented their research and competed for top honors in the state this week at the Statewide Graduate Student Research Symposium.
The Symposium, hosted by the Florida International University on behalf of the Florida Council of Graduate Deans, aims to promote the important role graduate education plays in driving new knowledge and the economy in Florida and beyond.
UCF had seven graduate students participate in poster presentations at the Symposium, while two students participated in the 3-Minute Thesis Competition.
Electrical Engineering PhD student Emmanuel Okogbue received first place in the Engineering Category for his poster on 2D PtSe2 Layer Kirigami Conductors with 2000% Stretchability Enabled by Direct CVD Growth on Polymeric Substrates, and Qitian Ru, a student in the Optics PhD program, placed second in his category in the 3-Minute Thesis competition with his presentation on Optical Parametric Oscillation in a Disordered Polycrystalline Material.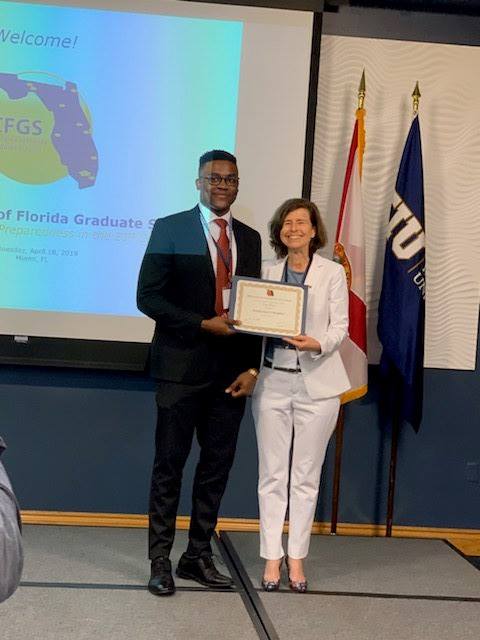 Graduate students representing nine universities from across Florida showcased their creative projects and research through poster presentations and a 3-Minute Thesis Competition. Most of the students had already earned top marks in their category from their own respective university graduate research competitions. First and second place winners were awarded in each of the five categories: Arts and Humanities, Engineering, Health Sciences and Life Sciences, Mathematics and Physical Sciences, and Social and Behavioral Sciences.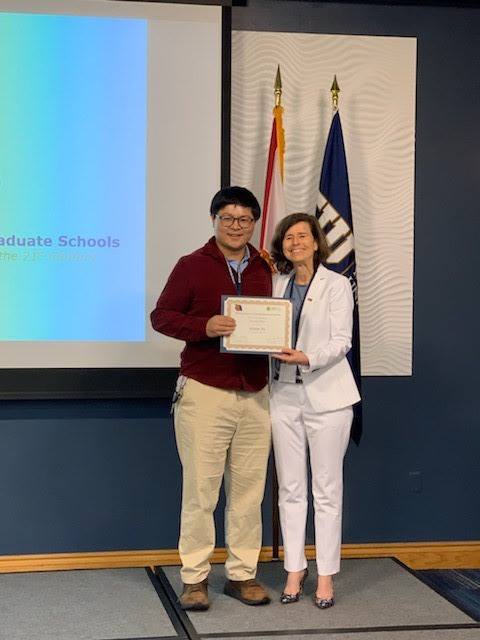 Congratulations to all of our students who represented UCF at the Florida Statewide Graduate Student Research Symposium.
Share This Article