Interdisciplinary Studies
Interdisciplinary Studies
Interdisciplinary Studies
If your goals don't fit into a traditional program's box see us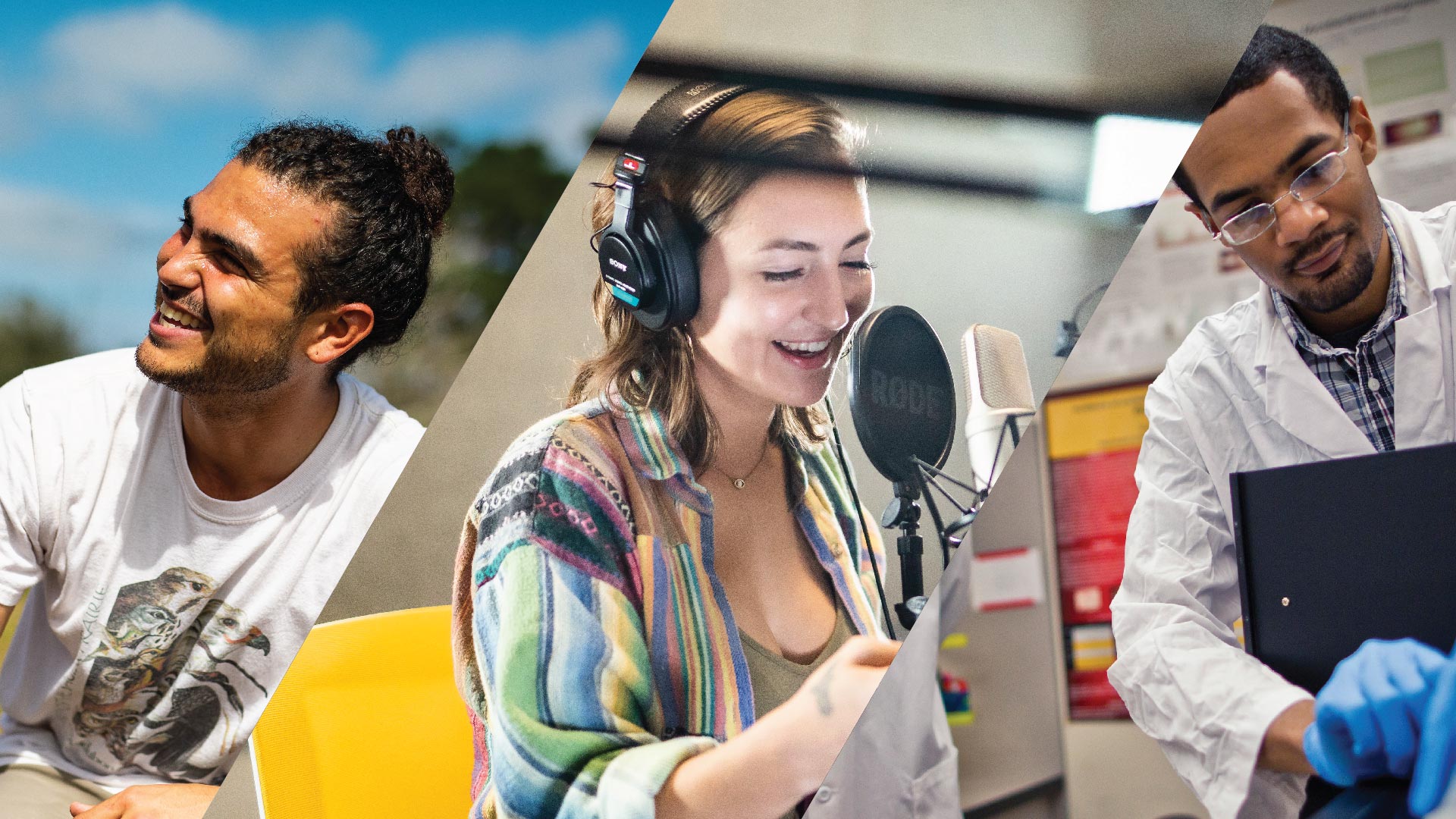 Interdisciplinary Studies at UCF
The Interdisciplinary Studies MA/MS program offers students the opportunity to design their own degree by selecting two concentration areas from any department at UCF. While the College of Graduate Studies offers over 200 graduate degree programs, some students may have unique interests or require tailored training for the desired career. The Interdisciplinary Master's program allows students the flexibility to define their educational experience by choosing the content and way in which they complete the degree. The program can be completed either full-time or part-time and participating departments offer a variety of course schedules including day and night courses.
For the Interdisciplinary master's, students can choose either a Master of Arts for disciplines generally associated with an MA (e.g. Arts, Humanities, Social Sciences) or the Master of Science that is generally associated with areas such as Biology, Physics, Chemistry, and Engineering. Additionally, students in either program can elect a thesis or non-thesis option depending on their future goals. For students who may pursue a research-oriented career or desire to continue on to a PhD program, the thesis option offers the opportunity to hone and showcase the skills necessary for those routes. Conversely, if a student is looking for a more applied experience and completing the degree for personal interest or a non-research career, the non-thesis option could be ideal. Students who choose the non-thesis option complete a capstone experience, choosing a capstone project, internship, or comprehensive exam that addresses both concentrations in their degree.
The benefit of the Interdisciplinary degree is that applicants can take advantage of the diversity of courses offered on campus and combine them in ways that meet changing workforce and societal demands. The Interdisciplinary nature of the degree allows for it to be responsive to personal and societal needs. While students may choose any discipline combination for their degree, some suggested concentrations that fit current needs are given below.
For more information, see the Graduate Catalog:
Prospective Students
By choosing the Interdisciplinary Studies MA/MS, you are designing your future one course at a time. With the pairing of two discipline concentrations from any of the available offerings at UCF, the degree can be tailored to your unique interests and needs. Whether you are pursuing the degree for personal or career-related reasons you have the ultimate flexibility to fulfill either area of development. Students can choose from a Master of Science or Master of Arts degree depending on the selected concentrations and also have the option of completing a thesis or non-thesis track. Students are able to take courses from any department on campus, however, some degree plans have been developed that address today's societal needs and particularly addressing Florida issues.
In each of the below concentrations, you will find a list of courses from a variety of disciplines that are centered on a theme. Students may take any of these courses or others that may relate to their intended purpose for the degree. Students are not limited to these concentrations, but they are provided as an example for possible degree plans. Please note: some courses require pre-requisites; see the Graduate Catalog for more information.
Concentration Course Offerings
Admission Requirements
For information on general UCF graduate admissions requirements that apply to all prospective students, please visit the Admissions section of the College of Graduate Studies website. All applicants must apply online. All requested materials must be submitted by the established deadlines.
In addition to the general UCF graduate application requirements, applicants to this program must provide:
One official transcript (in a sealed envelope) from each college/university attended.
Official, competitive GRE score taken within the last five years (Thesis-track applicants only)
Personal statement describing the applicant's goals/objectives and intended focus of the degree.
Résumé.
Three letters of recommendation from academic references.
Applicants should note the minimal requirements for admission to the program, although meeting minimum UCF admission criteria does not guarantee program admission. Final admission is based on an evaluation of the applicant's abilities, past performance, recommendations, match of this program and faculty expertise to the applicant's career/academic goals, and the applicant's potential for completing the degree.
Application Deadlines
Fall Priority*
Fall
Spring
Summer
Domestic Applicants
Jan 15
Jul 1
Dec 1
International Applicants
Jan 15
Jan 15
Jul 1
*Applicants who plan to enroll full time in a degree program and who wish to be considered for university fellowships or assistantships should apply by the Fall Priority date.
Student Profiles
In light of the diverse areas students in the Interdisciplinary Studies program choose, there is great variability in their careers and future aspirations. Graduates from the Master's program have worked in the non-profit, government, education, and for-profit sectors in a variety of institutions. Current positions of alumni range from lawyers, non-profit foundation CEOs, faculty, and consultants in the business and environmental arenas. Read the spotlights below on some of our outstanding alumni and current students.
Vicky Chuong


Vicky Chuong graduated with an MS degree in Interdisciplinary Studies (IDS) with a concentration in psychology and biomedical sciences in 2019. The flexibility of the IDS program allowed Chuong to personalize her education and provided a learning environment that allowed her to mature academically and professionally.

"The IDS program connected me with mentors that challenged me to think critically, which ultimately invigorated my passion for science. As a scientist, I continue using these invaluable skills gained as an IDS student at UCF."

Since completing the IDS program, Chuong was awarded a competitive research fellowship from the National Institutes on Drug Abuse (NIH/NIDA) and is in the PhD program in Neuroscience at the University of Texas MD Anderson Cancer Center, the University of Texas Health Science Center at Houston.


LaToya Critenden


La Toya Crittenden completed her Interdisciplinary Studies MA degree with a concentration in Workplace Equality and Gender Studies in 2018 and received a graduate certificate in Teaching English as a Foreign Language. Previously, she earned a bachelor's from UCF in French and a minor in Crime, Law, and Deviance. Her interests were constantly evolving and diversifying, and the ability to cross disciplines made the IDS program her best choice for her master's.

Since graduating, Crittenden has taught English abroad in South Korea through the Fulbright Fellowship and is now an HR Specialist for the United States Government. "My original intention with my degree was to become a Diversity Specialist or work within EEO. Instead, I am now an HR Specialist in Recruitment and Staffing. However, my degree has still helped in unexpected ways. I have become a resource for my colleagues when they are uncomfortable with unfamiliar topics, such as gender identities, and wishing to start a conversation." says Crittenden.

"My coursework in IDS has allowed me to gain the necessary skills to create a safe learning space with my coworkers and build strong relationships between offices across the nation. When I was in Korea, I even facilitated verbal and nonverbal representation of the many diverse identities in the U.S. with my students, who primarily live in a homogenous society. I honestly do not think my journey would have been so successful after graduation if it weren't for IDS," says Crittenden.

Jessica Sherlock


After looking through other Graduate Programs on UCF's website, Jessica Sherlock knew the Interdisciplinary Studies Program was the perfect fit for her. She loved that she would have the ability to accommodate all of her interests by creating her path in the MA program. Sherlock started the IDS program planning to complete her degree with concentrations in Theatre for Young Audiences and Education. Midway through her program, with the flexibility IDS offers, she added a third concentration in Entrepreneurship, where she obtained a graduate certificate.

Sherlock is currently a Performing Arts Instructor with the city of Philadelphia. She has partnered with multiple theater companies in the Philadelphia area as a director and choreographer of their children's programs. Along with her husband, Sherlock adapts and performs plays for children and families at festivals and special events. She is working on a performing arts program for children at an established Philadelphia theater in 2023. She uses everything she learned in the IDS program through her work; with children every day and cannot wait to use it; in the future as she starts a children's theater company of her own.

Brian Silverman


Brian Silverman graduated with an MS degree in Interdisciplinary Studies (IDS) with a concentration in conservation biology and geographic information systems in 2019. As a returning student, he was impressed by the IDS program's flexibility in tailoring his education to meet his professional goals while still adhering to rigorous academic standards.

"The IDS program at UCF was instrumental in preparing me to work toward a common goal with others from varying diverse viewpoints. Taking coursework across multiple disciplines and engaging with other students, staff and faculty has helped me to learn by seeing the same problem from different professional perspectives."

Since graduation, Brian has worked with the St. Johns River Water Management District, where he interned during his time in the IDS program as a Land Management Specialist at the Lake Apopka North Shore. He is responsible for environmental restoration, threatened and endangered species management, prescribed fire management and application, and recreation across the property's 20,000 acres. He works with scientists, local governments, non-governmental organizations, and volunteers to preserve and protect Florida's natural resources.

Barbara Verchot
Founder, Wings of Peace International

Barbara Verchot has always considered herself to be a 'non-traditional student,' so the flexibility to cross discipline lines offered in the IDS program was extremely appealing to her. Her experiences conducting humanitarian work for the hill tribes of Thailand, both independently and with Wings of Peace International (WOPI), led her to a concentration in Anthropology and Political Science. "I saw a region mapped into territories by outsiders who had no idea how that act would impact the people there. It changed the status of tribal groups in the area and it changed the way these groups of people were thought of by others and how they thought of themselves."



During her time in the IDS program, Verchot appreciated having the ability to choose the best course of study for her interests. Her thesis, Creating Marginality and Reconfiguring Narrative: Reconfiguring Karen Social and Geo-Political Alignment, contains elements of political science, Asian culture, and narrative studies embedded in the overall anthropological theme. She also enjoyed working with highly accomplished, accessible professors who are interested in their students' success.
Verchot has presented her research at the American Anthropological Association's (AAA) annual meetings (2008-2009). She has also received the Global Woman's Humanitarian Award for outstanding contributions to humankind (2006), the Women's Caucus for Art's Outstanding Achievement Award for Leadership (2005), and has been recognized by the Thai government for her work which directly impacted more than 250,000 people in Maehongson Province.
Interdisciplinary Studies students have the choice to complete either a thesis or non-thesis track. Those that undertake a thesis aim to explore the intersection of their two concentration areas in an effort to expand, discover, or critique that intersection. The thesis projects created are as diverse as the students completing them. See the below examples of theses produced by Interdisciplinary Studies graduates.
Interdisciplinary Studies: Research
For a more comprehensive list of Interdisciplinary Studies, theses use the UCF Library Guide found here and search for the Department of Liberal and Interdisciplinary Studies.
Advising
Advising for the Interdisciplinary Masters occurs at many levels. For advising regarding your overall degree, a program of study, requirements, policies, and petitions the Interdisciplinary Studies staff in the College of Graduate Studies will be your point of contact. However, students are encouraged to also speak with individual department faculty they are taking courses with regarding thesis/capstone/exam committees, additional course suggestions, and future career plans as these faculty are more specialized in the field and may be able to offer more tailored suggestions.
For the overall advisement of students, staff in the College of Graduate Studies have developed advising milestones that should guide the progress of the student throughout their degree. The program coordinator will contact students regarding these, but students are also encouraged to initiate the process when they are approaching the next milestone. Additionally, individual advising appointments are offered Monday-Friday 8-5, around students' schedules. To make an advising appointment, email [email protected].
Advising Milestones
Thesis
Non-Thesis
0 – 9 hours:
Meet with IDS Advisor to review planned Program of Study (in application) and create personal timeline for degree completion
0 – 9 hours:
Meet with IDS Advisor to review planned Program of Study (in application) and create personal timeline
9 – 12 hours:
Meet with IDS Advisor to submit a finalized Program of Study for CGS before completion of 12 hours 18 – 24 hours: Meet to create/finalize Thesis Committee
9 – 12 hours:
Meet with IDS Advisor to submit a finalized Program of Study for CGS before completion of 12 hours
27 – 30 hours:
Thesis proposal to committee members
18 – 27 hours:
Meet to create/finalize Capstone Project or Exam Committee
30 – 33 hours:
Thesis review, submission, and defense
30 hours:
Schedule final presentation of project or written exam
Degree Requirements
Credit Hour Requirements
The Interdisciplinary Studies MS/MA is a total of 33 credit hours beyond the bachelors. All students in the program must choose two concentrations on which to base their degree. Each concentration will require 9 hours for a total of 18 credit hours. For thesis option students the other requirements are 6 hours of required courses, 6 hours of thesis, and one 3 hours elective course. For the non-thesis option, students will complete 9 hours of required courses and 6 hours of elective courses.
Independent Learning Requirements
In both programs, students will complete an independent learning component. For thesis-track students, this will be the completion of their thesis work. Resources and guidelines regarding the thesis writing process can be found here. For non-thesis students, there is a choice between a written comprehensive exam or capstone project. Both choices require the forming of a committee to provide guidance and evaluation of the student's work.
Contact Us
Interdisciplinary Studies Program
College of Graduate Studies
Millican Hall, 230
4000 Central Florida Blvd.
Orlando, FL 32816-0112