UCF Funding
UCF Funding
UCF Funding
The University Provides Assistantship, Fellowship, and Tuition Support to Select Graduate Students Who Qualify.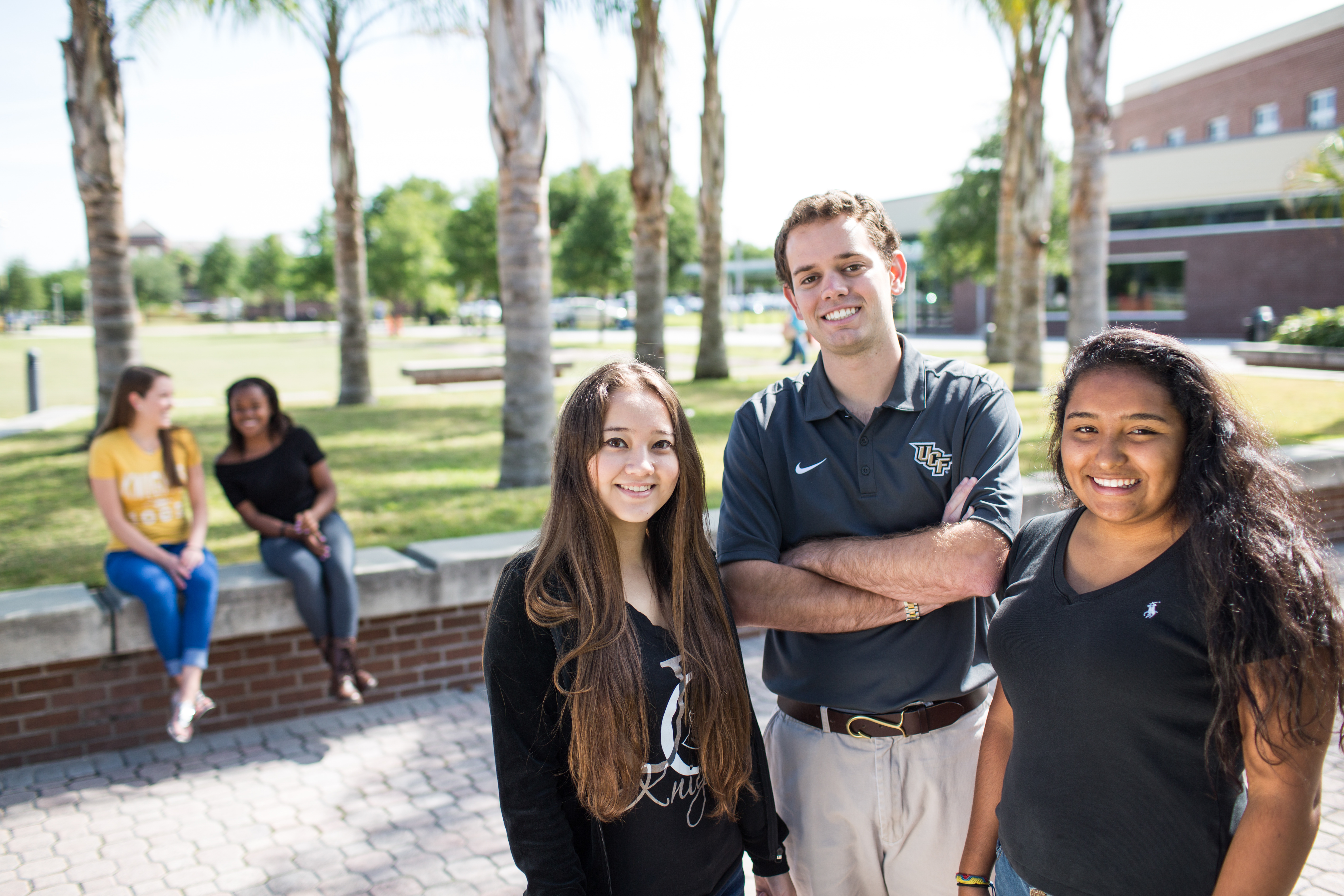 About UCF Funding
Many graduate students receive some form of financial support during their graduate study. Graduate student funding comes in the form of fellowships, assistantships, or student loans.
Applicants who wish to be considered for university fellowships or assistantships should apply by the FALL PRIORITY application deadline (January 15). Most university funding is offered between January and April each year, so it is important to apply early. To qualify for fellowships or assistantships, graduate students are expected to be enrolled full-time in a degree program.
Students interested in applying for loans or externally funded need-based awards should visit the Office of Student Financial Assistance website at finaid.ucf.edu and complete the Free Application for Federal Student Aid (FAFSA), which is available October 1 each year.
This section reviews the types of funding available, requirements, and UCF funding for assistantships and fellowships. In addition, it provides helpful guidance in applying for and finding funding.
---
Types of Funding
The university provides assistantship, fellowship, and tuition support to select graduate students who qualify. More detailed information about funding can be found in the Graduate Catalog, but this section will cover the basics of what you need to know.
In order to obtain funding, it is important that you talk with the program director of the program that you are in or applying to about the possibility of support.
The types of financial support are:
Student loan
Assistantship stipend
Fellowship stipend
Tuition remission
Health insurance
Students with qualifying assistantships or university-wide fellowships receive funding packages that include an assistantship or fellowship stipend, tuition remission, and health insurance. Qualifying fellowships are accompanied by tuition waivers (not including the payment of fees). Qualifying assistantships include single appointments of at least 20 hours per week or two appointments of at least 10 hours per week. Tuition remission is in the form of either tuition waivers or tuition payments that cover in-state (resident) tuition (not fees). Nonresident students with funding packages are not charged out-of-state tuition or the nonresident financial aid fee.
For information on current UCF tuition and fees, visit http://www.studentaccounts.ucf.edu/TuitionFees.cfm. Please note that tuition charges are listed as "Tuition" in the Tuition and Fees Cost table for 2017-2018. All other items listed are considered fees and are not covered by tuition waivers or most tuition payments.
Student Loans
Students who are interested in applying for student loans to assist with fees and other educational expenses should visit the Office of Student Financial Assistance website at finaid.ucf.edu and submit the Free Application for Federal Student Aid (FAFSA).
---
Funding Requirements
Graduate students must meet certain requirements each term that they receive fellowships or assistantships. In brief, to receive and maintain these types of funding packages, a student must:
Maintain good academic standing
Be enrolled full time
---
Fellowships
Most university fellowships are reserved for incoming degree-seeking graduate students who plan to enroll full time. For a listing of merit-based fellowships that are offered through the UCF College of Graduate Studies, see UCF Graduate Fellowships.
A list of funding opportunities for underrepresented students is included in Other Funding Resources.
Current graduate students may look for fellowship (or scholarship) funding from external agencies or organizations. Review Seeking Fellowships for guidance.
If you have a university fellowship, be sure you visit the For UCF Fellows page, where you will find helpful information about your fellowship package.
---
Presentation Support
The College of Graduate Studies provides presentation fellowships for students to present their research or comparable creative activity at a professional meeting or conference. The Student Government Association also funds individual and group travel requests.
For more information about these awards and how to apply for them, see Presentation Fellowships and "SGA Activity and Service Fee Travel Funding" on the Other Funding Resources page.
Assistantships
Graduate assistantship appointments offer opportunities for students to engage in research, teaching, and other projects during their graduate study. These are paid appointments that promote the missions of the university. For eligibility, students must be accepted as a graduate student in a degree program and be enrolled full-time.
To learn more about graduate assistantships at UCF, visit Assistantships.
---
Graduate Teaching
Graduate students may be appointed as graduate teaching assistants (GTAs) to carry out responsibilities as classroom teachers (instructors of record), co-teachers or classroom assistants, graders, lab assistants, or other roles directly related to classroom instruction for credit-earning courses at UCF. Mandatory training requirements must be met for a student to be hired in the position of Graduate Teaching Associate, Assistant or Grader. The training, offered by the UCF Faculty Center for Teaching and Learning, covers course design, learning theories, ethics, and other topics relevant to preparing GTAs for their responsibilities.
Students who are from countries where English is not the native language will have their English-speaking skills evaluated as part of the GTA Training. However, students will be exempt if they have completed a previous degree from a regionally accredited U.S. college or university, from a country where English is the only official language, or from a university at which English is the only official language of instruction, or they have received a score of 26 or higher on the SPEAK portion of the ibt TOEFL. Only exempted students and those who have attended the UCF GTA Training and satisfactorily passed the evaluation of their English-speaking skills may be assigned as Graduate Teaching Associates (position code 9183) or Graduate Teaching Assistants (position code 9184).
At the completion of each semester in which a student is employed as a GTA, the student's faculty GTA supervisor will meet with the student and complete the GTA Performance Assessment Form. These assessments are intended to facilitate and document the mentoring of graduate student teachers, promoting a review and discussion of the strengths and weaknesses in the student's performance in preparation for future employment.
For more about graduate teaching at UCF, see Graduate Teaching.
---
International Students
For more information about the types of employment available to international students, and the requirements and restrictions based on visa type, see the UCF Global website: global.ucf.edu.
Expectations concerning vacations, days off and leave vary greatly depending upon the assistantship type and the details of the individual circumstances. Please speak to your supervisor at the beginning of your appointment to clarify what these expectations are.
---
Finding a Job
If you are interested in graduate assistantships at UCF, please the first talk with your graduate program director in the department, in case there are opportunities available within the college or department. Another excellent resource for students looking for employment is the Handshake system on the UCF Career Services website at https://career.ucf.edu/.
---
Tuition Remission
Tuition remission is connected to your university fellowship or qualifying graduate assistantship appointment. For more information on the different levels and types of tuition remission, visit Tuition Remission. To review the student obligations for maintaining graduate tuition support, see Graduate Tuition Support.
---
Health Insurance
Students who have a university fellowship or qualifying graduate assistantship also receive an individual health insurance policy paid for by the College of Graduate Studies. For more about this offer, see Health Insurance.
---
Applying for and Receiving Financial Aid
All students interested in federal loan programs must apply or reapply yearly by completing the online FAFSA found at www.fafsa.ed.gov. For information on the different types of loans offered, see the Office of Student Financial Assistance website at finaid.ucf.edu.
The Student Financial Assistance section in the Graduate Catalog is written specifically for graduate students who may wish to apply for financial aid. It provides guidance on student eligibility, applying for financial aid, and details of the financial aid award and payment processes.
---
Things You Should Know
Cost of Attendance
Each year in July the university publishes the Tuition and Fees at studentaccounts.ucf.edu/tf-graduate/ for the coming academic year. These new rates apply beginning in Fall semester. Also, please remember that the Graduate Resident Rate and Graduate Non-Resident Rate that appear on your Fee Invoice include tuition and local fees (e.g., building fee, transportation fee, capital improvement fee).
myUCF
Use myUCF to check the status of your student account and financial aid, and review the Graduate Funding page to see fellowships, health insurance, GTA training requirements satisfied and assessments submitted. In Employee Self Service you can use the Payroll and Compensation page to see your paycheck and compensation history, W-2 and W-4 forms information, and direct deposit for your paycheck.
Responsibility to Pay
Students are responsible for paying their semester bill by the published payment deadline. See Student Account Services for more information about payment deadlines and procedures.