About the College
Welcome to UCF's College of Graduate Studies.
UCF is full of opportunities both on and off-campus. Our partnerships with big companies like Disney and Siemens to local nonprofits, provide our students with valuable hands-on experiences that enhance their educational journey. From conducting fieldwork in nature preserves on the Space Coast to learning how to run a nonprofit in downtown Orlando, Central Florida is an amazing place to learn and grow.
We offer master, specialist, doctoral, and certificate programs in a range of fields from aerospace engineering to urban planning that include research opportunities to maximize your educational experience.
Your program office will likely be the place you turn to most often when on campus, but know that our college is here to support you throughout your UCF journey. Our faculty and staff are dedicated to your success.
We are responsible for everything from creating policies and procedures that pertain to graduate students to analyzing and making recommendations for program enhancements. We are involved from admissions to graduation and we provide an array of support services in between. We also offer guidance for interdisciplinary and cooperative programs. If you have a question about graduate studies and you're not sure where to get an answer, we can help.
We advocate for your intellectual development and are committed to seeing you graduate. Our goal is simple – to help you become the best in your chosen field.
To be the best requires advanced knowledge, hard work, and commitment. Congratulations on embarking on that first step – the pursuit of graduate studies. If you are willing to put in the hard work and are committed, we are here to support you along the way.
Take full advantage of the journey and get ready to change the world,

Elizabeth Klonoff, Ph.D., ABPP
Vice Provost and Dean
College of Graduate Studies
Mission
The UCF College of Graduate Studies provides leadership and services to create quality learning environments for graduate students.
About Our Mission
UCF College of Graduate Studies is an advocate for graduate education, working to mobilize and arrange the resources needed for enrollment and program growth. We track and analyze emerging trends and changes in graduate education, both nationally and with our peer institutions, and provide support and guidance for interdisciplinary and cooperative programs. We are mindful of the need to retain the academic values of the graduate programs while acting as a partner in the social and economic well being of the community and state.
We collaborate with the faculty to develop policies and best practices that further the high academic standards and excellence of our graduate programs. We are client-centered, focused on providing the information and services that students need to enhance their experience with UCF and that faculty and staff need to effectively carry out their responsibilities to students. Cooperation with colleges, graduate programs, institutes and centers, administrative offices, and support services is emphasized to provide an excellent experience for our graduate students from inquiry to graduation.
Through its primary activities, programs and services, UCF College of Graduate Studies contributes to program development and growth, enrollment management and recruiting, enhanced infrastructure and technological support for our graduate students and programs, and quality student support services for a diverse and talented graduate student population.

Vision Statement
The college provides the leadership, vision, and support services necessary for the university to achieve its goal of international prominence in selected areas of graduate studies and research. The college is a leader in defining the image for graduate education at UCF as one of quality, programs of true excellence, and one that is focused on community partnerships.
Values Statement
Integrity – We exercise the highest standards of integrity in everything we do. We will practice and defend academic and personal honesty. Our job performance is characterized by truthfulness, dependability, and responsibility. We seek to be known by our clients as trustworthy and dependable.
Excellence – We strive toward the highest standards of performance in all aspects of our operation. We perform every task at an exemplary level of quality. We seek to exceed the expectations of those we serve, always delivering more than we promise and setting a high standard for our hard work, knowledge, and problem-solving skills.
Respect – We respect the rights of others to promote an open and supportive campus environment. Students will always be treated with respect and courtesy. Staff are valued for the diverse contributions that they make to the College of Graduate Studies and the university. Diversity is celebrated. We treat everyone with respect and civility.
Service – We are primarily a service organization. As such we recognize the importance of "customer relations" and meeting the needs of our clients. We strive for quality and prompt service.
Continuous Improvement – We continuously evaluate existing policies and practices searching for ways to improve our operations. All operational initiatives are routinely examined as a basis for refining, replacing, or eliminating less-effective strategies. We review and implement new technologies that will enhance our operations and service. We seek to be a leader in the application of advanced practices and technologies.
Commitment to Quality
The College of Graduate Studies serves many clients. Our central concern are the students who inquire about, enroll in, and graduate from the university's graduate programs. In addition, we work closely with the staff, faculty, and administrators of the university's colleges, schools, and departments. We also support the interests and needs of our graduate programs by providing timely processing, assistance, training, and guidance. We understand that the ultimate success of our graduate programs depends in part upon the quality of our service. Thus, we are committed to providing the highest possible quality of service to all clients. The employees of the College of Graduate Studies strive to exceed the expectations of those that we serve by:
Anticipating the needs of stakeholders
Creating a culture that values service and fosters mutual respect
Identifying and solving problems
Implementing new technologies that enhance our services
Projecting a friendly and courteous demeanor in every customer interaction
Providing timely and accurate information
Providing services that are convenient and accessible to all
Removing unnecessary barriers to graduate students
Responding to all requests quickly and efficiently
Reviewing all policies and practices on a regular basis
Simplifying business processes whenever possible
---
Leadership
Dr. Elizabeth A. Klonoff
Vice Provost and Dean
College of Graduate Studies
Dr. Elizabeth A. Klonoff is the Vice Provost and Dean of the College of Graduate Studies at the University of Central Florida. She joined UCF in 2016 from a joint appointment with San Diego State University and the University of California, San Diego, where she served as the co-director of the joint doctoral program in clinical psychology. A clinical and health psychologist, Dr. Klonoff received her Ph.D. in clinical psychology from the University of Oregon. She was an Assistant Professor in the Departments of Psychiatry and Obstetrics and Gynecology at Duke University School of Medicine and then an Assistant Professor in the Departments of Psychiatry and Neurology at Case Western Reserve University School of Medicine and Director of the Behavior Therapy/Behavioral Medicine Clinic at University Hospitals of Cleveland.
She serves as Senior Associate Editor for Training and Education in Professional Psychology and Associate Editor for the American Psychologist and has conducted research projects on tobacco control, sexism, racism, and physical and mental health. She has published widely on culture and gender diversity in clinical psychology, behavioral medicine, and preventive medicine and is a Fellow of the American Psychological Association in multiple divisions.
In her position at UCF, she is charged with advancing UCF's reputation and impact as a 21st-century metropolitan research university by growing graduate enrollment, specifically for research-focused degrees, and elevating the scale and quality of its research.
---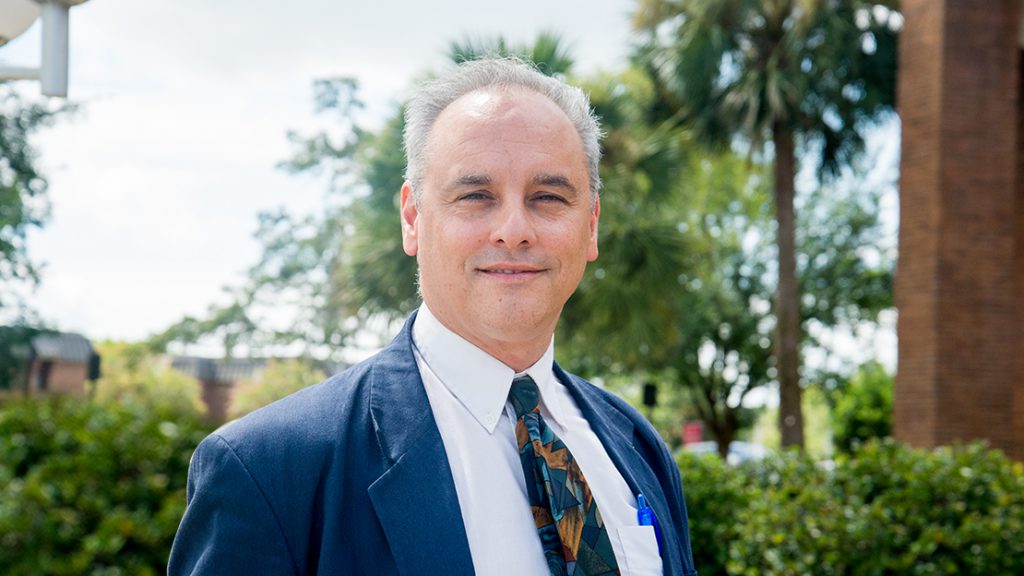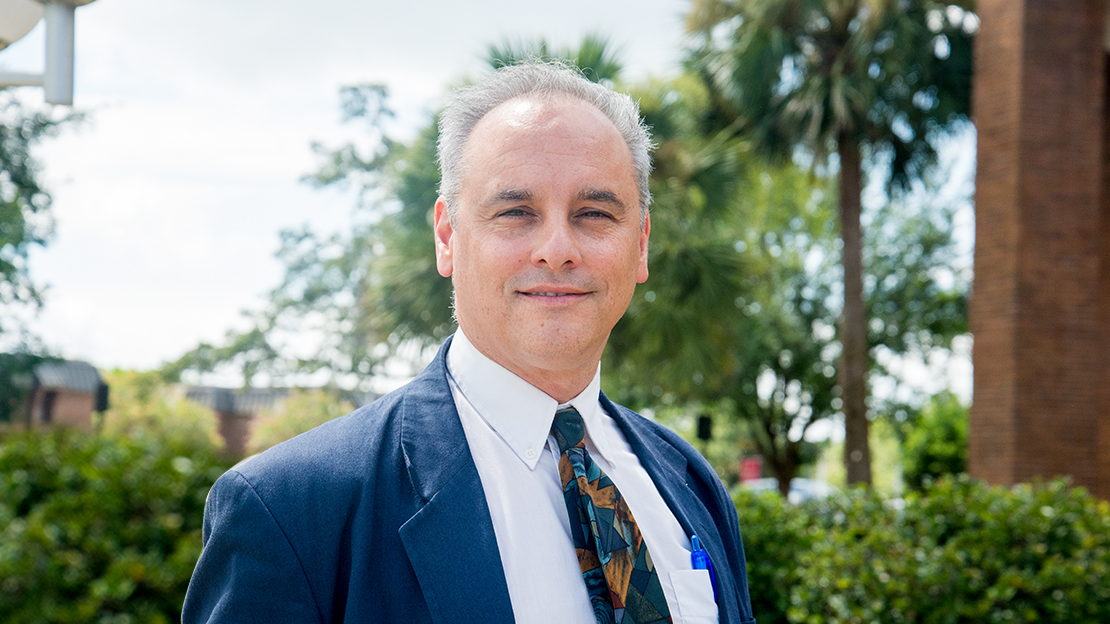 Dr. John Weishampel
Senior Associate Dean
College of Graduate Studies
Dr. John Weishampel is the Senior Associate Dean, Director of the Interdisciplinary Studies MA/MS programs, a Professor of Biology, and also oversees PostDoctoral Affairs and the Graduate Student Life teams. He received his bachelor's degree in biology (1985) from Duke University and his master's (1990) and doctorate (1994) degrees in environmental sciences from the University of Virginia. Prior to coming to UCF, he was an NRC Research Associate at NASA Goddard Space Flight Center. His research primarily focuses on the detection and simulation of spatial patterns in terrestrial landscapes using remote sensing and GIS. His interdisciplinary endeavors have overlapped with archaeology, biogeochemistry, civil engineering, hydrology, and coastal, forest, marine, wetland, and urban ecology. In the College of Graduate Studies, he oversees the development of curriculum, professional development, new academic degrees, the Graduate Student Center, the Thesis and Dissertation area, and the growing postdoctoral affairs program.
---
Dr. Barbara Fritzsche
Associate Dean
College of Graduate Studies
Dr. Barbara Fritzsche is the Associate Dean overseeing the Academic Services, Progress, and Graduation team with a focus on developing infrastructures, research and business plans in support of graduate student persistence. She will work with the campus-wide graduate community to develop best practices and relevant interventions that will lead to increased student retention. Dr. Fritzsche has a doctorate in industrial and organizational psychology from the University of South Florida and her research interests include workplace diversity, especially the aging workforce, and workplace wellness initiatives.
---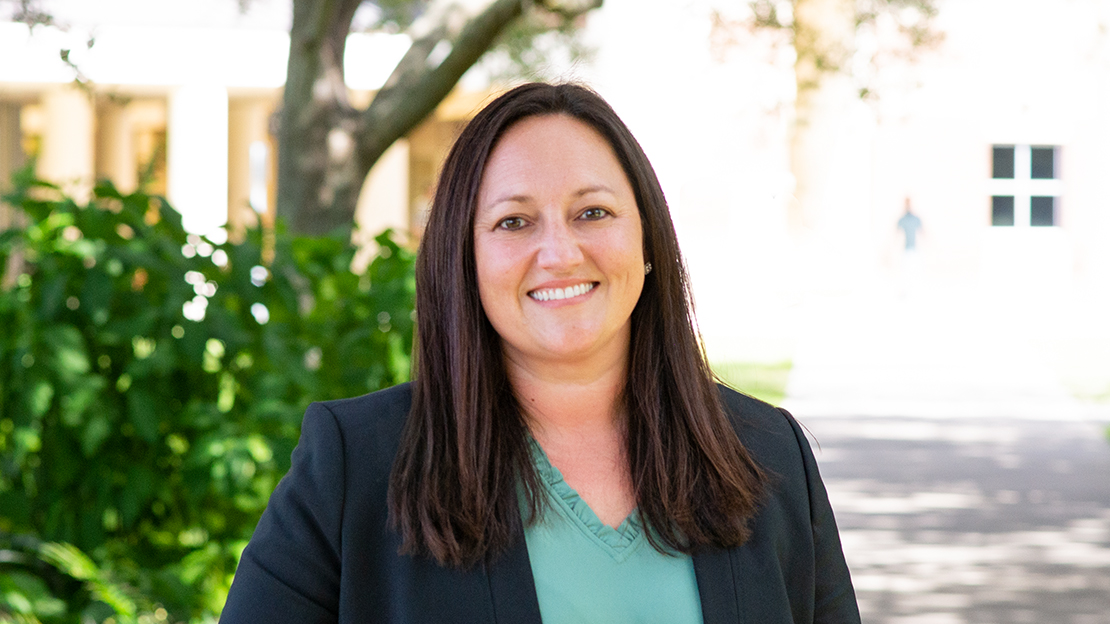 Dr. Jennifer Parham
Senior Assistant Dean
College of Graduate Studies
Dr. Jennifer Parham is a Senior Assistant Dean of Graduate Admissions, Recruiting, and Funding at UCF's College of Graduate Studies. She received her Applied Sociology MA (2004), Instructional Technology – Instructional Systems MA (2005), and Doctor of Education (2014) from UCF. Her doctoral dissertation research focused on the challenges graduate students face in academia and their definitions and understanding of appropriate academic sharing. In her role in the College of Graduate Studies, she oversees the administration of graduate funding (fellowships, assistantship hiring, tuition support, and health insurance), as well as admissions and recruitment for the college. Her teaching areas of interest include gender and the sociology of deviance.
---
About the College
The College of Graduate Studies is responsible for providing vision, leadership, and oversight for graduate education at the University of Central Florida. Working in conjunction with the Faculty Senate Committees and the college and graduate program directors, the Graduate College is responsible for developing university-wide graduate plans and policies, coordinating graduate activities, distributing tuition support and fellowships to the colleges, facilitating the adoption of new graduate programs, coordinating the recruitment of graduate applicants, admitting graduate students to the university, ensuring that academic standards are maintained, and certifying successful completion of graduation requirements and awarding graduate degrees.
Postdoctoral Growth and Support
The College of Graduate Studies plays a central role in the recruitment and retention of Postdoctoral students. In this role, the graduate college has a mandate to:
advocate for postdoctoral scholars and a UCF postdoctoral community;
educate postdoctoral students and the campus community about graduate policies, graduate student rights, and specific administrative/HR concerns related to postdoctoral students;
build effective career management skills and professional skills that postdoctoral students need both in and outside of the lab setting;
support a program of faculty mentors in the recruitment, mentoring, and professional development of productive postdoctoral scholars; and to
collaborate with institutional services to address the issues, concerns, and needs that are unique to the postdoctoral student population.
Graduate Council
The College of Graduate Studies supports infrastructure for shared governance in the relationship between the College of Graduate Studies and the institution as a whole. The faculty senate is central to the institution fulfilling its academic mandate to provide a wide range of graduate programs with accountability and academic rigor. The creation, implementation, and review of courses and programs require our articulate and knowledgeable faculty community to come together to address and assess the graduate curricular activities of the campus. In this, the College of Graduate Studies provides essential policy and practical knowledge to provide oversight and stability to these activities. The graduate school also provides administrative support to the graduate council committees in the form of record keeping, completing essential paperwork, establishing agendas, and keeping meeting minutes. The graduate council has the purpose of leading the discussion on both institutional and national level dialogue related to contemporary and future matters of graduate education, curriculum, and program design/creation. This discussion can then be used to inform the activities of the four graduate council committees: 1) policy, 2) academic appeals, 3) graduate curriculum, and 4) graduate program awards and review.
The Graduate Policy Committee is a committee of the Graduate Council. They examine and recommend policies and procedures or changes to existing policies and procedures with regard to graduate education.
The Graduate Appeals Committee is a committee of the Graduate Council. They hear petitions regarding variances to the implementation of graduate policy, variances to the application of the Golden Rule, requests from graduate program directors for exceptions to graduate policies and procedures and review all matters referred by the Graduate Council.
The Graduate Curriculum Committee is a committee of the Graduate Council. They review all curricular issues related to graduate education and make recommendations to the Vice President for Research and the Dean of the College of Graduate Studies.
The Graduate Council Program Review and Awards Committee provides guidance to the College of Graduate Studies about the quality of our graduate programs through recommendations to the Dean of the College of Graduate Studies. The Program Review and Awards Committee are involved in the formal program review process that examines graduate programs on a 7-year cycle by making recommendations as needed concerning the programs. The Program Review and Awards Committee also engages in an ongoing discussion of the factors that promote quality in graduate education and examines how these factors influence our programs.
Graduate Program Creation
UCF has continued its emphasis on developing quality programs that impact existing and emerging industry clusters in the region and the state. Much of this is directed at linking graduate students, faculty, and their research to business and industry. Research includes work in and across multiple disciplines such as optics and lasers, modeling and simulation, materials science, energy, biomolecular science, neuroscience, nanoscience, computer science, forensic science, education/ distributed learning, and business operations including human factors and entrepreneurship. These research efforts establish a direction for the College of Graduate studies in the development of new programs that provide more multi-disciplinary opportunities for our graduate students. In the development of new programs, the College of Graduate Studies provides academic, recruitment, and program administration support.
Interdisciplinary Graduate Programs
The Interdisciplinary Studies office provides master's degree programs to students whose personal and professional goals do not fit within the disciplinary degree programs offered elsewhere at UCF. The office provides student services to interdisciplinary graduate students, from inquiry to graduation, including recruiting, admissions, academic advising, internships, mentoring, and graduation certification.
Graduate Student Association
As part of our responsibility for graduate students, the College of Graduate Studies provides direction, administrative support, and mentoring to this student government entity. We work to ensure it is a functioning body that fulfills its bylaws and represents the current needs and issues of the overall graduate student population. The graduate college also acts as a consistent entity for this student government group as the presidency switches out yearly. The Graduate College also works through the GSA to ensure there is the full representation of Graduate Student Senators in the Student Government Association.
Graduate Admissions
Graduate Admissions covers all contact that the College of Graduate Studies has with any student applying to the non-degree, certificate, master's, professional doctorate, or PhD programs at UCF. In this, graduate admissions are designed to provide advisement on application requirements and to provide support with any other specific questions related to the application cycle. The admissions team is also responsible for international credential evaluations and determining residency status for in-state or out-of-state students. As part of a larger institutional system, admissions must ensure open and accurate communication with UCF colleges and graduate programs around completed application materials, application recommendations, and relevant application data. The central element of this system is to link graduate admissions protocols and data to student success.
The admissions team works to be the institutional leader in providing key knowledge and oversight for admissions best practices across our graduate community. The admissions team also serves as the voice for holistic admission protocols. Holistic Admission Review is a flexible process by which applicants may prepare for and demonstrate sustainability in their chosen field of study. A holistic review has proven to be an admission strategy that can be a driver for achieving graduate academic excellence across the campus and increasing the diversity of our overall graduate population. To this end, the graduate admissions team works with all graduate programs in developing holistic infrastructures that articulate their diversity objectives and tie them to the mission of UCF and their college-level missions. Protocols such as rubrics and clearly defined workflows can enhance these admission activities especially as it relates to holistic admission practices. As such, the admissions team are to be the leaders at UCF for admitting graduate students utilizing holistic assessments.
Graduate Recruiting
The College of Graduate Studies has a mandate to develop and implement a university recruiting plan. This effort covers all initial contact with prospective graduate students and helps them to make informed decisions about applying to UCF graduate programs. It also provides the colleges and programs with guidance, resources, and assistance in regard to the recruitment of graduate students. The focus of these efforts is to help meet university goals related to enrollment management. Through our various recruitment efforts, the College of Graduate Studies seeks to support UCF in admitting and retaining graduate students who:
harness the power of scale within the institution to transform lives and livelihoods;
represent both demographic and professional diversity strengthening the campus;
strive to utilize institutional resources to solve society's challenges;
seek out partnerships to amplify our academic, economic, cultural, and social impact; and who
contribute to the academic, operational, and financial innovation of the higher education community.
Our recruiting team also works in collaboration with admissions and UCF colleges to assist in implementing and utilizing holistic enrollment strategies to attract, admit, and retain graduate students including those of pre-eminence. In this, the recruitment strategy strives to find graduate students and pre-eminent graduate students who bring with them attributes and dispositions of a high academic quality, a specialized skill set for their field of study, a professional awareness, a defined research focus or background, and a desire to achieve articulated professional goals. These graduate students also model the fabric of our communities by representing people of diverse demographic backgrounds and people of diverse socioeconomic backgrounds. These characteristics provide a starting point for graduate program leaders and faculty to utilize recruitment and holistic admissions strategies necessary in attracting potential students who exemplify these characteristics.
Academic Services, Progress, and Graduation
UCF has certain enrollment goals that reflect both the success and growth of the institution. Enrollment goals are met through a combination of attracting new graduate students, retaining them, and encouraging persistence in the system. The College of Graduate Studies has a responsibility to support infrastructures that help graduate students persist through to graduation in a timely manner. Enrollment is a linkage between admitting new students and then helping as many of them to carry through to program completion. The secondary purpose of student services is to track the graduate student's reality and report to the graduate community on relevant enrollment data. This communication and analysis of data can help with programmatic and institutional decisions on enrollment targets, areas for enrollment growth, marketing campaigns, recruitment efforts, and graduate student development. Central to our student services is the concept of persistence.
Persistence through a graduate academic program is a multifaceted and complex process. It is more than just taking the right classes and getting good grades. The purpose of the College of Graduate Studies Student Services is to provide the necessary infrastructures, activities and supports that can help graduate students successfully navigate all that is required to complete a degree and become prepared for their career pathway. To this end, the graduate school will use data and data-driven decision-making protocols to inform our knowledge of persistence within graduate education at UCF leading to relevant action, interventions, and program/resource development.
Our student services infrastructure is comprised of three sub-systems: Retention, Progression, and Graduation.
Academic Services
Academic Service is all activities, programs, events, services, and business practices utilized to help graduate students to be retained and persist to certificate or degree completion.
Progression
Progression is all activities, programs, events, services, and business practices utilized to help graduate students successfully navigate and complete all certificate and degree programmatic requirements. This system element also responds to all unsuccessful activities of our graduate students including not maintaining the required GPA, graduate appeals, or certain Golden Rule violations. The system also utilizes business practices that ensure the proper and complete fulfillment of all relevant paperwork linked to our graduate student's degree.
Graduation
Graduation is all activities, programs, events, services, and business practices for the College of Graduate Studies graduation responsibilities. This includes such responsibilities as events around the graduation ceremony, confirming graduation clearance, reviewing of commencement book, certifying doctoral students, and preparing the graduation script.
Graduate Funding
This area administers over $2 million in UCF graduate fellowships each year and helps students identify other sources of financial support for graduate study. Additional responsibilities include oversight and administration of graduate tuition support, enrollment in student health insurance for graduate fellows and assistantship students, the processing of graduate assistantship agreements and assessments, awarding of Presentation Fellowships to support graduate student research, and the Parental Leave for Graduate Assistants program. The Preeminent Postdoctoral Program and oversight of the hiring of postdoctoral scholars are also the responsibilities of this area.
Graduate Student Life
This area coordinates the format review and final submission process for the electronic theses and dissertations (ETDs), establishes the university ETD deadlines, administers thesis and dissertation-related policies, and provides guidance throughout the thesis and dissertation process. The university-wide Pathways to Success workshops that complement students' experiences in their programs are also overseen by this area, as is the management of the Graduate Student Center. Additionally, this team supports graduate community events including Graduate Orientation, 3MT Competition, and Student Research Week.
Communications
The Communications Office provides communications, news and stories, social networking, websites, and materials to support college efforts in recruiting, admissions, student services, financial assistance, and administration.
Information Technology
Information Technology supports the large-scale electronic enterprise that the College of Graduate Studies requires for the administration of graduate education.
---
Preparing for Graduate School
The following steps will help you begin the process of preparing for Graduate School. Good luck.
Step 1 – Take Challenging Courses in an Area of Interest
Explore your interests by taking undergraduate or graduate courses that contribute to your overall knowledge of an area and challenge you to think critically.
Step 2 – Conduct Research
Participating in research projects provides students a valuable opportunity to learn more about a program of interest as well as get to know a faculty member in a non-classroom environment who can also provide helpful career contacts and information.
Step 3 – Participate in Internships
Internships provide students an opportunity to learn more about a subject of interest and get to know contacts in the field.
Step 4 – Research Schools and Programs
After deciding to attend graduate school, you should begin doing research on schools and programs that might be of interest to you. You can visit a school's website directly or check out website guides that will give you insight into several schools and their programs.
Step 5 – What about funding?
There are many sources of financial support for graduate study. Graduate programs often (but not always) pay for a student's tuition, fees, professional memberships, and travel to professional meetings. Make sure you understand what will and will not be covered by the graduate institution. The basic forms of financial support for graduate students are fellowships, assistantships, tuition remission, and health insurance. Loans and external fellowships are also available. Fellowships are very competitive but are also very prestigious. They do not require service, such as teaching, in return for funding, but some external fellowships may have payback requirements. Fellowships can be externally funded or funded by your institution. Graduate students often have assistantships in their graduate program or department. These appointments offer opportunities for students to engage in research, teaching, and other projects during their graduate studies. To find out more about UCF financial assistance opportunities, visit Funding. For student loans and other funding sources, you should also visit the Office of Student Financial Assistance site at finaid.ucf.edu.
Step 6 – Prepare for the GRE or GMAT
Prepare to take the Graduate Record Exam (GRE) or the General Management Admission Test (GMAT) by taking practice tests until you feel comfortable with the content, instructions, and item formats and until you believe you can score up to your ability. Visit www.gre.org or www.mba.com. The Division of Continuing Education at UCF also helps students prepare for these important tests through various workshops and programs. Visit www.testprep.ucf.edu or call 407-882-TEST for more information.
Step 7 – Apply to Graduate School
Each school's application process is different and programs vary in their requirements. Be sure to follow the instructions on your application.