Training
Training
Training
Keep Learning New Things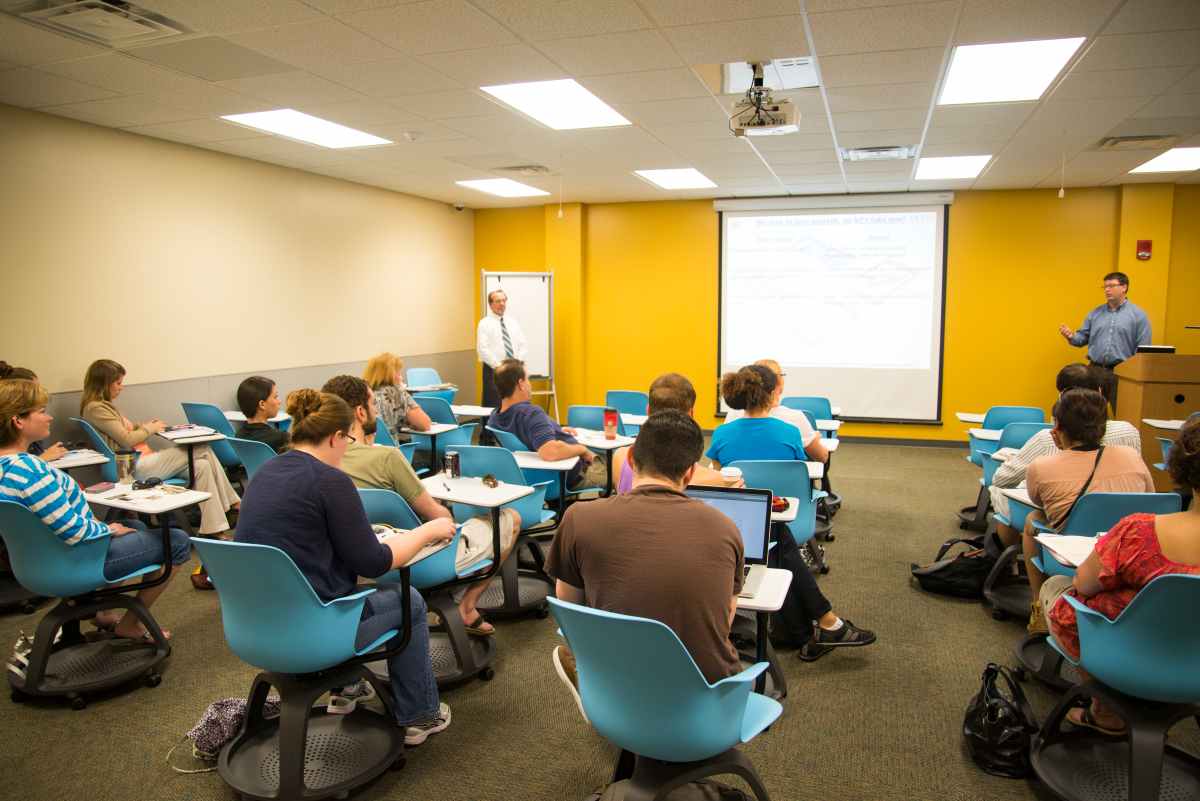 Graduate Studies Training
The College of Graduate Studies offers the following training to assist graduate program directors and their staff. The training sessions review graduate policies and procedures, resources and services, as well as systems (PeopleSoft, Slate, GradInfo, etc.) available to you.
Please enroll in the training appropriate for your responsibilities as soon as possible. If you need help deciding what to take, contact one of the College of Graduate Studies staff listed below.
DocView access must be specifically requested by your department as annual usage fees are involved. To request a new DocView account, please visit www.cst.ucf.edu/about/enterprise-application-development/about-enterprise-imaging-systems/.
Registering for Courses
For online courses, register through Workday:
Log onto Workday (www.myworkday.com/ucf/) using your NID and password.
Select "Learning" in the menu.
Select "Discover".
Select "Browse Learning".
Search via one of the four methods and enroll.
Courses
FERPA Training
SR100W
Offered Online
This course is a prerequisite for College of Graduate Studies training.
Sign up on Workday by searching SR FERPA Training – Web or SR100W.
More information about FERPA can be found at registrar.ucf.edu/ferpa.
---
PeopleSoft Basics
PSC001
Offered Online
This course is a prerequisite for College of Graduate Studies training.
Sign up on Workday by searching PS SA/HR Basic Navigation or  PSC001.
---
Admissions Training
The admissions training is hosted in our Slate Admissions Application. Please register here: applynow.graduate.ucf.edu/portal/admissions_training
If the pre-scheduled training conflicts with your schedule, please contact Brandy Pieper ([email protected]) for other options.
---
Academic Services, Progress, and Graduation Training
GRD001
Sign up on Workday for the GRD001 Student Services and Graduation course.
Please email [email protected] if you have questions about training opportunities.
---
Graduate Funding Training
Graduate Funding Training for Faculty and Staff (Webcourse)
Register here for the Webcourse. Once completed, email [email protected] to request access to the Graduate Financial System. This system is used to send graduate assistantship offers and create graduate assistantship agreements.
Resources
Please email [email protected] with questions.
---
Graduate Catalog Review
An Annual Process
To receive access to edit your Graduate Catalog, please contact Emily Stettner ([email protected]) with your NID and the list of programs to which you need access.
---
Thesis and Dissertation Process
Faculty and staff can join the free, self-paced webcourse, "How to Help Grad Students: Thesis and Dissertation" to learn more about the thesis/dissertation process to help graduate students better.
This reference tool provides a timeline for thesis/dissertation completion, and information on communications, deadlines, reports, forms, the defense and format review processes, and more!
Join the course at: https://webcourses.ucf.edu/enroll/HKL8BC
Thesis and dissertation questions can also be sent to thesis/dissertation staff members, Wendy Cartier or Nathalia Bauer, at [email protected].
---
Graduate Council Curriculum Committee
In the Fall and Spring semesters, this committee reviews and makes decisions on requests for new tracks, certificates, courses, and special topics, and requests for modifications or deletions to any of these programs.
Please refer towww.graduatecouncil.ucf.edu for more information.