Grad Fair
About UCF's Grad Fair
Choosing to pursue a graduate education is one of the biggest decisions an individual will make for their future. Regardless of the reason you may choose a graduate education, the first step is being informed about your options.
Graduate school is a good choice when the graduate degree will provide you entry into your desired profession or advance your career. According to the U.S. Census Bureau, 7.4 percent of the population ages 18 and older hold a master's degree while 1.5 percent have earned a doctorate. Completing a graduate education is a great way to stand out in the workforce and increase career opportunities for a brighter future.
SAVE THE DATE
The 2023 Grad Fair is scheduled for Wednesday, September 20, 2023, from 4:00 p.m to 7:00 p.m. in the UCF Student Union, Pegasus Ballroom. The fair offers an open house-style event that is free and open to anyone interested in a doctoral, master's, specialist or certificate program at UCF. Learn more about graduate study at UCF by meeting with faculty and staff from nearly 200 graduate programs.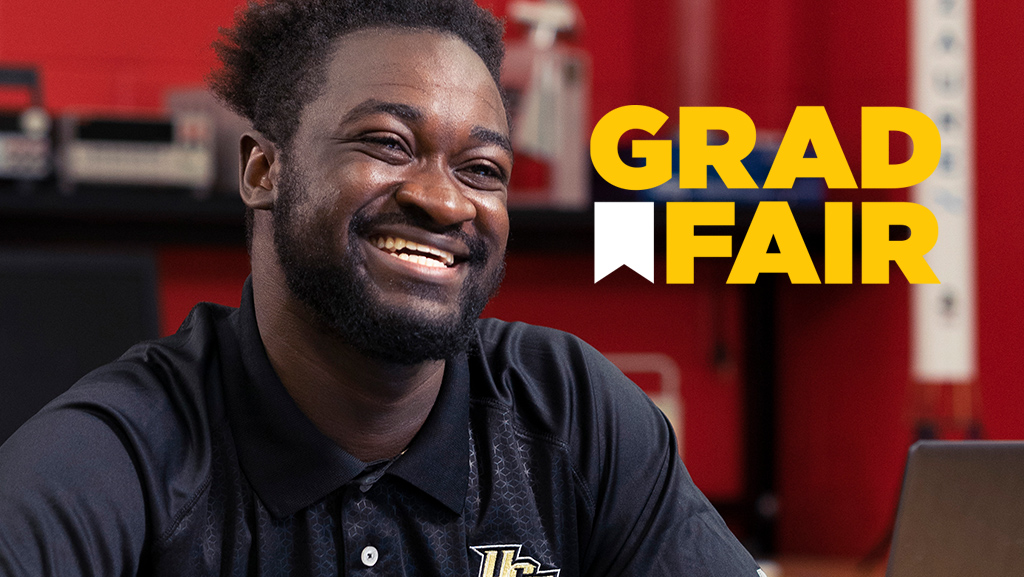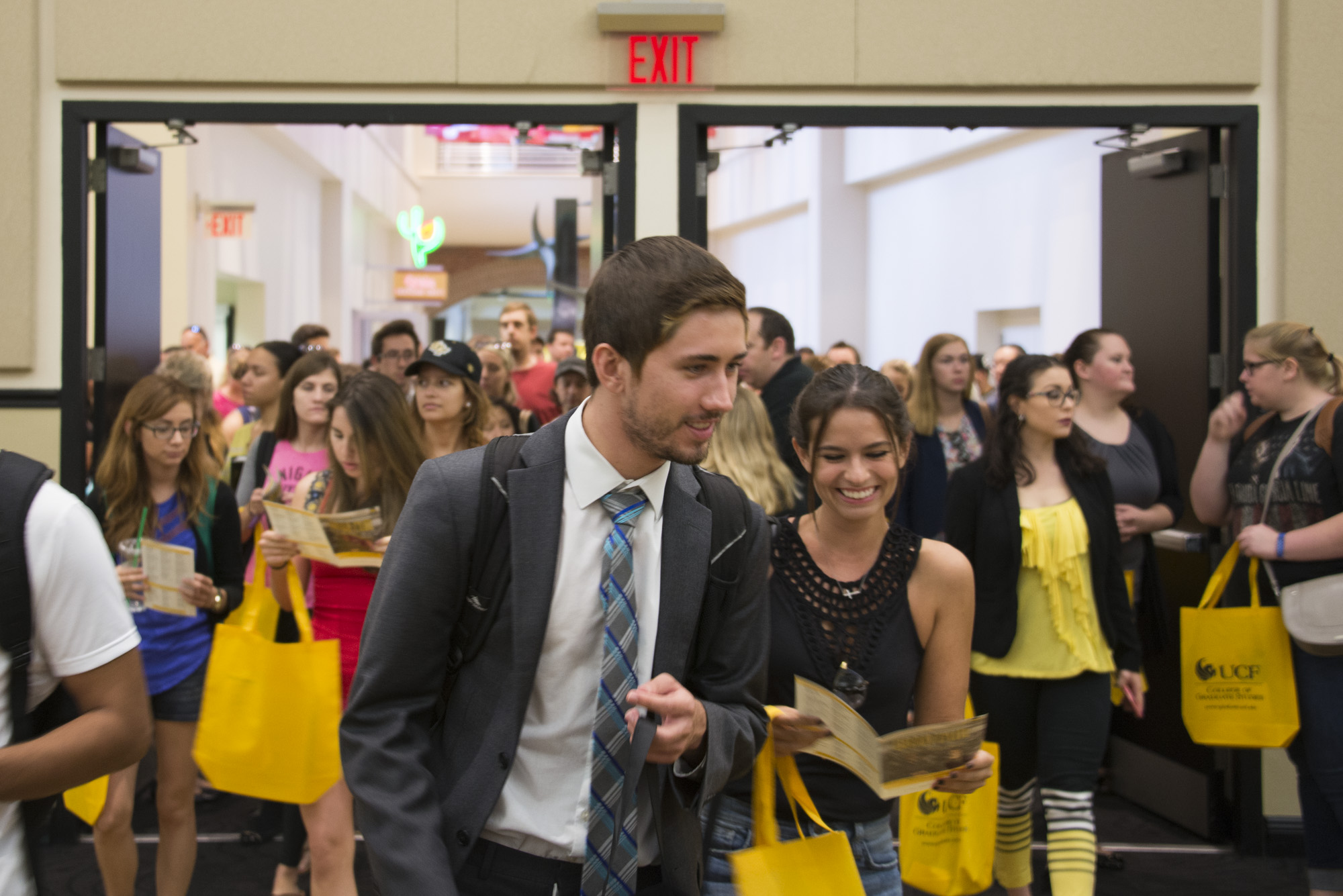 Participating Programs
Faculty and staff from the following graduate programs are currently registered for this year's event. Please check back often as we will update this list as more programs register!
---
College of Arts and Humanities
Cognitive Sciences Certificate
Creative Writing MFA
Emerging Media MFA

Animation and Visual Effects
Studio Art and Design

English MA

Literary, Cultural, and Textual Studies Track

English MA, Rhetoric and Composition
Ethics, Theoretical and Applied Certificate
Gender Studies Certificate
Music MA
Professional Writing Certificate
Spanish MA
Teaching English as a Foreign Language Certificate
Teaching English to Speakers of Other Languages MA
Text and Technology PhD
Theatre MA
Theatre MFA

Acting Track
Theatre for Young Audiences Track
Themed Experience Track

Themed Experience MS
---
College of Business Administration
Accounting MSA

Assurance
Management
Taxation

Business Administration MBA

Evening
Executive
Professional

Business Administration PhD

Accounting
Finance
Management
Marketing

Business Analytics MS
Center for Entrepreneurial Leadership/Entrepreneurship Certificate
FinTech MS
Management MS

Human Resources
Integrated Business

Real Estate MSRE
Sports Business Management MSMB
---
College of Community Innovation and Education
Conflict Resolution & Analysis Certificate
Counselor Education MA

Counselor Education MA, Clinical Mental Health Counseling Track
Counselor Education MA, School Counseling Track

Counselor Education MEd, School Counseling Track
Criminal Justice MS
Criminal Justice PhD
Crime Analysis Certificate
Curriculum and Instruction EdD
Police Leadership Certificate
Correction Leadership Certificate
Early Childhood Development and Education MS
Education PhD

Counselor Education
Teaching, Learning, and Development

Educational Leadership EdD – Executive (K-12)
Educational Leadership EdD – Higher Education
Educational Leadership MA/MEd (K-12)
Educational Leadership MA – Higher Education/Student Personnel
Educational Leadership EdS (K-12)
Emergency and Crisis Management MECM
Emergency Management and Homeland Security Certificate
Fundraising Certificate
Health Administration MHA
Health Care Informatics MS, PSM
Juvenile Justice Leadership Certificate
Marriage, Couple, and Family Therapy MA
Nonprofit Management Graduate Certificate
Nonprofit Management MNM
Public Administration Certificate
Public Administration MPA
Public Affairs PhD
Public Budgeting and Finance Certificate
Public Policy MPP
Research Administration Certificate
Research Administration MRA
Reading Education MEd
School Psychology EdS
Social Justice in Public Service Certificate
Urban and Regional Planning Certificate
Urban and Regional Planning MS
---
College of Engineering and Computer Science
Aerospace Engineering MSAE

Accelerated BS to MSAE
Guidance Control and Dynamics
Space Systems Design and Engineering
Thermofluid Aerodynamic Systems Design and Engineering

Aerospace Engineering PhD
Biomedical Engineering MSBME
Accelerated BS to MSBME
Biomedical Engineering PhD
Computer Engineering MSCpE
Computer Engineering PhD
Computer Science MS
Computer Science PhD
Computer Vision MS
Cyber Security and Privacy MS

Interdisciplinary
Technical

Civil Engineering MS

Smart Cities
Structural and Geotechnical Engineering
Transportation Systems Engineering
Water Resources Engineering

Civil Engineering MSCE
Civil Engineering PhD
Data Analytics MS
Digital Forensics MS
Electrical Engineering MSEE

Guidance Control and Dynamics

Electrical Engineering PhD
Engineering Management MSEM
Environmental Engineering MS

Environmental Engineering Sciences

Environmental Engineering MSEnvE
Environmental Engineering PhD
Industrial Engineering MS

Healthcare Systems Engineering

Industrial Engineering MSIE
Industrial Engineering PhD
Materials Science & Engineering MS
Materials Science & Engineering PhD
Mechanical Engineering MSME

Guidance Control and Dynamics
Mechanical Systems
Thermofluids

Mechanical Engineering PhD
Systems Engineering, MSSE
---
College of Graduate Studies
Geographic Information Systems Certificate
Interdisciplinary Studies MA/MS
Modeling and Simulation MS
Modeling and Simulation PhD
Modeling and Simulation of Behavioral Cybersecurity Certificate
---
College of Health Professions and Sciences
College of Health Professions and Sciences – Graduate Affairs
Athletic Training MAT
Communication Sciences and Disorders MA
Physical Therapy DPT
Social Work MSW – Campus Based
Social Work MSW – Online
Kinesiology MS
Kinesiology PhD
---
College of Medicine
Biomedical Sciences MS
Biomedical Sciences PhD
Biotechnology MS
M.D. Program
---
College of Nursing
Adult-Gerontology Acute Care Nurse Practitioner Graduate Certificate
Adult-Gerontology Clinical Nurse Specialist Graduate Certificate
Adult-Gerontology Primary Care Nurse Practitioner Graduate Certificate
Family Nurse Practitioner Graduate Certificate
Health Care Simulation Graduate Certificate
Hispanic Serving Healthcare Professionals Certificate
Nursing MS

Leadership and Management
Nurse Educator
Nursing and Health Care Simulation

Nursing PhD
Nursing Practice DNP

Adult-Gerontology Acute Care Nurse Practitioner
Adult-Gerontology Primary Care Nurse Practitioner
Advanced Practice
Executive
Family Nurse Practitioner
---
College of Sciences
College of Sciences – Graduate Services
Anthropology MA
Big Data Analytics PhD
Chemistry MS
Chemistry PhD
Clinical Psychology MA
Clinical Psychology PhD
Communication MA
Digital Media MA
Feature Film Production MFA
FIEA (Florida Interactive Entertainment Academy)
Human Factors and Cognitive Psychology PhD
Industrial and Organizational Psychology MS
Industrial and Organizational Psychology PhD
Integrative Anthropological Sciences PhD
Intelligence and National Security Certificate
Mathematics Science MS
Mathematics PhD
Network Analysis and Applications Certificate
Political Science MA
SAS Data Mining Certificate
Security Studies PhD
Sociology, Applied MA

Domestic Violence
Medical Sociology

Sociology PhD
Statistics and Data Science MS
Strategic Communication PhD
Survey Research Certificate
---
Rosen College of Hospitality Management
Destination Marketing and Management Graduate Certificate
Event Leadership MS
Event Management Graduate Certificate
Financial Management for the Hospitality and Tourism Industry Graduate Certificate
Hospitality and Tourism Management MS
Hospitality Management PhD
Hospitality and Tourism Technologies Graduate Certificate
Leadership and Strategy in Hospitality and Tourism Graduate Certificate
Travel Technology and Analytics MS
---
College of Optics and Photonics
Applied Photonics Certificate
Optical Imaging Systems Certificate
Optics and Photonics MS
Optics and Photonics PhD
---
UCF Non-Academic Departments
Career Services
College of Graduate Studies – Graduate Funding
College of Graduate Studies – Graduate Admissions
Continuing Education – Test Prep
Graduate Student Center
Recreation and Wellness Center
Writing Center