Other Funding Resources
Other Funding Resources
Other Funding Resources
Additional Funding Resources Available to Qualified Graduate Students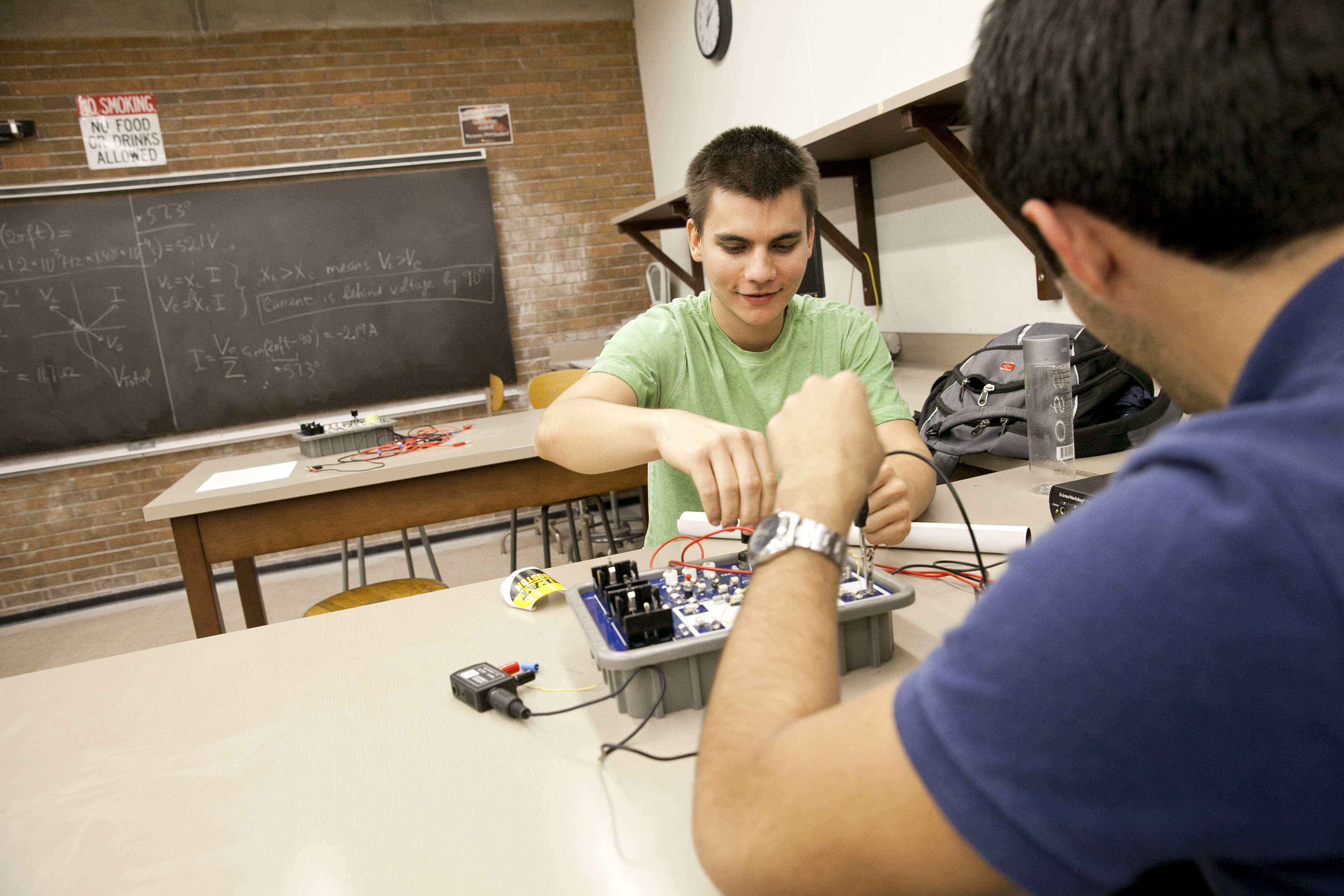 About UCF's Other Funding Resources
Below is a list of additional funding resources available to qualified graduate students. For a listing of some externally funded awards available specifically to students who are underrepresented in their discipline, see the Diversity Funding Resources section below.
---
UCF Funding
Graduate Student Center (GSC) Assistantship Positions
Each year the College of Graduate Studies accepts applications from current and incoming full-time master's students at UCF to serve as graduate assistants in the Graduate Student Center on the main campus in Trevor Colbourn Hall, suite 213. Graduate assistants work 20 hours per week and receive a bi-weekly stipend, tuition remission (not including fees), and health insurance. Applicants must be enrolled full time in Fall and Spring, have a GPA of 3.0 or higher and have excellent verbal and communication skills. The application is currently closed.
UCF Department of Housing and Residence Life Graduate Assistantship Positions
The Department of Housing and Residence Life at the University of Central Florida offers an outstanding experience for graduate students. Their position of graduate assistant (GA) provides a valuable work experience where classroom knowledge can be applied to professional practice. Each GA position is tailored to the interests of the GA, as able, in addition to keeping in mind the needs of the individual residence hall staff and community. We offer experiences in leadership, supervision, advising, mediation, conduct, crisis response, professional networking, budgeting, facilities, Fraternity and Sorority life and many more. Becoming a graduate assistant for our department will certainly fulfill a graduate student's personal and professional goals and aspirations as a complement to the graduate student's academic experience. For more information about the graduate assistant position, visit https://www.housing.ucf.edu/employment/.
UCF Doctoral Research Support
Awards are not available for the 2022-2023 academic year.
When funding is available, the College of Graduate Studies offers a Doctoral Research Support Award to assist students with dissertation research expenses. The award is available to a doctoral student who has passed their qualifying examination(s) or the equivalent and is in the proposal stage of their dissertation. Students in Doctoral Candidacy status who have enrolled in more than one semester of the dissertation (including the application term) are not eligible to apply. For additional details, see the UCF Doctoral Research Support Award application. Be sure to speak with your Program Director about college-specific deadlines or other opportunities for support.
UCF Open Access Publishing Fund
The College of Graduate Studies will provide annual support up to $1,500/year for article processing charges (APCs) for current and recent (within one year of graduation or employment) graduate students and postdoctoral scholars. Applications must be submitted and approved prior to payments being made for the APCs. Awards will not be processed as reimbursements. We are currently accepting applications for charges that will be incurred during the 2023-2024 fiscal year (July 1, 2023 through June 30, 2024).
UCF Services on Financial Literacy
Centsible Knights: finaid.ucf.edu/financial-literacy
GradReady is a program offered by the Office of Student Financial Assistance to make managing daily expenses for college and debt management more understandable
Workshops and presentations are offered throughout the year and posted on the GradReady website (also in conjunction with Fairwinds Credit Union). Fairwinds Credit Union will provide students with information on financial planning, budget, and more.
UCF and external Scholarship Opportunities
Alumni Association awards more than $40,000 in scholarships each year
The UCF Alumni Association awards scholarships each year to UCF undergraduate and graduate students. See www.ucfalumni.com/students/scholarships for information on how to apply.
Athena International Emerging Leader Fellowship
Each year, Athena International offers an award to a full-time or part-time female graduate student at UCF with a strong academic record and leadership qualities. Applications are due December 8 for Spring consideration.  Email completed applications to [email protected] by the deadline.
UCF Office of Student Financial Assistance Scholarship Listing
https://www.ucf.edu/financial-aid/types/scholarships/
NanoScience Technology Center Scholarships
Visit the NanoScience Technology Center Scholarship webpage for information on several scholarships available through NASA, NSF, and more.
Sheila B. Somerville Endowment Graduate Scholarship
Each year, the UCF Women's Club offers an award to a full-time, non-traditional graduate student at UCF. Applications are due June 15 for Fall consideration.  Email completed applications to [email protected] by the deadline.
View Information and Application Form
Student Government Association (SGA) Activity and Service Fee Travel Funding
Travel funding can be provided for both individuals and RSOs through UCF Student Government Association. Information and forms can be found at https://studentgovernment.ucf.edu/funding/rso/. Direct links can also be found on KnightConnect under the SGA Forms page. Please e-mail inquiries to the Senate Pro Tempore at [email protected] and or the Deputy of Senate Operations at [email protected].
UCF Intelligence Community Center for Academic Excellence (IC CAE) Research Abroad Scholarships
The IC CAE offers graduate scholarships for students to conduct fieldwork pertaining to their MA thesis or PhD dissertation. This competitive scholarship is awarded up to $8,000 for graduate students who are interested in careers in national security and intelligence. More details are available at politicalscience.cos.ucf.edu/iccae/scholarships.
Other Funding Opportunities
American Association of University Women (AAUW)
The AAUW offers various fellowships and grants for graduate students. For details and how to apply, visit the AAUW website.
Boren Fellowships for International Study
Boren Fellowships provide up to $24,000 for overseas study and up to $30,000 for a combined overseas and domestic program. Program information and application deadlines are available at www.borenawards.org.
Borlaug Fellows in Global Food Security
The Center for Global Food Security at Purdue University is accepting applications for the Borlaug Fellows in Global Food Security program. Information is available at www.purdue.edu/discoverypark/food/programs/borlaug-fellows/.
Congressional Hispanic Caucus Institute (CHCI) Leadership Programs
Visit www.chci.org for information on the CHCI Public Policy Fellowship, the Congressional Internship Program, and Graduate Fellowship and Scholarship Programs.
Center for Disease Control (CDC) Steven M. Teutsch Prevention Effectiveness Fellowship
The Steven M. Teutsch Prevention Effectiveness Fellowship (PEF) is a two-year postdoctoral research fellowship focusing on the application of quantitative methods to the science of health protection, health promotion, and disease prevention. Applicants should be eligible to work in the U.S., be willing to relocate to Atlanta, Georgia, and possess a doctoral degree in economics or applied economics, decision sciences, health services research or related health sciences, industrial engineering or operations research, public policy analysis, or a related quantitatively-oriented field. Applications are accepted online at http://www.cdc.gov/pef between September and January.
Chateaubriand Fellowship Science Program
The Chateaubriand Fellowship is a grant offered by the Office for Science and Technology of the Embassy of France in the United States. For information about the Chateaubriand Fellowship Science Program, visit france-science.org/chateaubriand.
Department of Energy (DOE)
The DOE is offering an International Engagement and Clean Energy Fellowship in Washington D.C.. Selection starts May 15. Benefits include a competitive stipend, a relocation stipend, travel/research allowance, health insurance, a hybrid schedule/telework days. Click here for more details and to apply.
Division 15 Dissertation Grants
The Paul R. Pintrich Division 15 Dissertation Award is given to an individual completing a dissertation in the area of educational psychology, broadly defined. The proposed recipient must be a member or affiliate of the Division at the time of the award consideration.
Financial Aid for Graduate or Professional Students
StudentAid.gov has information regarding student loans, scholarships, and other sources of funding. See Financial Aid for Graduate and Professional Students for more information.
Florida Gubernatorial Fellowship
Participation in the program provides Florida college and university students with firsthand, high-level experience and insight into how state government operates. For more information and to apply, visit www.FloridaFellows.com.
Florida Institute for Child Welfare
The Institute offers dissertation fellowships to doctoral candidates who are dedicated to research and scholarship that promotes and improves the safety, permanency, and well-being outcomes for children and families in Florida's child welfare system. Selected fellows will be awarded $5,000. Interested doctoral candidates must submit a cover letter, research statement, and at least two letters of recommendation. Contact Elizabeth Keating-Mathews at [email protected] for more information or review the application.
Florida Sea Grant Fellowship
Florida Sea Grant is administering a new fellowship called the Florida Coastal Office / Florida Sea Grant Fellowship. The fellowship is funded by the Coastal Office of the Florida Department of Environmental Protection and it is designed to provide the selected candidate with experience working in state government for a year, with a possibility of extension to two years. The focus will be on working as a liaison with the South Atlantic and Gulf of Mexico Governors' Alliances on ocean and coastal issues. They will be an OPS employee of the University of Florida / Florida Sea Grant during the term of their fellowship. For details on the fellowship and instructions & timeframe for applications, visit: www.flseagrant.org/students/scholarships/florida-coastal-officeflorida-sea-grant-fellowship.
Florida Stormwater Association (FSA)
See https://www.florida-stormwater.org/scholarship for information on the Florida Stormwater Association Educational Foundation's Scholarship Program that awards financial assistance to qualifies students attending Florida colleges and universities whose educational interest is in stormwater research, management or finance.
Graduate Fellowships for STEM Diversity (GFSD)
GFSD is a partnership between federal agencies & laboratories, industry, and higher education institutions. See https://stemfellowships.org/ for information.
GoGrad Resource Guide
See GoGrad.org for general information on graduate funding opportunities and a list of external scholarship resources.
Great Minds in Stem (GMiS) Scholarships
GMiS merit-based scholarships range from $500 – $10,000. Applicants must demonstrate merit through academic achievement, leadership, service and campus/community engagement. For more information, please visit www.greatmindsinstem.org/scholarships
Guide to Financial Aid for Students Who are Underrepresented in a Specific Discipline
See AffordableColleges.com for search tools for finding graduate funding.
Hispanic Association of Colleges & Universities (HACU) Scholarships
See https://www.hacu.net/hacu/Scholarships.asp for awards listed under the HACU Scholarship Program.
Innovation in Buildings (IBUILD) Graduate Research Fellowship
The IBUILD fellowship provides a competitive stipend of $35,000, an allowance to offset the costs of health insurance up to $16,000, research travel and materials up to $12,000 and limited tuition allowance up to $25,000. Click here for more information and to apply.
Intercollegiate Studies Institute Graduate Fellowships
The Intercollegiate Studies Institute offers a variety of graduate fellowships to qualified applicants. For detailed information and to download an application form, see the Intercollegiate Studies Institute website at home.isi.org/programs/fellowships.
International Student Scholarship Search
www.internationalstudent.com/scholarships
Jefferson Science Fellowships
An online application and detailed instructions on the application process are available on the JSF website: sites.nationalacademies.org/pga/jefferson
NASA Space Technology Graduate Research Opportunities – Fall 2023 (NSTGR023)
The NASA Space Technology Graduate Research Opportunities (NSTGRO) is requesting proposals for Fall 2023. Proposals are due by 6:00 PM ET on November 2, 2022.
National Institutes of Health (NIH): Graduate Partnerships Program (GPP)
The NIH hosts the Graduate Partnerships Program to bring PhD students to the NIH Intramural Research Program for dissertation research. See the Office of Intramural Training and Education website for more details and application deadlines.
National Research Council of the National Academies
The NRC sponsors a number of awards for graduate, postdoctoral and senior researchers at federal laboratories and affiliated institutes. These awards include generous stipends ranging from $42,000 – $80,000 per year for recent Ph.D. recipients, and higher for additional experience and graduate entry level stipends beginning at $30,000 and higher for additional experience. The awards provide the opportunity for recipients to do independent research in some of the best-equipped and staffed laboratories in the U.S. Research opportunities are open to U.S. citizens, permanent residents, and for some of the laboratories, foreign nationals. Detailed program information, including instructions on how to apply online and a list of participating laboratories, is available on the NRC Research Associateship Programs Web site at: www.nationalacademies.org/rap.
National Science Foundation East Asia and Pacific Summer Institutes for U.S. Graduate Students
The National Science Foundation (NSF) East Asia and Pacific Summer Institutes for U.S. Graduate Students (EAPSI) is intended for U.S. graduate students pursuing studies in fields supported by the National Science Foundation. The program provides a $5,000 summer stipend, round-trip airfare to the host location, living expenses abroad, and an introduction to the society, culture, language, and research environment of the host location. Women, minorities, and persons with disabilities are strongly encouraged to apply for the EAPSI. Applicants must be enrolled in a research-oriented master's or PhD program and be U.S. citizens or U.S. permanent residents by the application deadline date. Students in combined bachelor/master degree programs must have matriculated from the undergraduate degree program by the application deadline date. For more information concerning benefits, eligibility, and how to apply, visit www.nsf.gov/eapsi.
National Wildlife Federation's Campus Ecology Program
Fellowship grants are awarded to undergraduate and graduate students who are committed to reducing their campus carbon footprint. Projects including greenhouse gas inventories, climate action plans, energy conservation and efficiency, habitat restoration, convening climate action gatherings and more will be considered. For more information, visit www.nwf.org/EcoLeaders/Get-Involved/Fellowships.
Open Education Database – Graduate Scholarships
Visit oedb.org/graduate-scholarship for a database of graduate scholarships.
P.E.O. Scholar Award
The P.E.O. Scholar Award for female doctoral students recognizes exceptional academic achievement and potential to make a difference in their field of study. Recipients receive $15,000. More information is available at https://www.peointernational.org/peo-projects-and-philanthropies.
Phi Kappa Phi Fellowship Program
Every year, the Honor Society for Phi Kappa Phi awards fellowships to members entering the first year of graduate or professional study. They also award Dissertation Fellowships to active members who are doctoral candidates and completing dissertations. For selection criteria and to apply, go to Awards at PhiKappaPhi.org.
Presidential Management Fellows Program
Students interested in this program should submit an application to www.USAJOBS.gov. This program provides a GS-9 to 13 level job to the finalists and many students in public affairs and policy issues are frequent applicants, but any major is encouraged. This is a government personnel development program and the program hopes that students will become federal government employees after the program ends. Further information is available at www.pmf.gov. If UCF students have questions, they should contact UCF Career Services at 407-823-1726.
USA Jobs Application View Information
RADM Fred Lewis Postgraduate Scholarship program
The scholarships are offered to stimulate student interest and university participation in preparing individuals for leadership in the Modeling and Simulation, Training, and Education communities. All pertinent application information can be found at https://www.iitsec.org/about-iitsec
SmartScholar
Visit www.smartscholar.com/ to browse scholarships by major/career, residence and more.
STAR Graduate Student Fellowship
Must be a graduate student (admitted or enrolled); U.S. citizen or permanent resident; one year or less completed in a master's program/four years or less completed in a doctoral program. The deadline to apply is in November. Information is available at epa.gov/ncer/rfa/2013/2013_star_gradfellow.html
VoLo VISTA Award
VoLo Foundation, a non-profit organization with a mission to accelerate change and global impact by supporting science-based climate solutions, hosts the VoLo VISTA Award competition in recognition of graduate students who display exemplary leadership in parallel with the five VISTA principles for climate solutions within the state of Florida. The winning individual or team will receive a $10,000 award, made out to the university or college with whom they are affiliated to further develop the project. To access the VoLo VISTA Award application, please visit www.volofoundation.org/climate-correction.
---
Postdoctoral Funding
L'Oreal-UNESCO For Women in Science Fellowship Program
The L'Oreal-UNESCO For Women in Science Fellowship program awards five post-doctoral women scientists annually with grants of $60,000 each. Applicants are selected from a variety of fields, including the life and physical/material sciences, technology (including computer science), engineering, and mathematics. See www.lorealusa.com/forwomeninscience for the application and program information.
Visit the UCF College of Graduate Studies Postdoctoral website for details on UCF funding for postdoctoral scholars.
Visit Graduate Studies Postdoctoral Site
---
Internship Programs
Hispanic Association of Colleges and Universities (HACU)
HACU offers an internship program for students in a variety of disciplines. See the HACU website for details.
Oak Ridge Institute for Science and Education (ORISE)
ORISE offers several internships and fellowship programs for current students and recent graduates.
---
Additional Resources
APA online
www.apa.org/about/awards/index.aspx
Funding available for all students in the field of psychology.
Arts Social Science Research Council
www.ssrc.org/fellowships/
Funding available for all doctoral students in the fields of humanities and social science.
BestColleges.Com
Visit bestcolleges.com to review financial aid resources for students.
Fastweb's Scholarships
www.fastweb.com/college-scholarships
Fulbright-Hays Doctoral Dissertation Research Abroad Fellowships
https://www2.ed.gov/programs/iegpsddrap/applicant.html 
International Financial Aid and College Scholarship Search
OnlineColleges.net – Financial Aid for Hispanic Students
www.onlinecolleges.net/for-students/financial-aid-hispanic-students
Peterson's Graduate Scholarship Search Engine
www.petersons.com/graduate-schools/graduate-school-scholarships.aspx
Reviews.Com – The Best Scholarship Search Platforms
www.reviews.com/best-scholarship-search-platforms
StudentScholarshipSearch.com's Graduate School Scholarships
www.studentscholarshipsearch.com/graduate-school-scholarships
The Woodrow Wilson National Fellowship Foundation
www.woodrow.org/fellowships/index.php
Funding and fellowships available to all students
Veterans Health Administration National SimLEARN Program
www.simlearn.va.gov
2-year paid fellowships tat the VHA SinLEARN National Simulation Center in Orlando, FL.
Zonta International
www.zonta.org
Funding available for women in the fields of science, business, and public affairs (doctoral only)
---
Business
The American Institute of CPAs (AICPA) Fellowship
www.aicpa.org/Career/DiversityInitiatives/Pages/fmds.aspx
KPMG Accounting firm offers Accounting Doctoral Scholarships
Prospanica Scholarships
www.prospanica.org/page/Scholarships
---
Education
The Spencer Foundation
www.spencer.org
Funding available to doctoral students and postdoctoral associates in the field of education.
U.S. Department of Education
www.ed.gov/programs/jacobjavits/index.html
Funding available to all students, FAFSA application required.
Masters In Education
www.mastersineducation.net/scholarships
---
Engineering
UCF College of Engineering and Computer Science
www.cecs.ucf.edu/current-students/scholarships/
Funding available to students in the College of Engineering and Computer Science.
Hertz Foundation
www.hertzfoundation.org/default.aspx
Funding available to all students in the field of applied science or engineering (computer science, physics, math, chemistry, etc.)
American Society for Engineering Education
www.asee.org
Funding available for all students in the field of engineering-NDSEG fellowships and SMART scholarships
---
Optics
Kidger Optics Associates
www.kidger.com/mkms_home.html
Funding for all students in this field.
---
Hospitality
Tourism Cares for Tomorrow
www.tourismcares.org/
Funding available to all students.
---
Public Administration
Foundation for Community Association Research
www.cairf.org/ 
Funding available to all students in the field of public affairs.
---
Modeling and Simulation
LINK Foundation
www.ist.ucf.edu/link_foundation.htm
Funding available to all students in this field for research and training.
The Interservice/Industry Training, Simulation and Education Conference (I/ITSEC) Scholarships
---
ETS Fellowship and Internship Programs
The goals of the ETS awards programs are to provide research opportunities to scholars who either hold a doctoral degree or are enrolled in a doctoral program and to increase the number of women and underrepresented professionals in the field of educational research.
AAHHE and ETS Outstanding Dissertations Competition
The American Association of Hispanics in Higher Education (AAHHE), in conjunction with Educational Testing Service (ETS), has announced the annual Outstanding Dissertation Competition for Hispanics receiving a doctoral degree. See www.aahhe.org for information on how to apply.
Summer Research for Graduate Students
Sixteen selected interns will conduct research on a project of their choice under the guidance of an ETS mentor in Princeton. Seminars and workshops will be offered. Graduate students, who are currently enrolled full-time in a doctoral program and have completed a minimum of two years coursework toward their PhD or EdD on or before program start date, are eligible to apply.
Postdoctoral Fellowship
Up to three fellows will be selected and invited to conduct independent research described in a proposal submitted as part of the application process. Candidates must hold a PhD or an EdD. The fellowship is for a period of up to two years, renewable after the first year by mutual agreement.
Harold Gulliksen Psychometric Research Fellowship
During the academic year, fellows will study at their universities and conduct a research project under the supervision of an academic mentor and in consultation with an ETS research scientist. During the summer, fellows will be invited to participate in the Summer Research Program working under the guidance of an ETS researcher. The program is open to national and international applicants who are enrolled in a doctoral program and have completed at least two years of full-time study toward the PhD.
ETS Contacts
For detailed information and to apply online, see the ETS Fellowship Programs Website at www.ets.org/research/fellowships.html or request application materials from [email protected].
---
Diversity Funding Resources
The University of Central Florida offers a variety of funding opportunities for graduate students while they pursue their degrees. Graduate fellowships and teaching, research, and administrative assistantships provide the most common forms of support for graduate students. Details concerning graduate fellowships that are available to UCF students through the College of Graduate Studies can be found on the UCF Graduate Fellowships page.
Here is a list of other possible funding sources for graduate students:
American Indian Graduate Center
www.aigcs.org/home.asp
Funding available for American Indian and Alaskan Native students.
La Unidad Latina Foundation
www.lulfoundation.org/
Funding available for Hispanics in Arts, Science, Public Administration, Education.
Hispanic Scholarship Fund
www.hsf.net/
Funding available for Hispanics.
---
Business
National Society of Hispanic MBAs (NSHMBA)
UCF participates in the NSHMBA University Partnership Program. For award details, visit www.nshmba.org/?page=Scholarship.
National Association of Black Accountants
www.nabainc.org
Funding available to all underrepresented students in the field of accounting must be a NABA member to qualify.
Jacki Tuckfield Memorial
www.jackituckfield.org
Funding available to African American students in the field of business, must live in South Florida and attend a Florida University.
---
Education
The National Academies
sites.nationalacademies.org/pga/fellowships/
Funding available to all underrepresented students.
---
Engineering
National GEM Consortium
www.gemfellowship.org/gem-fellowship
Funding available for underrepresented students in the fields of engineering and science.
National Action Council for Minorities in Engineering
www.nacme.org
Funding available to all minorities in the fields of engineering, science, and mathematics.
---
Sciences
National Consortium for Graduate Degrees for Minorities in Engineering and Science
www.gemfellowship.org/gem-fellowship
Funding available for all minorities in the fields of engineering and science.
UNCF Merck Science Initiative
scholarships.uncf.org
Funding available for African-Americans in any science field.
American Sociological Association
www.asanet.org/funding/mfp.cfm
Funding available for all minorities in the field of sociology.
American Society for Microbiology
www.asm.org/education
Funding available for all minorities in the field of microbiology.
National Action Council for Minorities in Engineering
www.nacme.org
Funding available to all minorities in the fields of engineering, science, and mathematics.