Exploring UCF
Exploring UCF
Exploring UCF
We Are Confident That You Will Find Success Here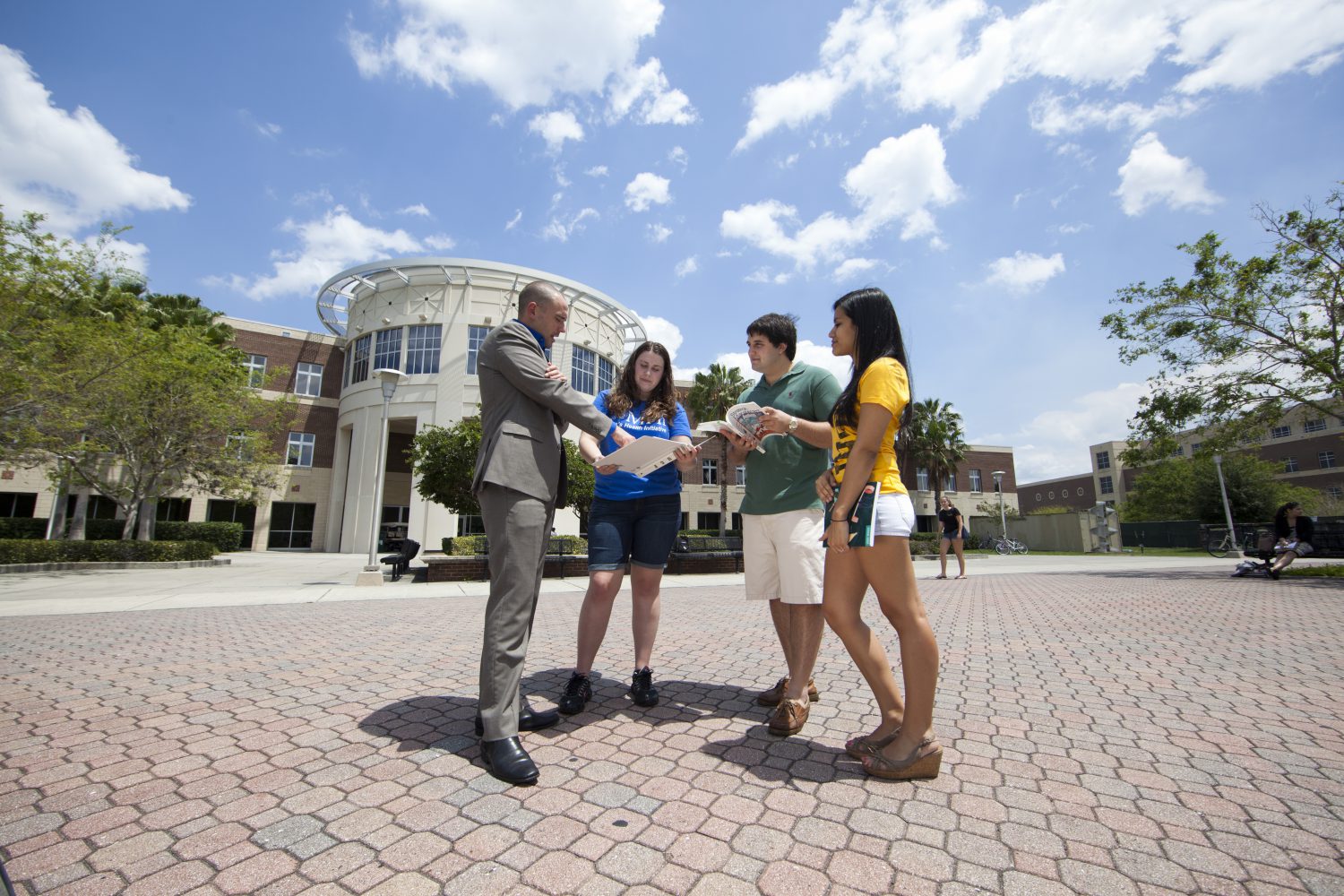 Welcome to the University of Central Florida
As one of the fastest growing research universities in the country—located in one of the most dynamic metropolitan areas in the United States—Orlando, Florida, UCF transforms the lives of our students and serves as the catalyst for innovative change in our community.  Situated in an economically vibrant region, UCF attracts and supports powerful partnerships which are vital to career development and provides our students with real-world experiences that help them succeed after graduation.
Our goal is to align our teaching, research, and service with the needs of the 21st century over a wide range of certificate, master's, specialist, and doctoral programs.  We aim to explore and solve significant community challenges by gathering together faculty and students with diverse ideas, experiences, and backgrounds.
With all that UCF and the Central Florida region have to offer, we are confident that you will find success here and hope the information provided below will encourage you to apply to one of our many programs.
---
Interact With Us
Graduate Information Sessions
Many of our graduate programs offer online and face-to-face information sessions and admission chats These sessions provide details about the specific program including curriculum, learning outcomes, software applications, program format and schedule, admission requirements, and application process.
Whether virtually or in-person, these events offer the opportunity to learn about our programs, ask questions and chat with admission staff, and meet program faculty and alumni.
Join us! A full list of events is available at https://applynow.graduate.ucf.edu/portal/cgs
On-campus Opportunities
Campus tours are offered through Undergraduate Admissions and are available Monday through Friday (except holidays) at 10:00 a.m. and 2:00 p.m., leaving from the University Welcome Center in front of Millican Hall. Led by a student volunteer, the tour lasts about 45 minutes. For more information or to sign up, please visit Undergraduate Admissions.
Grad Fair
Each year, the College of Graduate Studies hosts a showcase of graduate educational opportunities at UCF.  This is a great opportunity to be able to meet faculty in your program of interest.
Please join us for our annual Grad Fair. An open house-style event that is free and open to anyone interested in a certificate, master's, specialist, or doctoral program at UCF.  Please visit GRAD FAIR for current event information.
For more information, please contact [email protected].
---
How to Apply
The College of Graduate Studies wants you to be successful in your application.  Please follow these basic guides here to make your application to UCF a great experience.
Apply Online
All applications to UCF must be submitted online. Application deadlines and requirements for your program can be viewed at: graduate.ucf.edu/application-deadlines-and-requirements. To apply, visit applynow.graduate.ucf.edu/apply. The application fee is $31.00 and is due at the time your application is submitted. Applications will not be processed until the application fee is received.
An application fee waiver may be available for students applying to specific graduate programs. Applicants who think they may qualify for one of the categories below should email [email protected] for additional information on an application fee waiver.
UCF full-time employees
Teach for America volunteers
FAMU Feeder applicants
International Fulbright Scholars
McNair Scholars
GEM Fellowship applicants
NPSC Fellowship applicants
UCF RAMP scholars
McKnight Doctoral Fellowship applicants
NSF REU participants*
*Eligible NSF REU Sites:

Research Experiences in the Internet of Things (IoT)
Advanced Technologies for HYpersonic, Propulsive, Energetic, and Reusable Platforms (HYPER)
Research Experience for Undergraduates in Computer Vision
Engineering and Nanoscience of Materials and Device Applications in Biotechnology and Medicine
Addressing Social and Environmental Disparities through Community Geography and Geographic Information Systems in Belize
Request Transcripts
You should request transcripts from all previously attended schools. All transcripts must be official and sent directly from the relevant institutions. If you are a UCF alumni, your transcripts will be requested automatically by the UCF College of Graduate Studies.
International applicants:  For details on your county's required documents, including academic credentials and equivalency, please visit our Sample Country Requirements Page.  In addition to academic credentials, your program may require an external credential evaluation.  Please review the application requirements for your program in the graduate catalog.
Test Scores
The Graduate Record Examination (GRE), Graduate Management Admission Test (GMAT), Test of English as a Foreign Language (TOEFL), or the International English Language Testing System (IELTS) may be required for admission. Please review your program requirements to determine if an admissions test is required. Official test scores must be received directly from the appropriate testing agency.
Supporting Documents
Most programs require the submission of various documents to help in their decision about your admission to their program. Some of these include writing samples or personal statements, a resume or CV, and recommendation letters.  Please refer to your program application requirements for specific details.
Financial Assistance
To be considered for financial support at UCF, you will need to submit your online graduate application early. All students who apply by the Fall priority deadline (January 15th) will be considered for most UCF fellowships and assistantships if they are admitted. For fellowships that require an application, please visit the Fellowships section of this website.
Application Status
You can check the status of your application and supporting documents anytime by going online to your application status portal at applynow.graduate.ucf.edu/apply/status. Use the same login information as when you created your application. Here, you can view your missing materials and upload the required documents.