Graduate Student Profile
Emmanuel Okogbue
Emmanuel Okogbue
Uzuakoli, Abia, Nigeria
College:
College of Engineering and Computer Science
Degree Programs:
Electrical Engineering MSEE
Electrical Engineering PhD
Research Focus:
Material science and nanotechnology
---
Doctoral student Emmanuel Okogbue's passion for knowledge set the fast pace for his academic journey when he began his college career at the young age of 15. At just 19, Okogbue received multiple PhD admission offers but chose UCF due to its high ranking among universities in the world and standing as a top research university in the country. He says, "UCF creates a very ideal research environment that is diverse and equips researchers with the necessary tools to cultivate innovative ideas."
Okogbue began his academic journey in his home country of Nigeria at the Federal University of Technology Akure and continued his bachelor's degree in Electrical and Electronics Engineering at Florida A&M University. From there, he moved on to earn his master's degree in Electrical Engineering from UCF. As an international student navigating through academics and a career path, Okogbue credits his professors and advisors at UCF who have pushed him to be the best version of himself both professionally and personally.
Okogbue encourages his fellow UCF students to use the unlimited amount of resources that are available to them at the university. He also motivates future graduate students by saying, "Your dreams are valid and while working hard to create the future you want for yourself, embrace the failures and successes that are inevitably a part of the process." Okogbue believes that it's important to schedule personal time to maintain a healthy mind and to surround yourself with great people. One way he has done so is through his involvement with the National Society of Black Engineers at UCF where Okogbue volunteers for events on and off-campus.
While earning his PhD in Electrical Engineering, Okogbue is also worked on his interdisciplinary research – a blend of electrical engineering, material science, and nanotechnology. He worked on using nanomaterials to make flexible and stretchable electronic devices to open a new era for consumer electronic devices. This research has earned him several recognitions: first place in a nanotechnology workshop (2018), an award in the engineering category at the UCF Graduate Research Forum (2019), first place in the engineering category at the Statewide Graduate Student Research Symposium - Florida Conference of Graduate Schools at FIU (2019), first place in research at the NanoFlorida International Conference at USF (2019), and his research was featured on Fox35 Orlando news. After graduation, Okogbue looks forward to a career as a research/hardware engineer in innovative consumer products.
Highlights:
Featured on Fox35 News
First place in nanotechnology workshop
First place at Statewide Graduate Research Symposium
First place in research at NanoFlorida International Conference
Award recipient at UCF Graduate Research Forum
Featured Articles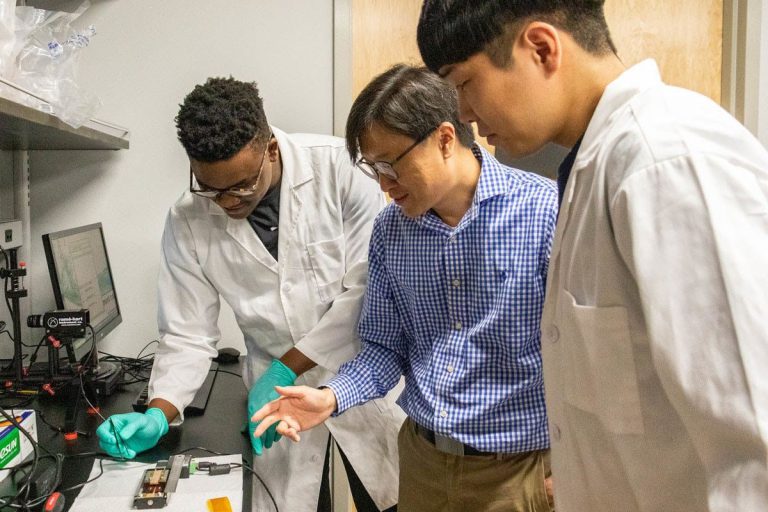 Doctoral Student Sees Potential in Invisible Materials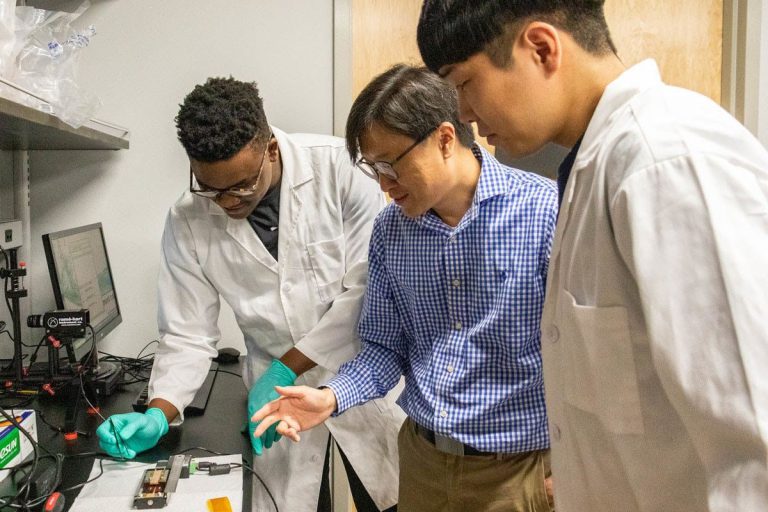 UCF Researchers Make Super Stretchable E-Material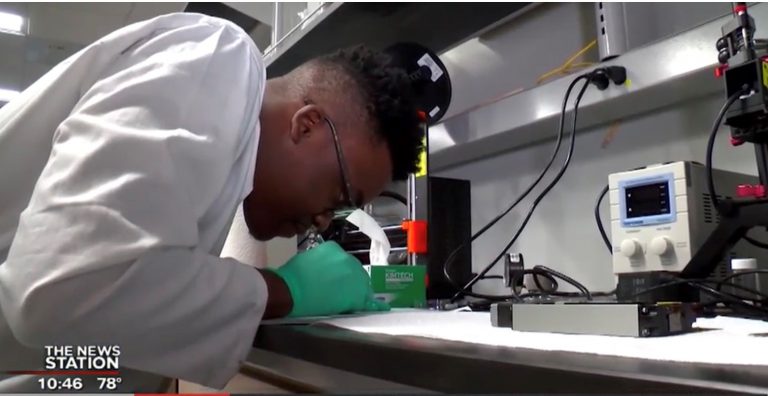 Emmanuel Okogbue Fox35 Orlando News