New UCF Graduate Award Recognizes Excellence in Graduate Students' Research
---
To recognize graduate students for their strides in research, the College of Graduate Studies Graduate Student Advisory Council (GSAC) has put together a new award. The Award for Excellence by a Graduate Student Researcher celebrates UCF's outstanding graduate students for their impressive research and creative scholarship within their fields. The self-nominated award encourages students to share their research with the UCF community and allows the GSAC to acknowledge and reward exceptional students.
Each spring and fall semester, the GSAC will select four students (two winners and two runners-up). Students nominate themselves in one of two categories: Arts, Social Sciences, and Humanities (ASSH) or Science, Technology, Engineering, and Mathematics (STEM). Eligibility requires students to be enrolled in a master's or doctoral program, conducting research or creative scholarship, and not currently on academic probation. Applications are due in February and October for consideration.
Winners of the award receive a $1,000 stipend, a certificate, recognition on the College of Graduate Studies website, acknowledgment through social media and news, and recognition at the UCF Student Research Week Excellence Awards on March 31. Runners-up in each category will also be recognized and receive $500.
The winners for the Spring 2023 semester are:
Doctoral Awardees
First Place
Stephanie Fuehr, integrative anthropological sciences
Second Place
Rajkumar Dhar '22MS, mechanical engineering
Honorable Mention
Reed Forehand '19 '21MS, aerospace engineering
Tianka Pharaoh, education
Master's Awardees
First Place
Sydney Snowden, political science
Second Place
Sebastian Leon '18, nanoscience
Honorable Mention
Andrew Kishuni '21, history
Balaashwin Babu '19, modeling and simulation
Graduate students are only eligible to receive the Award for Excellence by a Graduate Student Researcher Award once in their academic careers. If a student is not awarded the distinction during the semester the student applied, they may apply with an updated application for consideration the following semester.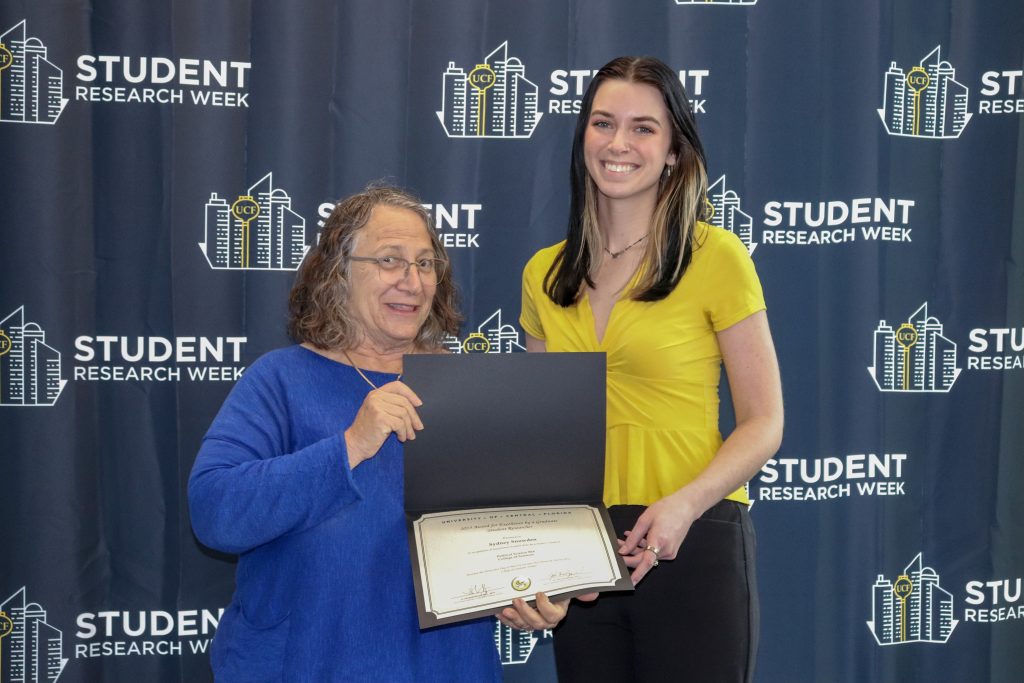 GSAC member Melody Halbert says the new award presents an opportunity to recognize graduate researchers showcasing their work in a way that is different from publishing papers and attending conferences.
"This award allows graduate students from many disciplines and backgrounds to compete with their UCF peers and display their countless hours in the lab," she says. "Seeing the fantastic work undergraduate students were conducting and getting awarded for pushed the council to want to spotlight our graduate students during Research Week."
Halbert says the award is important because it provides another level of encouragement for graduate students.
"It shows that UCF cares and recognizes the hard work of all our student researchers no matter what college or department they are in," she says. "I hope the start of this award during Research Week will encourage more students to take up research and an interest in graduate programs at UCF."
Fellow council member Christopher Odom, a Ph.D. candidate in the texts and technology program, says the GSAC is "laser-focused" on supporting the needs of graduate students.
"Both the Graduate Award of Excellence by a Student Researcher and the Graduate Student Advisory Council are important because, at a university with a student population comprised mostly of undergraduate students, the council and the award offer a way to meaningfully impact, recognize, and support the work and the needs of graduate students," he says.
Odom also describes the award as beneficial in helping boost students' resumes and leaving behind a legacy to build upon for future Graduate Student Advisory Councils. He notes that the council is only just getting started and aims to create more opportunities such as this.
"You will see more support from the Graduate Student Advisory Council for graduate students, graduate teaching assistants, and graduate assistants in the future," he says.
Currently, 16 graduate students from various disciplines across UCF serve on the Graduate Student Advisory Council. The council began two years ago, meets monthly and shares their experiences, identifies and suggests solutions to challenges unique to graduate students, and makes recommendations to the College of Graduate Studies to build a welcoming and inclusive graduate community.
The next application cycle for the Graduate Student Advisory Council 2023-2024 is now open. The GSAC would like to add at least two graduate students from each college; students may be full-time, part-time, online, or in-person. Due to students graduating, we have nearly ten openings. Students interested must have a minimum GPA of 3.0 and no violations of UCF's Golden Rule. Members will provide at least two hours each month to prepare and meet with the College of Graduate Studies Dean, with activities occurring both in person and in virtual environments. Student service is the entire school year. Graduate Studies will issue invitations to the council in June.
Each semester, the Graduate Student Advisory Council will honor outstanding graduate students and acknowledge them for their research and creative scholarship accomplishments. This Award of Excellence will allow students to further their research and provide financial support to aid their future efforts.
For more information about the nomination process, criteria, and submission forms, please visit graduate.ucf.edu/student_researcher_excellence.
Share This Article