Preparing for Your First Week of Graduate School at UCF
---
As you embark on graduate study at UCF, the College of Graduate Studies is committed to providing comprehensive assistance throughout your academic journey. Reaching your full potential requires hard work, asking difficult questions, and undergoing significant personal and professional growth. Congratulations on taking that first step toward furthering your education and bettering your future.
Along with your program office, the college is here to help you during your time at UCF. From admissions to graduation, we provide a range of services, covering policy management, analysis, and the formulation of recommendations to enhance your graduate education. We also offer guidance for interdisciplinary and cooperative programs. For questions about graduate studies, our team is available to assist you in Millican Hall, room 230.
Navigating Campus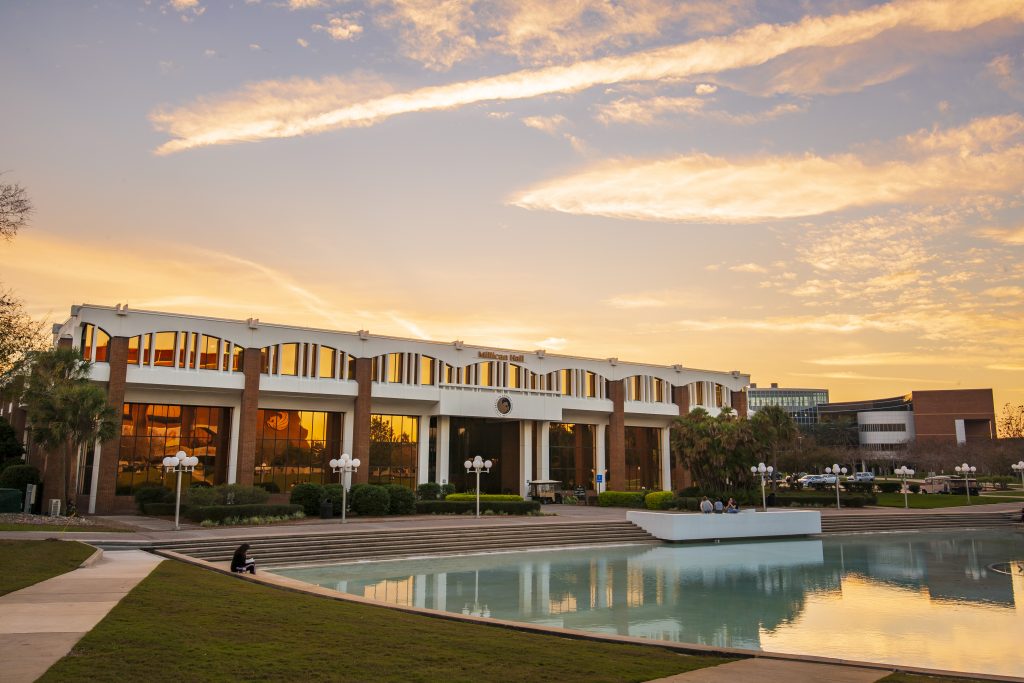 Home to over 68,000 students, UCF is a sprawling institution with various campuses around central Florida, including UCF Downtown, Rosen College of Hospitality Management, and the Health Sciences Campus at Lake Nona. Our main campus in Orlando spans about 1,420 acres organized in concentric rings designed to simplify your navigation.
Various modes of transportation are available to assist you in getting around the campus, along with additional choices for reaching other university locations.
Too hot to ride a Spin Scooter?
You can opt for the Pegasus Express shuttles, which provide convenient transportation around the university. They run 7 am — 7 pm Monday through Friday, during fall and spring semesters, excluding holidays. Students can also access Lynx bus routes for free with a valid UCF ID, take a shuttle to downtown, Rosen College, or Lake Nona, and even get transportation to the local grocery store.
Select the Shuttles icon on the UCF Mobile app to keep track of the schedules and stops, as well as see how far shuttles are from you in real-time.
Located on the first floor of the Student Union across from College Optical, UCF's bike shop provides free bike repair services for students, including tire inflation, brake adjustments, fixing loose handlebars, and gear adjustments. Bike N' Gold, UCF's bike share program hosted by the Student Government, also offers free long-term bike rentals for periods of up to one semester. 
Resources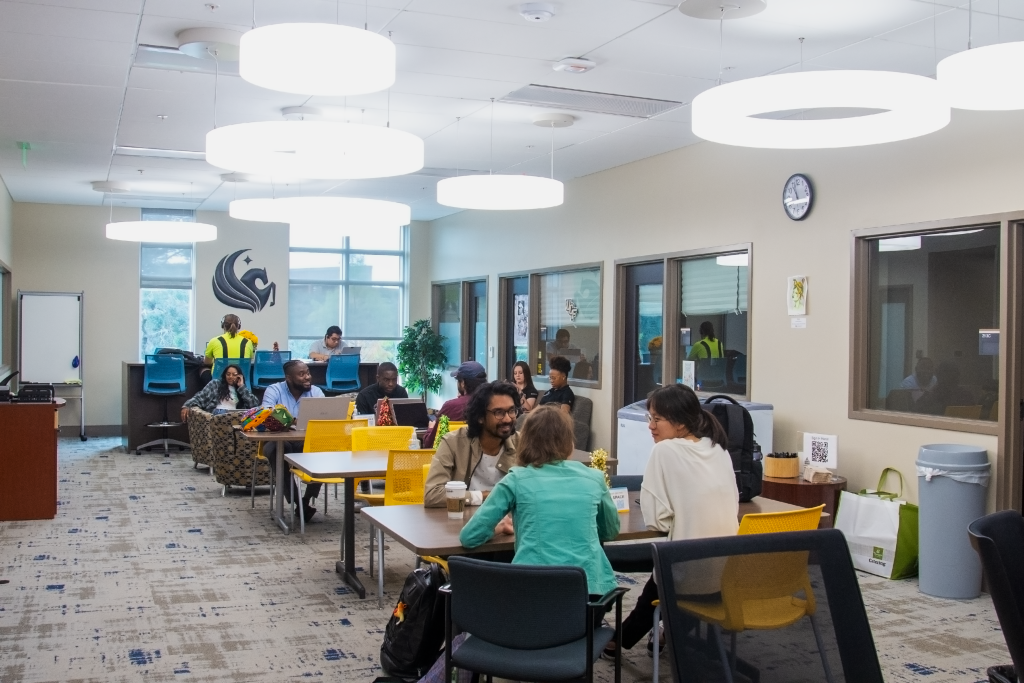 UCF strives to make graduate students' lives easier by providing resources to support them during their studies. The Graduate Student Center (GSC) is a designated space for graduate students on our main campus in Trevor Colbourn Hall, Suite 213. The GSC provides complimentary and reservable study spaces, private conference rooms, and presentation rooms. Additionally, they organize cost-free events and workshops throughout the academic year to foster community among graduate students. Starting this semester, the center will also offer poster printing for students.
Though the prospect of diving into your thesis or dissertation might initially seem intimidating, rest assured that a range of support services is in place to accompany you on your academic journey. The Office of Graduate Student Life (GSL) coordinates the format review and final submission process for Electronic Theses and Dissertations (ETDs), establishes deadlines for thesis and dissertation submissions, oversees policies related to these projects, and offers assistance to students, faculty, and staff. Beginning this semester, a dedicated graduate assistant will be available to help you format your work.
The John C. Hitt Library offers many resources and tools for graduate students and postdoctoral scholars. You can schedule consultations with the subject librarian, attend graduate and postdoc workshops, find information about scholarly publishing, and view archival theses and dissertations in the STARS Repository. You can access the library's services for graduate students and postdocs at Services for Grad Students & Postdocs – UCF Libraries.
The library is open seven days a week: Monday through Thursday 7:30 am — 1 am, Friday from 7:30 am to 7 pm, Saturday 10 am — 6 pm, and Sunday 12 pm — 1 am. Starting this semester, they will also offer OverKnight hours Sunday through Thursday 1 am — 6 am. Please note that a UCF ID card is required for entry during these hours and only allows access to a portion of the second floor. No library services or printing are available during this time, but there are computers, restrooms, and water fountains.
Events and Opportunities
Graduate Student Life provides a variety of services to support graduate students throughout their time at UCF and help prepare them for what comes after graduation. They also organize events and social gatherings for graduate students throughout the year, including their monthly First Wednesday Café, where students can enjoy free bagels and coffee while learning about university resources available to graduate students.
Next week, they are hosting the Fall Semester Launch beginning Aug. 21 with many social and professional development events offered — from Donuts with the Deans to a funding workshop. Don't miss out on all the networking opportunities and free food. Visit the GSL website for the schedule and to see other events taking place throughout the semester.
Building your community is an integral part of having a fulfilling graduate experience. Whether you want to get involved on campus or seek opportunities to network and make friends, UCF offers a diverse range of registered student organizations (RSOs) tailored for graduate students. Notable groups include the Graduate Student Association and the Graduate Student Advisory Council. You can explore more opportunities on the KnightConnect portal, hosted by the Office of Student Involvement.
Support Services
The University Writing Center (UWC) is another valuable resource that offers free individual and small group writing consultations to UCF community members. Their purpose is not to "fix" papers. Instead, the UWC provides a collaborative environment that creates opportunities to support writers' learning to help them to better understand and navigate complex situations for writing, both in and outside the university. Their tutors are qualified UCF graduate and undergraduate students dedicated to helping you produce your best writing.
Though graduate school may be stressful at times, taking care of your mental health is always a priority. Counseling and Psychological Services provides an assortment of workshops, group counseling, and one-on-one counseling services to all UCF students. They also offer a selection of virtual services and self-help resources. In addition, the College of Graduate Studies offers a webcourse called 'Plan for Well-Being' designed to help graduate students be more proactive with their mental wellness.
Prioritizing your physical health is equally important, and engaging in regular exercise can help alleviate stress and improve your mood. The Recreation and Wellness Center (RWC) comprises many programs, such as Intramural Sports, Sports Clubs, Outdoor Adventure, Fitness, and Aquatics. The RWC also includes various facilities such as our state-of-the-art fitness center, the Climbing Tower, tennis courts, sand volleyball courts, and Lake Claire Recreation Area. There is also a satellite fitness center on the downtown campus. The RWC is open to all currently enrolled students and offers many services aimed at helping UCF students be healthy knights.
There are many sources of financial support for graduate students at UCF, from fellowships and assistantships to tuition remission and health insurance. To find out more about UCF financial assistance opportunities, visit Funding. Visit the Office of Student Financial Assistance site at finaid.ucf.edu for student loans and other funding sources.
In case you encounter a crisis while at UCF, such as homelessness, an unforeseen emergency, or a catastrophic event, Student Care Services offers Special Circumstance and Emergency Funding to graduate students. You can find the criteria and access the application on their website.
UCF has its own police department contributing to a secure campus environment. The UCF Police Department currently employs approximately 80 sworn law enforcement officers between the main and the three regional campuses in Orlando. They provide many services, including safe escorts, notary services, bike and property registrations, and self-defense workshops.
We are committed to your success and intellectual development. We are rooting for you to walk across that stage at commencement. Our goal is simple – to help you achieve your dreams and become the best in your chosen field.
You have an opportunity to change the world, so take full advantage of it and enjoy the ride.
Share This Article