Graduate Faculty Profile
Jayne Willis, DNP, MSN, RN, NEA-BC, CENP
Jayne Willis, DNP, MSN, RN, NEA-BC, CENP
Lecturer
Windermere, FL
College of Nursing
Nursing Practice DNP, Executive Track
Research Focus:
Nursing leadership development
---
After spending four decades working in nursing leadership, UCF alumna Dr. Jayne Willis retired from her role as Vice President and Chief Nurse Executive at Orlando Health in 2021. Eager to begin the next phase of her career, she decided to follow her passion for mentorship and teach as an adjunct faculty member at the university.
"I couldn't think of a better way to spend the next chapter of my career than to invest in the development of future nurse leaders," Willis says. A year into her fulfilling new job, she decided to continue her work and become a full-time faculty member.
Willis graduated from UCF in 2020 with her degree in the Doctor of Nursing Practice, Executive Track. She was drawn to UCF by the College of Nursing's excellent reputation, the long-standing partnership between UCF and Orlando Health, and her positive experiences with the faculty. She describes how the faculty inspired her, including Dr. Mary Lou Sole, whom she commends for her hard work. "I have admired Mary Lou for over three decades and have always been impressed with her humility despite her amazing accomplishments in academia and research," she says. She is also grateful to Drs. Diane Andrews, Susan Chase, and Nora Warshawsky for their help and encouragement during her graduate studies.
Willis appreciates the resources offered by the university and the support she has received from her new peers. "My colleagues in the College of Nursing have been so supportive and have made my transition smooth," she says. Overall, shifting from nursing administration to academia has been a positive experience for Willis, and she loves using her professional expertise to help others at UCF.
"The most rewarding part of my job is drawing my previous experiences and education to guide and inspire students," she says. 'My area of interest is nursing leadership development, and in the current nursing work environment, there is a need for courageous and transformation leaders." Willis particularly enjoys working with Doctor of Nursing Practice Students on developing and implementing their projects, as she once did herself.
Willis advises her students to budget their time wisely. Finding a balance between work, school, and personal life is tricky; Willis finds that she can do so by allocating specific time to work on projects. She also encourages students to enjoy learning, avoid stress, and remember that the faculty members want students to succeed.
Outside of her work, Willis is deeply involved in the community. She currently serves as Vice President of the Orlando Ballet board of directors, serves on the board of the Central Florida Women's League, and is a long-time board member of the Greater Orlando American Heart Association Board. She was honored at the 2022 Heart Ball with the Legacy Chairman's Circle Award for her dedication. Her professional involvement includes being a member of the Florida Organization of Nurse Executives board and serving on the Nursing Action Coalition of Florida Executive team.
Highlights:
Four decades at Orlando Health
BSN from FSU
MSN from UF
DNP from UCF
2020 Nursing Administration ICON Award, Florida Nurses Association
2021 Lifetime Achievement Award, Daisy Foundation
Featured Articles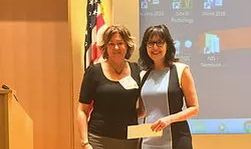 Excellence in Leadership Award Winner