Graduate Student Profile
Iris Appenrodt
Iris Appenrodt
Hannover, Germany
College:
College of Nursing
Degree Program:
Nursing MSN, Nurse Educator Track
---
"Being a nurse inspires me every day to be the best I can be, in order to do right by my patients. It affects all aspects of my life and the way I think. It gives me purpose and meaning that I didn't have before. We all have only one life and being able to make a difference – small or large – is the ultimate gift."
Like many students, graduate student Iris Appenrodt came to Florida by way of Disney. Appenrodt, who was born in Germany, came to the United States in 2000 to work at Walt Disney World on the International College Program. During her program, Appenrodt met students from all over the world, and ended up perfecting her English by socializing with Canadians, Brits, and Norwegians. While in the U.S., Appenrodt also discovered that she could apply to colleges. As Appenrodt explains, this was a surprise to her because "the German education system is very rigid, and a student's track is largely decided by the young age of 12. Once you are on a given track, it is almost impossible to switch. The majority goes on the track that prepares you straight for the workforce, and the other students are prepared to go on to university." Encouraged by the academic opportunities available in the United States, Appenrodt decided to pursue her dream of becoming a nurse. Appenrodt earned her associate's degree from Valencia College in 2012, and used the DirectConnect option to transfer to UCF. She earned her bachelor's degree in nursing from UCF and decided to remain at UCF for her current graduate studies, pursuing a Nursing MSN.
In addition to earning her degree, Appenrodt also works full-time as a registered nurse in an emergency department. Her busy schedule means that Appenrodt appreciates the fact that her program is primarily online. She points out, however, that having courses online means that she has to make sure to set aside time for her coursework. Her advice to future students is to recognize this and prioritize time management. As Appenrodt says, "Just keep in mind that this is temporary and will help you grow in your chosen profession and allow you to become the best you can be. Try to find some balance between work, school, and family to keep you going. In the end, it will all be so worth it!" She also enjoys that she has been able to reconnect with faculty who taught classes in her BSN program, including Dr. Quelly and Professor Peach.
During her time at UCF, Appenrodt has been honored for her contributions to the UCF College of Nursing Student Nurses Association and was one of two speakers chosen to speak at the annual luncheon event that honors donors who provide scholarships to nursing students. She also received the 2017 Sigma Theta Tau Excellence in Service Award.
Appenrodt plans to graduate in fall 2019. Currently, she is a course instructor for the Trauma Nurse Core Curriculum at the National SimLEARN Center in Orlando, and will conduct her final internship there as well. After graduating, Appenrodt plans to work there as a Nurse Educator, a role that will enable to combine her passions of emergency medicine, health care simulation, and education.
Highlights:
Works full-time as a registered nurse in an emergency department
2017 Sigma Theta Tau Excellence in Service Award
Course instructor for the Trauma Nurse Core Curriculum at the National SimLEARN Center in Orlando
Featured Articles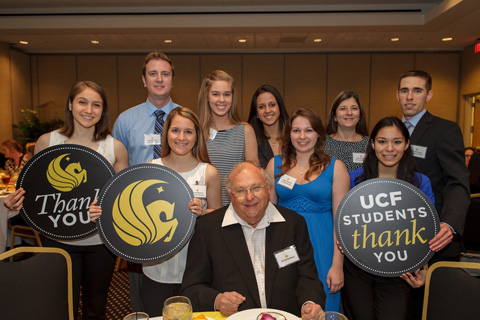 Nursing Awards $142,600 in Scholarships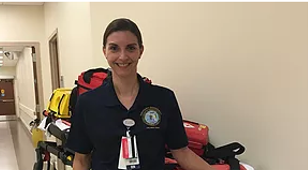 2017 Excellence in Service Award Winner: Iris Appenrodt