Graduate Faculty Profile
Joanna Mishtal
Joanna Mishtal
Professor
College of Sciences
Anthropology MA
Integrative Anthropological Sciences PhD
Research Focus:
Anthropology of gender and governance
---
From her very first anthropology class, Dr. Joanna Mishtal was captivated by the subject's focus on cultures and people. With anthropology being such a holistic field she was drawn to the prospect of being able to research almost any cultural phenomenon of interest anywhere in the world while making an impact on those around her. Her passion for the subject led her to study cultural and medical anthropology and become a renowned researcher in the field today.
After completing a postdoctoral fellowship at Columbia University, Mishtal came across an opening for a position as a tenure-track assistant professor with a focus on applied and public anthropology at UCF.
Wanting the opportunity to advance her work while also bringing new, intersectional ideas to the anthropology program, Mishtal leapt at the chance. Today, as a full professor and with the support of her department, she has expanded the Anthropology curriculum, having developed both the Medical Anthropology Minor and the Anthropology of Global Health Certificate. "It has been a pleasure to see these programs running so successfully for several years, and the many students whose interest in health we have had the opportunity to support," she says.
Mishtal funnels her passion for anthropology into teaching her students, helping them develop and conduct independent research projects, learn research ethics, and conduct publishable projects. She particularly enjoys working with graduate and undergraduate honors students on qualitative and ethnographic research with human subjects. Encouraging her students to publish their results in peer-reviewed journals and witnessing their success is especially rewarding for her.
Mishtal emphasizes the importance of her field of study in the current sociopolitical landscape. "The politics of women's health remain highly significant and at the forefront of many present-day political debates and struggles," she says. Her research about the governance of reproductive health has received generous funding within the social sciences and beyond, and understanding these issues matters not only for individuals but for policymakers, healthcare systems, and advocacy organizations as well. The vital applications of her research have even earned her funding from global establishments such as the World Health Organization, for which she feels extremely fortunate.
However, the most rewarding part of Mishtal's job as a principal investigator is working alongside her teams to disseminate their findings directly to governments to inform policy. In the past two years, her research has been utilized and publicized by the governments of Ireland and France, one of the highest achievements for scholars researching policies, particularly in medical and policy-oriented anthropology.
For her work, Mishtal has received numerous awards and accolades. She was recently recognized with the Women of Distinction Award from Faculty Excellence at UCF for her incredible productivity during the height of the COVID-19 pandemic, during which she conducted a major international study funded by the World Health Organization leading a team of 10 researchers from around the world. The 18-month project centered around reproductive health policy implementation in Ireland. "Being recognized for these research efforts means a great deal to me," she says.
Though the pandemic presented challenges, it also posed an opportunity for data collection about access to healthcare during times of restricted movement. With her team of researchers and help from the WHO Program Officer, Mishtal was able to successfully complete her study and now has publications under review in several peer-reviewed journals. She plans to continue engaging in research and making a difference in gender and governing policies around the globe.
Highlights:
Conducted solo fieldwork in Poland, Ireland, and the United Kingdom and collaborative research in Ireland, France, Italy, the Netherlands, and Spain
Received funding from the World Health Organization
Her research has been utilized by the governments of Ireland and France
Won Women of Distinction Award from Faculty Excellence at UCF
Featured Articles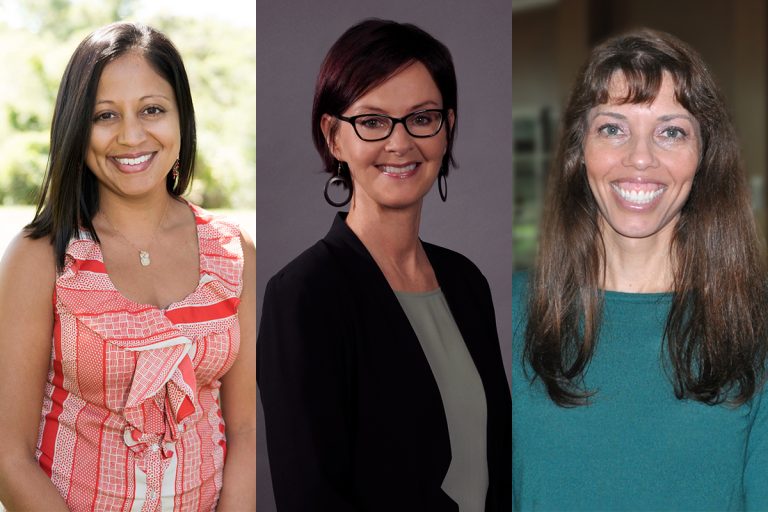 3 Faculty Honored for Advancing Research, Creative Works