Applying to UCF
Applying to UCF
Applying to UCF
Unleash Your Potential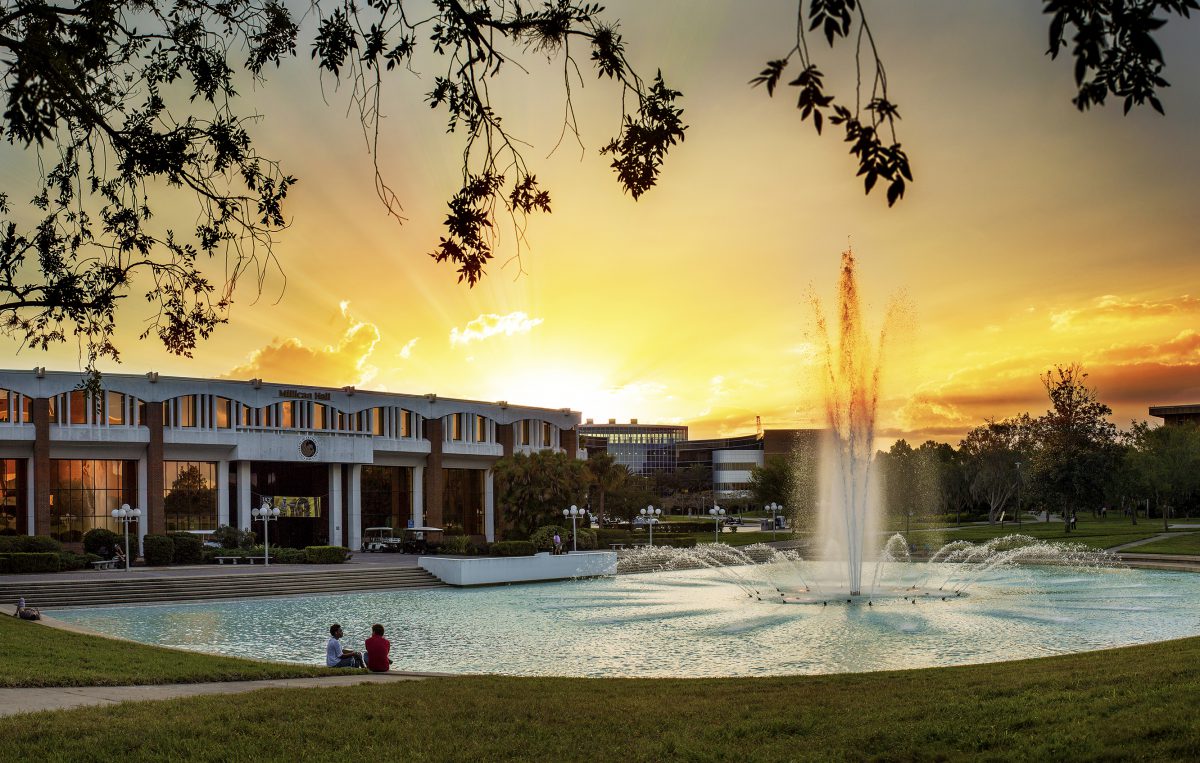 Ready to Apply?
UCF's College of Graduate Studies works in collaboration with the graduate program to manage the application process.
As an applicant you will be interacting with both offices. Start by reviewing Application Deadlines and Requirements for your program of interest. Once you're ready to apply, the graduate application for admission is available online for your convenience. Admission decision time frames vary by graduate department. The graduate program will make a recommendation on your application and notify the College of Graduate Studies. Only the College of Graduate Studies can make an official offer of admission.
Steps in the Application Process
Check Admission Requirements
Before beginning your graduate application, familiarize yourself with your programs specific requirements as these may vary. View application deadlines and requirements for your program here. General Admission Requirements:
A bachelor's degree from an accredited U.S. institution recognized by UCF or its equivalent from a foreign institution.
GPA of 3.0 or more (on a 4.0 maximum) in all work attempted while registered as an undergraduate student OR while registered as an upper-division undergraduate student (normally based on the last sixty attempted semester hours)

OR, a graduate degree, professional degree or equivalent from an accredited U.S. institution recognized by UCF or its equivalent from a foreign institution in a field related to the discipline of the program to which the student is applying.
International Applicants should review additional minimum requirements here.
The full language of the UCF Admissions Regulations for Graduate Students can be found at regulations.ucf.edu/chapter2.asp (UCF-2,003, UCF 2.0031, UCF 2.009).
Complete Your Application
Complete and submit your graduate application online. All graduate students, regardless of program, must apply through the College of Graduate Studies. Once submitted, pay the $31 non-refundable application fee. Be sure to submit the application and all supporting documents by the application deadline for your program.
Applications will not be processed until the application fee is received. Be sure to review your application carefully before submission, changes are not permitted once the application has been submitted.
Please Note:
Physical Therapy DPT applicants are required to apply through PTCAS in addition to completing a UCF Graduate School application.
Communication Sciences and Disorders MA applicants are required to apply through CSDCAS in addition to completing a UCF Graduate School application.
Athletic Training MAT applicants are required to applying through ATCAS in addition to completing a UCF Graduate School application.
Applicants considering multiple programs must complete an application for each one and pay the $31 non-refundable application fee.
An application fee waiver may be available for students applying to specific graduate programs. Applicants who think they may qualify for one of the categories below should email cgspayment@ucf.edu for additional information on an application fee waiver.
UCF full-time employees
Teach for America volunteers
FAMU Feeder applicants
International Fulbright Scholars
McNair Scholars
GEM Fellowship applicants
NPSC Fellowship applicants
UCF RAMP scholars
McKnight Doctoral Fellowship applicants
NSF REU participants*
*Eligible NSF REU Sites:
Research Experiences in the Internet of Things (IoT)
Advanced Technologies for Hypersonic, Propulsive, Energetic, and Reusable Platforms (HYPER)
Research Experience for Undergraduates in Computer Vision
Engineering and Nanoscience of Materials and Device Applications in Biotechnology and Medicine
Addressing Social and Environmental Disparities through Community Geography and Geographic Information Systems in Belize
The College of Graduate Studies does not provide hardship fee waivers. If your application is not considered because the application deadline has passed or you did not provide all required application materials, UCF will not issue you a refund for the application fee.
Transcripts
All applicants must upload a scanned copy, front and back, of their official transcript/academic record issued by the Registrar to their applicant status portal for each bachelor's, master's, professional, or doctoral degree earned or in progress. Scanned copies of the official transcripts are used for initial review by the graduate program faculty. Unofficial transcripts, grade audits and screen shots are not acceptable.
Current or prior UCF students should not order UCF transcripts. The College of Graduate Studies will retrieve and process official UCF transcripts on behalf of the applicant at no additional charge.
The UCF College of Graduate Studies accepts official transcripts electronically or via hard copy. Electronic transcripts can be ordered from the sending institution's Registrar and delivered to the UCF College of Graduate Studies via Parchment, National Student Clearinghouse, or eScrip.
Electronic transcripts are strongly preferred. Admitted students sending electronic official transcripts should have them delivered to UCF at gradscanning@ucf.edu. If electronic delivery is not an option, you may submit an official transcript (in a sealed envelope) from each college and/or university attended directly to the College of Graduate Studies.
Hard copy transcripts must be mailed to:
USPS:
UCF College of Graduate Studies
P.O. Box 160112
Millican Hall Room 230
Orlando, Fl. 32816-0112
FedEx/UPS:
UCF College of Graduate Studies
4365 Andromeda Loop N.
Millican Hall Room 230
Orlando FL 32816-0112
Please note that there may be a delay in processing transcripts that are sent via mail. You should not send an electronic and a hardcopy, as this delays processing time. After an offer of admission is made, an official transcript sent directly from each previously attended institutions registrar's office must be submitted to the College of Graduate Studies. Official transcripts are required prior to enrollment in any graduate course.
Test Scores
The Graduate Record Examination (GRE), Graduate Management Admission Test (GMAT), Test of English as a Foreign Language (TOEFL), or the International English Language Testing System (IELTS) may be required for admission. Review your program requirements to determine if an admissions test is required. Official test scores must be received directly from the appropriate testing agency.
Test scores may take several weeks to receive and process. If you have requested your scores to be sent and they are still not shown as received on your Application Status Portal, provide the College of Graduate Studies with a copy of your unofficial score report so that we may attempt to locate your test scores.
Supporting Documents
Most programs require the submission of supporting documents to help in their decision about your admission to their program. Some of these include writing samples or personal statements, a resume or CV, and recommendation letters. Please refer to the Application Deadlines and Requirements page for a list of these requirements. Visit your program's website for any additional requirements for the academic statement of purpose or personal statement. Contact information is listed in our Graduate Catalog.
Costs and Funding
For a breakdown of current tuition rates please visit UCF Student Account Services. This provides tuition and fees for both in-state and out-of-state graduate students. You may also use the tuition calculator for an estimate of tuition and fees per semester.
The primary sources of funding for graduate students are assistantships, fellowships, and student loans. Assistantships offer professional experience, academic training, and financial support for students pursuing advanced degrees. Fellowships may provide payment to the University in lieu of tuition and/or small stipends to cover living expenses. The Graduate Funding page provides a breakdown on the different funding opportunities and eligibility requirements.
Check Your Application Status
You can check the status of your application and supporting documents by going online to your Application Status Page. Use the same log in information as when you created your application. Here, you can view missing materials, and upload documents as well.
Please keep in mind that your application will be incomplete until we receive all supporting documents.
Decision Timeline
Admission decision time frames vary by graduate department. If the graduate program recommends you for admission, the College of Graduate Studies will review your application to ensure UCF's minimum requirements are met. The College of Graduate Studies will notify all applicants of their admission status after admission has been finalized. Applicants are not admitted until they receive notification from the College of Graduate Studies with the offer of admission, regardless of any offers made by the graduate program.
Once you have decided whether to accept or decline the offer of admission, login into your Applicant Status Portal and complete the accept/decline form.
---
Readmission
If you were previously admitted and enrolled in a graduate program at UCF but have been absent for three or more consecutive semesters, you may apply for readmission to the same graduate program. Complete a graduate application online and submit the non-refundable $31 application fee. Check your program's application deadlines and requirements to ensure you meet minimum program requirements.
Application Requirements
A $31 nonrefundable application fee
Application supporting materials. Check the Application Deadlines and Requirements page for a complete list of for a list of application supporting documents.
Probation Plan (if applicable)
Readmission is determined by the graduate program. Readmission is not guaranteed.
Prior Academic Performance
Readmission is required if you were previously dismissed from a graduate program and are interested in regaining entrance into that same program.
Students dismissed from the graduate program they are seeking readmission to are required to meet with their graduate program director to create a Probation Plan. For more information on this policy, please visit the Academic Progress and Performance section of the Graduate Catalog.