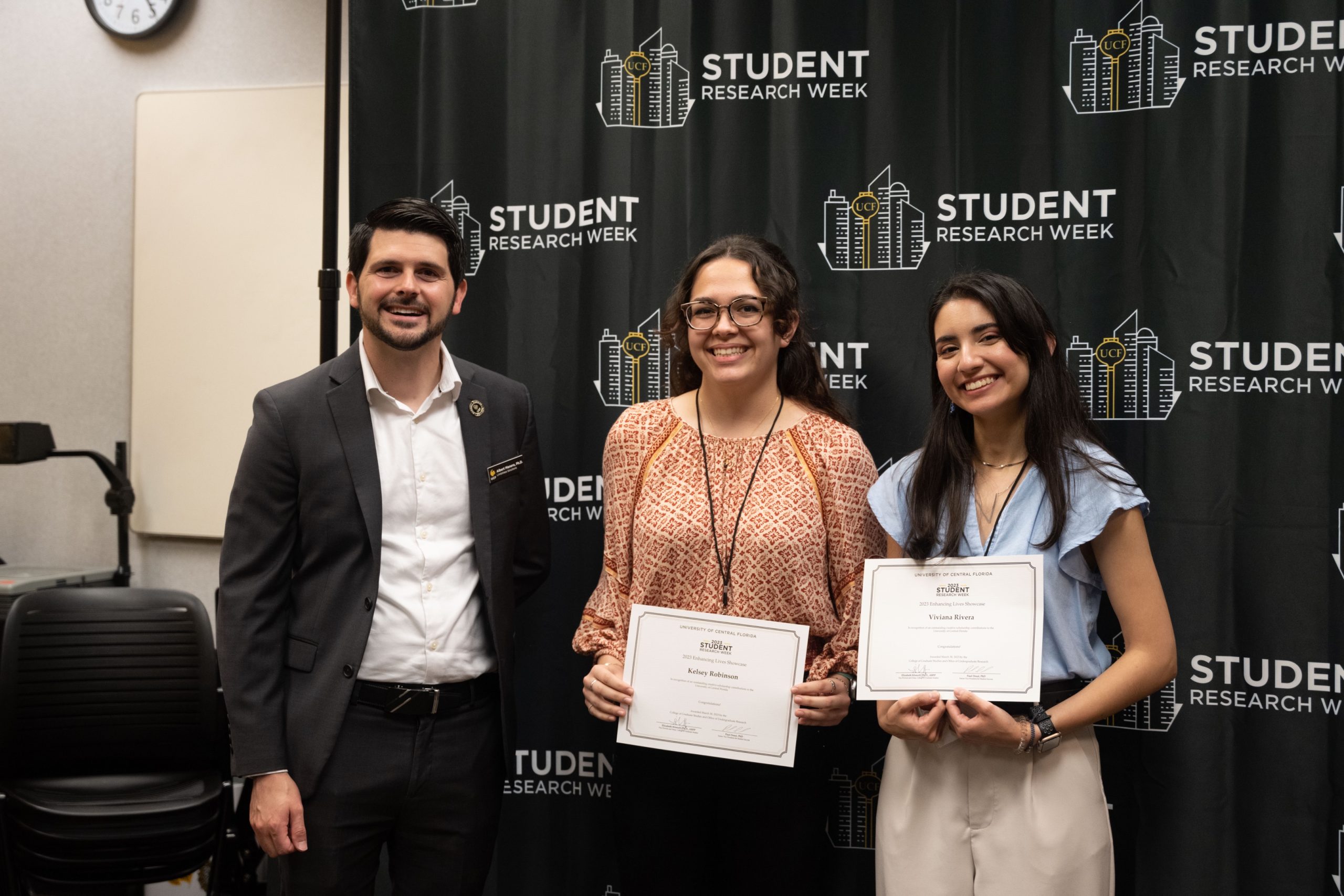 The Annual Student Research Week Showcases the Innovative Endeavors of UCF Students
---
Student Research Week has been a long-standing tradition at UCF. However, even decades after the events' conception, students continue to dazzle audiences each year with their novel research and creative scholarship. Last week saw hundreds of eager graduate and undergraduate researchers sharing their work.
The premier event, the Student Scholar Symposium, featured 487 graduate and undergraduate projects presented over two days and five poster sessions in the Pegasus Ballroom
Students shared their research on various topics, ranging from artificial intelligence and neuropathology to ancient Mayan and Egyptian archaeology.
"Seeing all the amazing work the presenters are accomplishing was very uplifting and inspiring," says Kelsey Robinson, Statistics BS student and research assistant at Limitless Solutions. Alongside her research partner, Viviana Rivera, Robinson shared her work at the symposium, focusing on the art of manufacturing pediatric prosthetic limbs.
"My teammate and I were inspired to present our work because of its unique ability to bridge the gap between science and art," says Robinson. "The goal of this work is to inspire feelings of empowerment in children with congenital upper limb differences as well as shift mindsets toward inclusivity by disproving societal stigmas."
The duo used 3D printers, a thermoform vacuum machine, and airbrush guns to create artistic, interchangeable accessories for prosthetic arms. They were honored with the Judges Choice Award during the poster awards ceremony at the end of the symposium.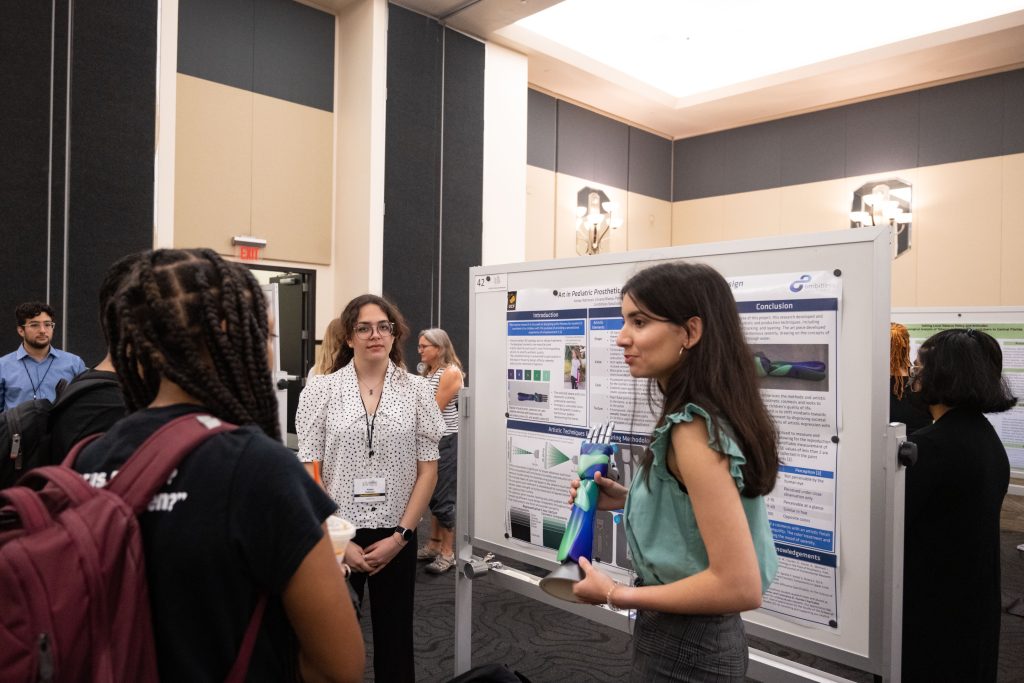 "For me, the most valuable aspect of the symposium was hearing feedback from fellow presenters about our research," Robinson says. "This type of exchange of ideas is unique to events like this where so many bright minds are in one place and offering feedback to one another." She feels extremely grateful to have had the opportunity to discuss her research with peers and mentors alike and hopes to attend the symposium again next year.
Human Factors and Cognitive Psychology Ph.D. student Jordan Schotz presented at the Student Scholar Symposium for the second time during this year's event. "In both instances, it has been a very friendly environment to share research and build connections with fellow UCF students," he says.
Schotz shared his research on social decision-making and trust-related learning. His work aims to discover the formation of initial impressions for social and nonsocial partners and how those impressions change after spending more time with the partner.
"I enjoy the experience of communicating my research to people outside of my field of study as well as students new to the field," he says. "This provides a great opportunity to refine an "elevator pitch" that appeals to broad audiences. The exercise of describing psychological concepts to individuals outside of psychology has given me a better understanding of my own work."
Another event during the week included a panel discussing the benefits of pursuing interdisciplinary research, the impacts of research on one's career path, and the importance of promoting inclusivity across disciplines. Panelists consisted of university faculty and a post-doctoral fellow.
The closing of Student Research Week was the UCF Excellence Awards ceremony. Exceptional students and faculty members who work diligently throughout the year on their research and other endeavors are recognized and awarded for their achievements.
The annual research celebration is sponsored by the College of Graduate Studies, the Office of Undergraduate Research, and the Division of Student Success and Well-Being,
A list of the 2023 Student Scholar Symposium winners by session is available on the Student Research Week website.
Share This Article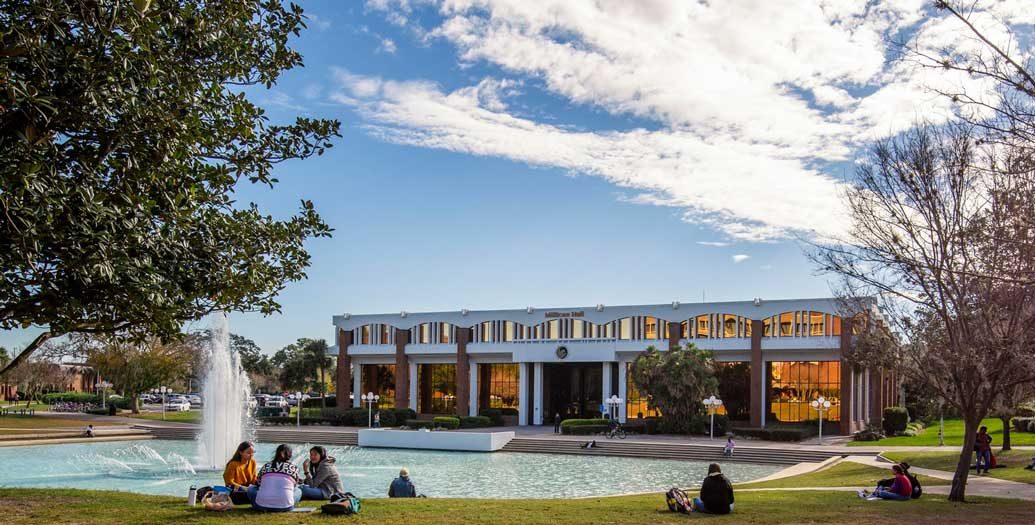 Graduate Student Association Election Results
The Graduate Student Association (GSA) has announced the results of its 2023-2024 officer election. The newly elected officers will take on leadership roles and work to enhance the academic, social,...