UCF Sea Turtle Research Highlighted for 50th Anniversary of the Endangered Species Act
---

UCF sea turtle research was recently highlighted for the 50th anniversary of the Endangered Species Act (ESA) with a visit from the U.S. Fish and Wildlife Service (USFWS) and National Oceanic and Atmospheric Administration (NOAA) leadership.
The visit showcased the Archie Carr National Wildlife Refuge and its successful sea turtle conservation efforts.
Since the refuge's establishment as a conservation area in 1991, due in large part to sea turtle nesting data collected by UCF's Marine Turtle Research Group, sea turtle nesting numbers in the area have rebounded.
The 13-mile area of the Carr Refuge surveyed by UCF's Marine Turtle Research Group now hosts about one-third of all green turtle nesting in Florida, while also hosting about 12% of Florida's loggerhead nests.
Green sea turtle nesting on the beach rose from tens to hundreds of nests in the 1980s to thousands by the mid-2010s. The area of the refuge monitored by UCF now averages about 9,000 green sea turtle nests each year, with some years approaching 16,000 nests.
Because of this success, the green turtle's North Atlantic population was downlisted under the Endangered Species Act from endangered to threatened in 2016.
"This year we are experiencing what seems to be record-breaking green turtle nesting throughout the state, with a large proportion of nests on beaches monitored by UCF," says Erin Seney, an associate research scientist with the group.
The Endangered Species Act was passed in 1973 to provide protection to endangered and threatened plants and animals. Green sea turtles and loggerheads were added to the list in 1978.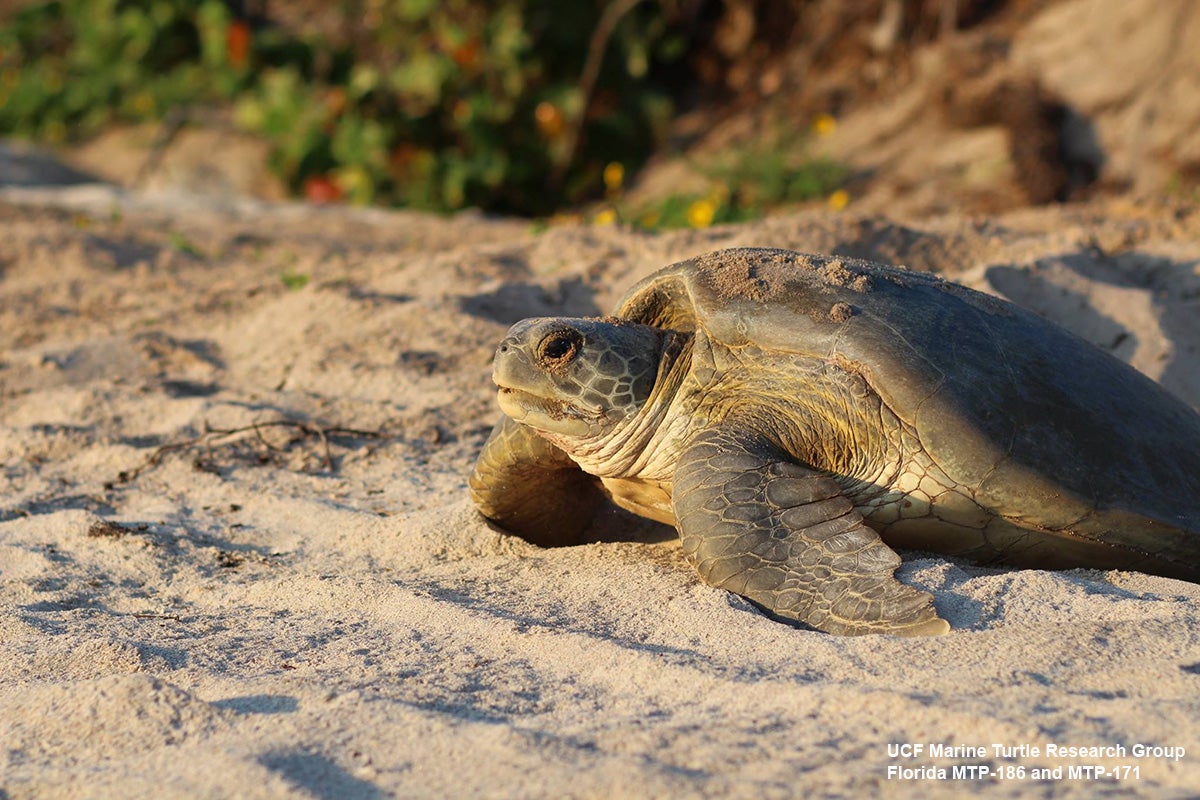 "The green turtle was heavily exploited for its meat, and local populations were likely small decades before the ESA went into effect," she says. "The nest numbers we now see on the Archie Carr National Wildlife Refuge and elsewhere highlight the importance of conservation efforts that have occurred both in the water and on land, including protection of the coastline within the refuge. While the Carr Refuge's beaches were protected with loggerheads in mind, they have since also become a highly important nesting area for green turtles."
From 1982 to the present, UCF's Marine Turtle Research Group has continued to collect data within the northern 13 miles of the refuge.
"Sea turtles are long-lived and very late maturing animals," says UCF Marine Turtle Research Group Director Kate Mansfield, an associate professor in UCF's Department of Biology.
"These animals won't mature until at least age 25 to 35, so it takes decades before they are able to reproduce and contribute back to their populations," Mansfield says. "This means that hatchlings emerging from nests laid on the Carr Refuge in the 1990s may only now be returning to these natal beaches as adults to breed. We need decades of data in order to effectively conserve these species."
Seney says their long-term dataset has shown variable but generally high nesting for loggerheads, modest but generally increasing leatherback nesting, and large growth in green turtle nesting.
About the Visit
The guests at the refuge included USFWS Director Martha Williams; USFWS Deputy Director of Operations Wendi Weber; NOAA Fisheries Director, Office of Protected Resources, Kim Damon-Randall; and NOAA Deputy Assistant Administrator for Operations (Acting) James Landon.
The Marine Turtle Research Group — including UCF Biology doctoral students Katie Martin and Tiffany Dawson —  and USFWS worked together to host the guests that included members of NOAA National Marine Fisheries Service, the National Wildlife Refuge System, the Florida Fish and Wildlife Conservation Commission, Brevard County and Indian River County. Three of the officials who lead federal and regional sea turtle programs were also UCF alums who had been members of the Marine Turtle Research Group as master's students.
Guests were taken on a permitted nighttime sea turtle walk to observe nesting sea turtles and UCF's ongoing nighttime research.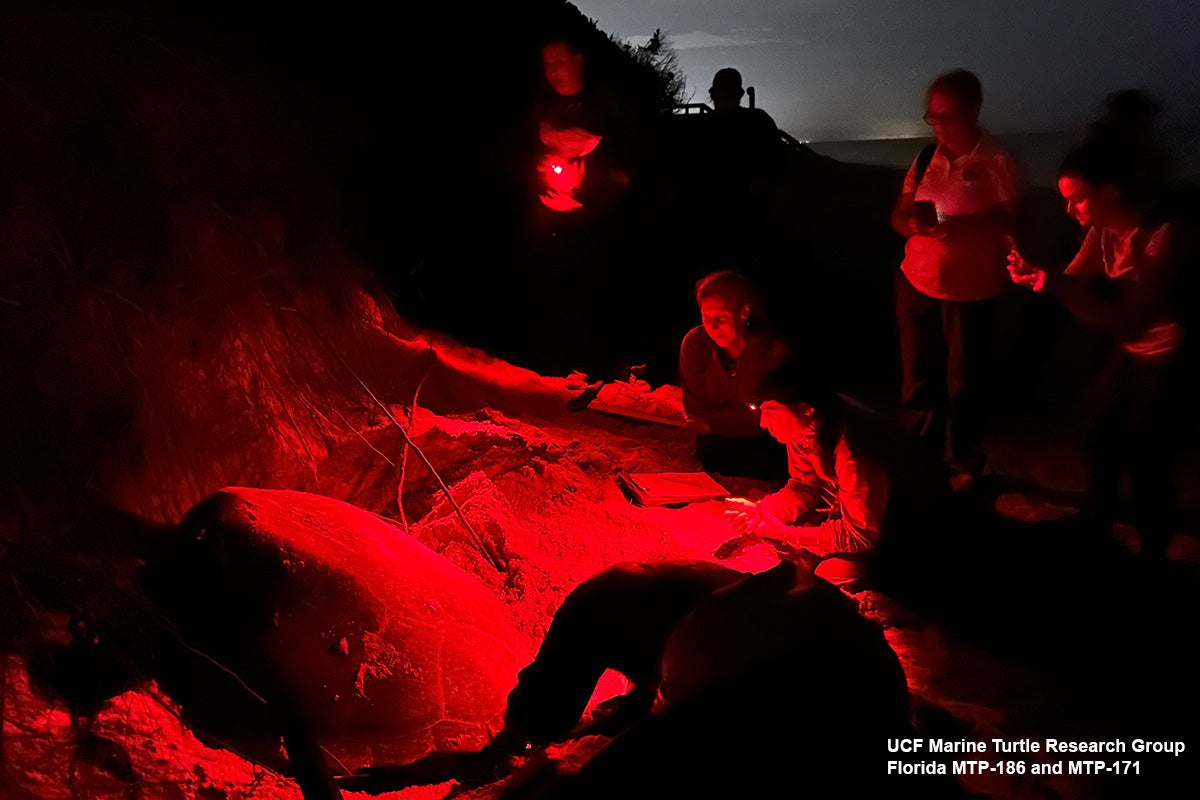 The turtles did not disappoint, as the group experienced the Carr Refuge during the peak of the loggerhead season and during a busy green turtle year.
Walking a short distance from beach access, the group observed the UCF Marine Turtle Research Group measure and tag several turtles as part of the long-term research efforts by the lab.
The guests then met back up on the beach at sunrise to view the many loggerhead and green sea turtle tracks, or crawls, left on the beach the night before and learn how UCF researchers survey the beach and mark nests to later monitor for signs of hatching.
For the sunrise event, they also heard from UCF biology master's student Merope Moonstone and UCF biology undergraduate intern Katie Johnsen about their efforts to protect sea turtles, including Moonstone's research examining seasonal and climatic effects on sea turtle incubation duration and reproductive success.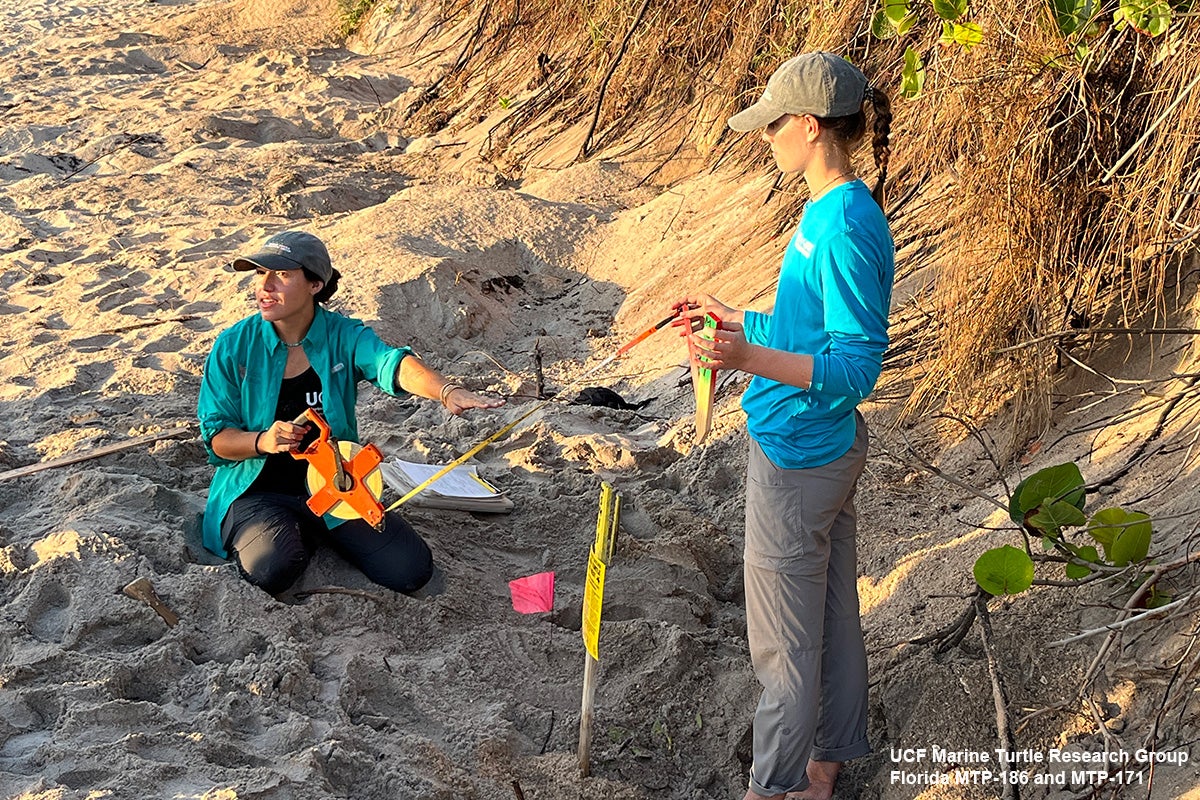 An added bonus was the discovery of a loggerhead nest emergence, sometimes called a "boil," just as the group was parting ways.
"It was a privilege to visit the incredible Archie Carr National Wildlife Refuge, one of the most important sea turtle nesting sites in the Western Hemisphere," says Kim Damon-Randall, director of the Office of Protected Resources at NOAA Fisheries.
"The recovery story for green turtles nesting in the refuge is inspiring — nesting in the state of Florida increased from around 4,000 nests in the 1980s to more than 230,000 in the 2010s," she says. "The tremendous partnership between NOAA Fisheries, the U.S. Fish and Wildlife Service, Florida Fish and Wildlife Conservation Commission, the University of Central Florida, local governments (including Brevard County and Indian River County), and others is critical to protect loggerhead, green, and leatherback sea turtles and their habitat. The Endangered Species Act provides an important framework to help us achieve our conservation and recovery goals. There is more work to do, but the 50th anniversary of the ESA is an inspiring milestone and an opportunity to reflect on conservation progress including green sea turtle recovery efforts."
Mansfield says that as the Endangered Species Act moves into the next 50 years, it is important to remember that some species, like sea turtles, may take decades or centuries to recover and that short-term recoveries like what is seen now with green turtles need to be nurtured over decades, not just years.
"Sea turtle research and conservation is slow science," she says. "We need generations or decades of monitoring to ensure that the conservation successes stick. The Endangered Species Act helps ensure that sea turtles will be around for our, and their, next generations."
About UCF's Marine Turtle Research Group
UCF began consistently monitoring the Brevard County "South Beaches" throughout the main sea turtle nesting season in 1982 under the leadership of the late Llewellyn Ehrhart, more commonly referred to as "Doc."
The data collected by UCF on loggerhead turtle nesting showed that it was an area with high-density nesting and demonstrated that it was an area worthy of protection for this ESA-listed species, as well as nesting habitat for smaller numbers of endangered green turtles and leatherbacks.
In tandem with their ongoing, long-term nesting beach monitoring, the UCF Marine Turtle Research Group has also had a consistently operating, in-water research and monitoring program in the Indian River Lagoon since 1982, which has given them a better understanding of local inshore populations of sea turtles, which are primarily juvenile green turtles.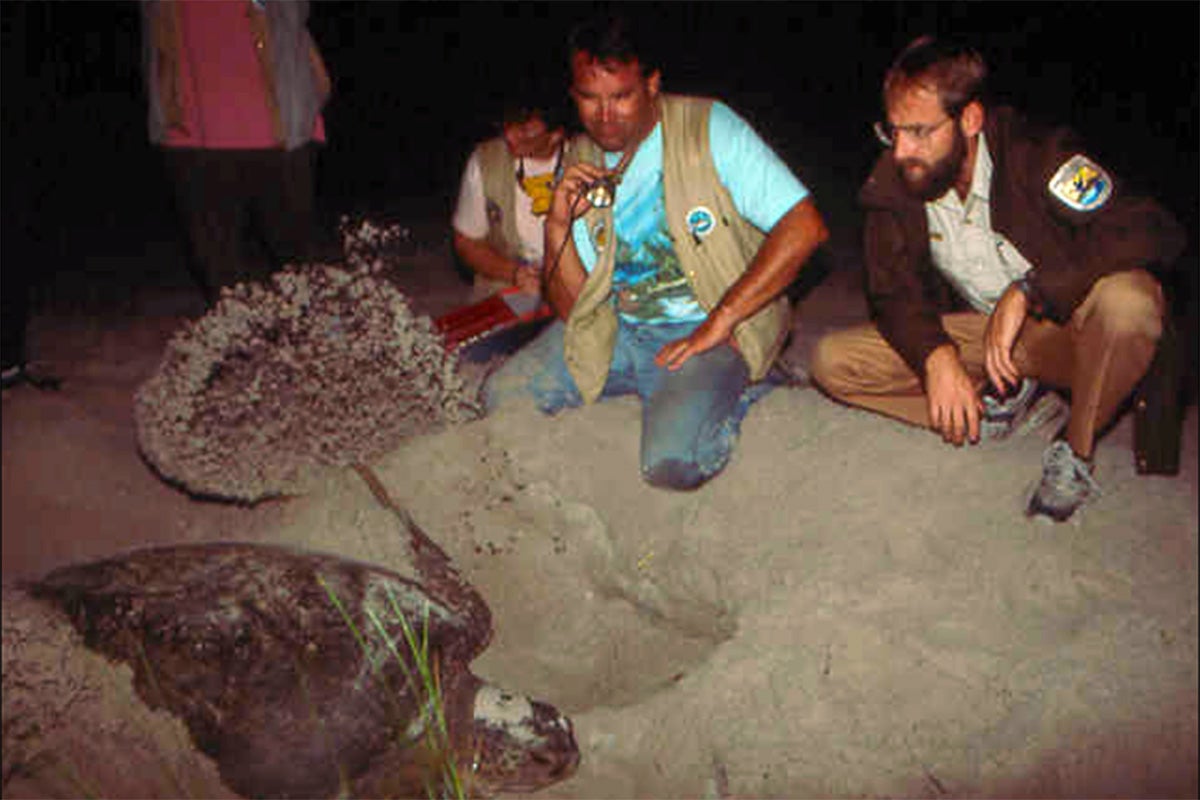 Long-term, in-water datasets are especially difficult to maintain for sea turtles, and the UCF lab is able to provide a "snapshot" of populations about 10 to 15 years before most of the turtles would mature and return to the beach as adults, as well as information on health, growth, genetics, and diet.
Mansfield pioneered methods to satellite track the youngest and most mysterious ages of sea turtles, the sea turtle "lost years." Her early work helped inform the National Marine Fisheries Service managers when establishing critical habitats for loggerhead turtles under the Endangered Species Act.
Sargassum, a floating algae found offshore, is a critical nursery habitat for young turtles and this was the largest designation of critical habitat to date. The lab's work has helped the researchers determine where green sea turtles may go during their "lost years," and data collected by the lab on wild-caught "lost years" turtles in the Gulf of Mexico are contributing to the designation of critical habitat for green turtles under the Endangered Species Act.
The UCF Marine Turtle Research Group is unique in that it studies sea turtles in the wild throughout their long lives. The lab has provided hands-on graduate training and internships for hundreds of UCF students throughout its history. Alumni have gone on to a variety of careers, including generations of scientists who have run or currently run, sea turtle programs at the national and state level, and many more who use their past sea turtle experiences to educate others and contribute other types of environmental and conservation work.
Share This Article