Graduate Student Profile
Itunu Ilesanmi
Itunu Ilesanmi
Supare Akoko South-West Ondo, Nigeria
College:
College of Community Innovation and Education
Degree Program:
Public Affairs PhD, Social Work Track
Research Focus:
Reintegration for immigrant returnees
---
Itunu Ilesanmi has always been driven by finding a sense of purpose. When she was young, her parents taught her that fulfillment comes from helping others, a sentiment that has pushed her throughout her life. Today, she remains committed to that idea, dedicating her time and efforts to assisting immigrant returnees affected by turmoil and violence.
Ilesanmi earned her undergraduate degree in social work from Babcock University in her native country of Nigeria before moving to the United States to continue her education. She earned a dual master's degree in social work and public administration from Savannah State University. While finishing her master's, her department chair attended a conference where she met UCF social work professor Dr. Kim Anderson. Impressed by the interdisciplinary nature of the Social Work doctoral program, she encouraged Ilesanmi to pursue a PhD at UCF. Because of this, Ilesanmi says that UCF chose her and believes she was to finish her journey here.
Ilesanmi studies the barriers to reintegration among immigrant returnees, a cause close to her heart. "I had grown up seeing my family and those around me support those facing difficulties even though we did not have much, and that has been my practice," she says. "Then [witnessing] the issue of a terrorist attack sending people out of their homes, unaware of finding safety, shelter, food, and some form of security for themselves, motivated me to push forward in this path of social work."
Through her research, Ilesanmi had the opportunity to visit a terrorist-affected community, and the results allowed her to create the first-ever conflict-related reintegration model for returnees. The revolutionary model can be adopted by governments and other humanitarian agencies centered around supporting the reintegration process of displaced persons.
In recognition of her admirable humanitarian work, Ilesanmi has received various awards at UCF, including the Graduate Research Fellowship. She has also presented her research at several events, earning second place in UCF's Three Minute Thesis competition, third place in the CCIE Research and Impact Showcase, and becoming one of the graduate student winners of the Student Scholar Symposium during the 2023 Student Research Week.
Ilesanmi advises her peers to look outside their curriculum to learn and absorb all they can from their fellow students and program faculty. "Graduate school is not the most straightforward journey, but once you find your path and those faculty members dedicated to building the professionals of tomorrow and are interested in your progress, work with them," she says. She extends her gratitude to Drs. Kim Anderson and Asli Cennet Yalim for helping her grow as a researcher and teacher, and to Drs. Julia O'Connor, Trenton Marsh, Denise Gammonely, Sussany Beltran, and Martiza Concha for their professional advice and guidance.
Ilesanmi is graduating this summer and aims to pursue a career as a teacher in higher education. "My professional responsibility is to address the problems in the refugee and displaced persons reintegration or integration process, which I plan to work on through research and program development," she says. "Nonetheless, there are additional social issues that my future students will also be aiming to address, and they will need the best tools from their professor to prepare them for these goals." She strives to become an excellent professor to support the next generation of students who will follow in her footsteps.
Highlights:
Nigeria native
Developed first conflict-related reintegration model for returnees
Graduate Research Fellowship recipient
2023 Student Scholar Symposium winner
Three Minute Thesis competition runner up
CCIE Research and Impact Showcase, third place
Featured Articles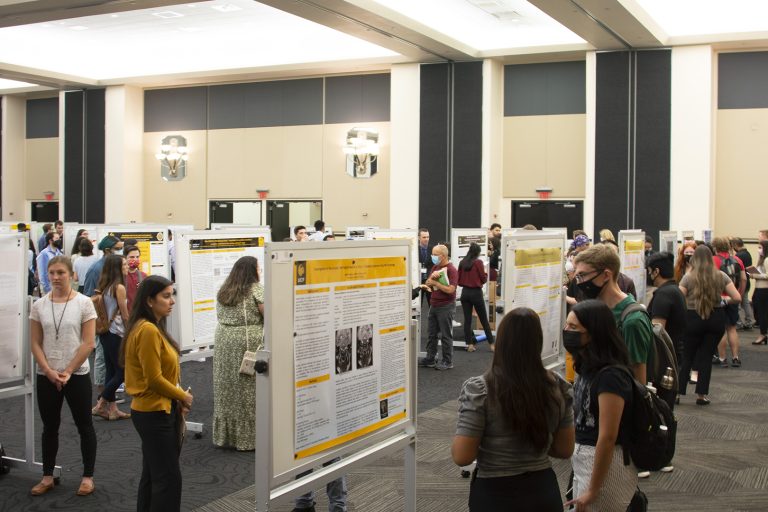 UCF Student Research Week 2023 Kicks Off with the Academic Exhibition of the Year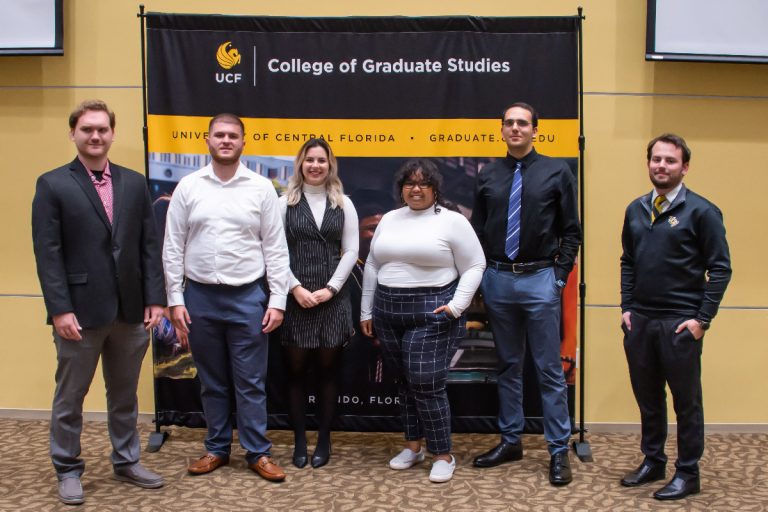 This year marked the first time that master's students participated alongside doctoral students in the annual Three Minute Thesis Competition at UCF