Graduate PostDoc Profile
Sarah Noureddine
Sarah Noureddine
Beirut, Lebanon
College of Medicine
Biomedical Sciences PhD
Research Focus:
Aging and age-related diseases
---
Sarah Noureddine never thought her academic journey would lead her to pursue a career in research. However, she was exposed to an entirely new branch of medicine by volunteering in a research lab while working on her bachelor's degree in Biology at UCF. "I became fascinated with the idea of contributing to the constantly evolving science behind medicine and ultimately found my passion in age-related pathologies," she says.
Noureddine earned her master's degree and PhD in Biomedical Sciences at UCF. She is currently conducting research centered on aging and age-related diseases as a postdoctoral scholar. "Aging is such a diverse field because it looks into many diseases impacted by age and explores preventative measures that can be accessible to all," she says. Her goal is to help expand and contribute to preventative care so people may age healthier and improve the quality of life for the elderly.
The decision to remain at UCF as a postdoc was easy for the triple knight. "UCF feels like home to me because the institution embraces diversity and promotes individuality while also creating a unique community," she says. The accomplishments of the College of Medicine are impressive, and Noureddine was excited to remain a part of the innovative community.
Noureddine appreciates the collaborative environment at UCF and is grateful for the kindness and availability of the faculty. Drs. Laurence von Kalm and Otto Phanstiel gave her the opportunity to volunteer in their labs as an undergraduate student under their guidance, which allowed her to succeed in research and motivated her to pursue a PhD. "My graduate faculty advisor and mentor, Dr. Michal Masternak, also deserves recognition for his direction and counsel. I had great pleasure in working in his lab and [appreciated] his guidance," she says.
Throughout her academic career at UCF, Noureddine has received numerous awards and distinctions, including the Graduate Dean's Fellowship in 2019, the Richard Tucker Gerontology Applied Research Grant by LIFE in 2021, and the Doctoral Research Support Award, Wodzinski Scholarship Award, and Maya Singla Memorial Award. She also was recognized with the Judge's Choice Award at the UCF Student Scholar Symposium last year and was invited to speak at the American Aging Association (AGE) 50th Annual Meeting.
"UCF has allowed me to broaden my professional network through the countless symposiums, scholarship opportunities, and clubs offered," Noureddine says. Through these opportunities, she says UCF is aiding her in developing the academic and professional skills necessary for her dream career.
Noureddine aims to build herself a career in research and development, through which she can continue her vital work. She hopes to continue making impactful discoveries and strives to make her family proud.
Highlights:
Graduate Dean's Fellowship, 2019
Richard Tucker Gerontology Applied Research Grant by LIFE at UCF, 2021
Doctoral Research Support Award
Wodzinski Scholarship Award
Maya Singla Memorial Award
Judge's Choice Award at the UCF Student Scholar Symposium, 2022
Invited to speak at the American Aging Association (AGE) 50th Annual Meeting, 2022
Featured Articles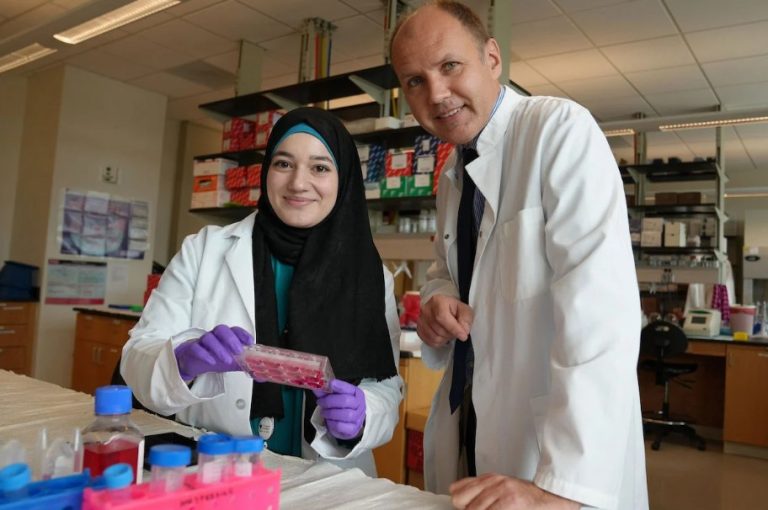 UCF Ph.D. Identified RNA Secret to Healthy Aging