Graduate Student Profile
Nasif Sayeed
Nasif Sayeed
Dhaka, Bangladesh
College:
College of Medicine
Degree Program:
Biomedical Sciences PhD
Research Focus:
Therapeutics for Alzheimer's disease
---
After receiving his bachelor's and master's degrees in Microbiology from the University of Dhaka, Nasif Sayeed decided to get his PhD in Biomedical Sciences at UCF. The main reason being the growing research in neurosciences and the helpfulness and friendliness of the program staff. "It was a huge cultural leap when I came to the USA to do my PhD, there was a difference in the way people act and behave socially, culturally, even in scientific arenas," Sayeed says. 
In 2019, Sayeed decided to enter UCF's 3MT Competition, where doctoral students have three minutes to communicate their research to non-expert judges. He wanted to increase awareness about his research which is targeted at developing therapeutics for Alzheimer's disease. Sayeed entered the 3MT with the feeling, "I had to connect with as many people as possible and compete at an international level. I knew that to pursue a career in life science meant presenting my research to people from different fields and expertise, technical and non-technical."
Sayeed won first prize, allowing him the opportunity to also represent UCF at a regional 3MT competition. He says that winning meant a lot to him because it reflected his ability to convey his research to technical and non-technical judges, made his family proud, and allowed him to represent Bangladesh at an international level.
After graduation, Sayeed is interested in pursuing a research position as well as exploring options in academia. Sayeed was a lecturer at a university while living in Bangladesh and enjoys teaching and connecting with people through the sharing of knowledge.
Highlights:
First place UCF 3MT Competition
Represented UCF at regional 3MT Competition
Featured Articles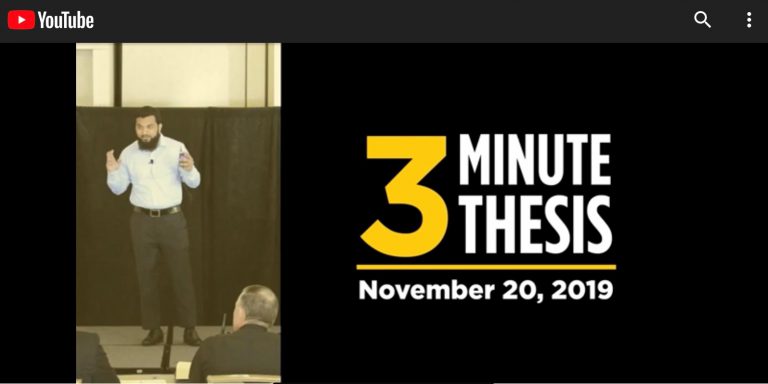 Nasif Sayeed UCF 3MT Competition